 Congress should require financial service companies to disclose how much they pay colleges to offer campus debit cards that may not be the best option for students, the Government Accountability Office said in a report released Thursday.
Campus cards sometimes hit students with high fees and reward colleges for agreeing to provide them. But schools may fail to present students with lower-cost options and allow students to to believe "their school has negotiated the best terms for them," the GAO found.
Some 852 colleges -- 11 percent of higher education institutions -- offer a debit card or a prepaid card to students, and most allow students to receive federal student aid and other school payments through them, according to the GAO, the investigative arm of Congress. The arrangements were most common at public colleges and universities, the GAO said, and about one-third of schools use the financial cards as student IDs.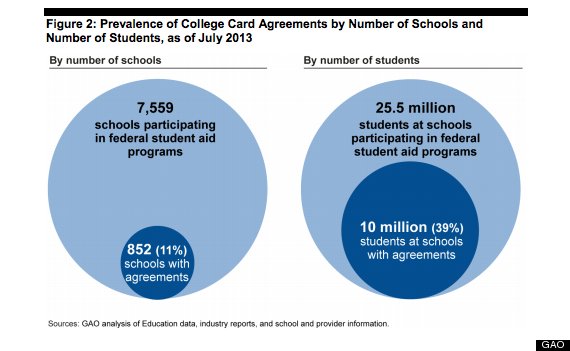 School agreements with campus card providers can save money for schools, decrease the use of cash on campus and generate revenue for cash-strapped public colleges, the GAO found. Fees for the cards were comparable to regular bank cards, the GAO said, but "two large providers charged a fee for card purchases using a personal identification number (PIN) rather than a signature -- a fee mainstream debit cards typically do not charge."
Students have complained about card fees as high as $1,000. If a student collected a college loan refund in a campus card account and transferred the money to an off-campus account, for example, transfer fees could eat into the balance. Several companies -- U.S. Bank, Heartland Payment Systems, Blackboard and Citibank -- charge inactivity fees on prepaid cards. Some card providers either would not or could not tell the GAO how much students pay in total fees.
Some schools or card providers appeared to encourage students to obtain a college card without presenting neutral information about alternatives, the GAO found. Because schools are paid financial incentives to direct students toward a particular card, "some consumer advocates to question whether schools always act in their students' best interests," the GAO said.
"Schools can appear to implicitly or explicitly endorse their college cards, by virtue of the relationship with the provider and co-branding of the card," the GAO said. "Many students trust their schools and, as a result, may view co-branding as an endorsement and an indication their school has negotiated the best terms for them."
Higher One, which holds more than half the college card market, agreed in November to pay $15 million to settle a class-action lawsuit that alleged it marketed its debit card "as schools' preferred method for making financial aid and other payments," the GAO said.
The GAO suggested the U.S. Department of Education require colleges to tell students about alternatives to campus cards. The department announced last year in the Federal Register that it's considering new rules for campus debit cards and the disbursement of financial aid.
Miller and Sen. Tom Harkin (D-Iowa) in a joint statement Thursday urged Education Secretary Arne Duncan to quickly address the issues raised by the GAO.
Both the U.S. Public Interest Research Group Education Fund and the CFPB have previously said campus cards usually are not the best deal for students.
Christine Lindstrom, PIRG higher education program director, noted the GAO report showed financial companies give campuses a share of the profit the cards generate, frequently off lower-income students.
"If this isn't a campus ripoff that calls for swift and decisive action to safeguard students, then I don't know what is," Lindstrom said.
Lindstrom will be present next week when the Education Department begins its rule-making process to determine actions regarding campus debit cards to safeguard students.
The CFPB on Wednesday called on universities and financial institutions to voluntarily disclose agreements surrounding campus cards and other financial products.
"In doing so, they also want to make sure students know that they have a financial relationship with their school," wrote Rohit Chopra, CFPB assistant director and student loan ombudsman. "Responsible financial institutions also want students to know they don't have to choose their product if they don't want to."
Calling all HuffPost superfans!
Sign up for membership to become a founding member and help shape HuffPost's next chapter