Earlier this month, Beth Jacob's 5-year-old daughter, Alice, noticed the shirts at the Gap Inc. with superheroes and "Star Wars" characters were only available in the boys' section. She wrote to the company to request "cool girls' shirts" and received a personal response from the company's CEO with exciting news.
After Beth wrote about her daughter's letter for The Washington Post, someone at the Gap found her information on LinkedIn and reached out to her to let her know the company couldn't find it. With Beth's help, the letter was located and shortly after she and Alice received an email from Jeff Kirwan, CEO and president of the Gap brand.
In his email correspondence with Beth and Alice, which The Huffington Post obtained, Kirwan wrote that the 5-year-old sounds like a "really cool kid with a great sense of style." He then told her that he spoke with his designers so the company could start working on more options:
At GapKids, we try to always offer a wide range of styles and choices for girls and boys. This includes a selection of girls' tees with dinosaurs, fire trucks, sharks, footballs and some of our superheroes. Our latest Disney Collection, Beauty and the Beast, is also all about the strength and bravery of girls and that's something that's really important to us.

But, you are right, I think we can do a better job offering even more choices that appeal to everyone. I've talked with our designers and we're going to work on even more fun stuff that I think you'll like.
Kirwan ended the email telling Alice that he was sending her some of his favorite shirts from the Gap ― including a shirt with Rey from "Star Wars" on it ― and told her to let him know what she thought. Beth helped Alice respond to the email so she could thank Kirwan.
"Thank you for those clothes and the letter," she wrote. "It made me feel good. The Rey shirt is pretty cool. I'm going to wear it to school tomorrow."
Beth told HuffPost she was "taken aback" when she first read the email.
"They know this could and likely would be made public," she said. "And Kirwan doesn't just acknowledge they have work to do, he says outright that he's asked his design team to get started."
She also responded to Kirwan via email to thank him and discuss how they could work together to help other kids learn that their voices matter.
"It['s] not just about T-shirts, is it?" she wrote. "You and I, we've got a chance to show kids everywhere that all big changes start small."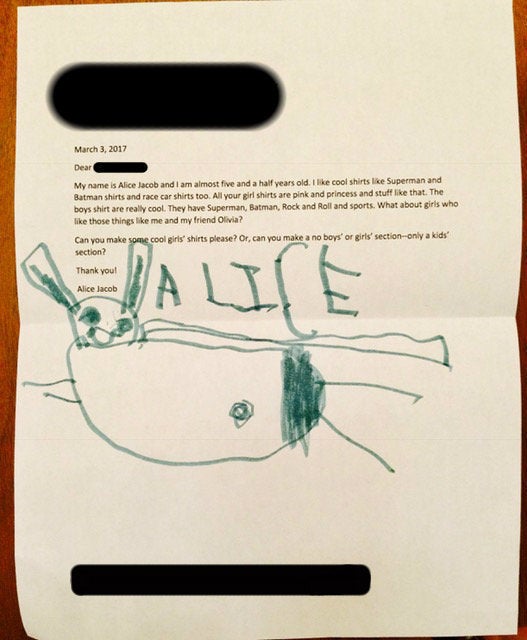 The proud mom and the CEO continued expressing their appreciation in a short email exchange. Beth joked to HuffPost that they are now "pen pals." She also said Alice is "delighted" to know her letter made a difference.
"Last night I was talking to her at bedtime and I asked her what's important about that. I said, 'What did you learn about why writing that letter was important?'" Beth said. "And she threw her arms back and said, 'Speak up!'"
Related