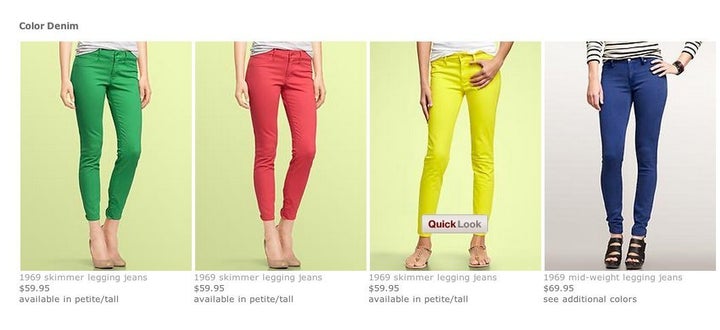 Like many of her generation, 29-year-old Sarah Winsky was once a fan of Gap.
"I loved the store in middle school," she said. "Then it sucked for 15 years."
But in the past 18 months, something changed, Winsky said. "All of the sudden it's kind of amazing again." In February, the library aide, style blogger, and part-time model bought three pairs of trousers from a Detroit-area Gap store after getting a catalog in the mail advertising "revamped" style. "I've noticed major, positive changes," she said.
So have others. Gap North America on Thursday announced sales at stores open at least a year were up 9 percent, the most since March 2010. Gap Inc., the parent company that also owns Old Navy and Banana Republic, reported sales rose 8 percent from a year earlier.
What changed this spring? Color, according to Mark Breitbard, Gap North America executive vice president of merchandising. In hues like "surf pipe blue", "rose leaf" and "lemon drop," Gap's new line of denim has been credited by analysts as a big reason for the spring sales jump. "We want to bring casual American style that's youthful, optimistic and colorful," Breitbard said in an interview. Gap's spring campaign motto is "Be Bright."
In the past year, Gap has taken drastic actions to become more relevant, particularly to its target customer -- women ages 25 to 35. In 2011, the brand parted ways with president Marka Hansen and head designer Patrick Robinson. Design, marketing and public relations teams now work together in the retailer's new "Global Creative Center" in New York City.
Since the restructuring, Gap has gotten more clever about tracking shoppers' likes and habits. Nine months ago, the company launched an internal social network called Feedback that connects store managers with corporate sales personnel. The 2,000 members of the network share customer comments, post photos and send details about products selling well or poorly. "We get immediate feedback," said Breitbard.
Speeding up the production cycle has also helped Gap be more on-trend. Though the bright jeans didn't catch most shoppers' attention until this spring, the company tested red and blue pairs in select stores as early August, said Breitbard. Gap started with 50 stores in large cities and small towns that it thought would be "good indicators" of the sales potential.
Janet Kloppenburg, an analyst at JKK Research, said Gap's colored jeans and its transformation came sooner than she expected. Gap "identified a trend and were on it more than their competitors," she said. Typically, retailers take more than a year to make such changes, she said.
Facing competition from new foreign brands that include Uniqlo, Gap "needed to become a lot more fashion-relevant," Kloppenburg said.
But relevance has a potential downside. The trend-conscious strategy failed in the mid-2000s, when Gap hired designer Pina Ferlisi (formerly of Marc Jacobs) and Sarah Jessica Parker, for its advertisements. The strategy didn't fix mediocre sales. In 2007, Gap hired Patrick Robinson as design chief to revive Gap's classic image.
Today, Gap's challenge is mostly same -- being fashionable without alienating its khaki-loving base. "If we move towards super-trendy, off-the-runway, it's not going to feel appropriate," said Breitbard. "And if it's too basic, it's going to feel boring."
For every fashion-forward shopper like Winsky who loves the new eye-catching colors, there's another who thinks they are unwearable. "Popular or not, colored jeans are still a little too bright and funky for me," said Lin Shackleford, 29, a blogger who works in a government office in Orange County, Calif. In Lin's office, colored jeans are the only kind allowed by the dress code. Even still, "I don't think I could pull them off," she said.
To some, a cooler image isn't worth the price. Over the past year, Gap has attempted to wean itself from discounts and promotions in order to elevate its brand image. Along the way, it has also alienated some customers, such as Charlotte Stone, who said she was shocked to find a pair of premium jeans costing $69 at a New York City Gap store two weeks ago.
"I was leaving work to go out and I wanted to grab some cute skinny jeans on the go," the 22-year-old PR assistant said. "Tried some on, good fit, good wash. But they were paper-thin. When I checked the tag and saw $69 I was so taken aback I left the store without even bothering to look for sale jeans.
"I'd rather pay for a cab home than buy $70 jeggings. From Gap."
CORRECTION: A previous version of this story stated that Sarah Winsky is a librarian. She is a library aide.
Related
Popular in the Community