 Gap Inc. CEO Glenn Murphy shook up the retail world this week by announcing that the retailer would voluntarily raise its corporate-wide minimum wage to $9 this year and to $10 in 2015. Explaining the decision to employees and the public on Wednesday, Murphy said such a "strategic investment" would better the lives of Gap workers while delivering the company "a return many times over" through higher productivity and morale.
A day later, Murphy's move is producing dividends of a different sort. Labor groups that have spent months beating up Gap over its handling of garment factory disasters in Bangladesh are now hailing the company as a leader for raising workers' wages without being forced by Congress.
"Gap's decision exposes the greatest economic fraud of our time: that large employers cannot pay their employees fair wages," Richard Trumka, head of the AFL-CIO labor federation, said in a statement Thursday. "With one decision, The Gap has stripped the oligarch of his clothes and changed the economic debate in America."
While adding that Gap has "more work to do" in the U.S. and overseas, Trumka declared the minimum wage move "a turning point" for the company.
After being petitioned by progressives over its supply-chain labor policies, Gap has suddenly become a high-road employer in the minimum wage debate -- and has simultaneously distanced itself from Walmart, a company it's been closely associated with in the public discussion over garment worker safety in Bangladesh.
Trumka wasn't the only high-profile labor voice to applaud Gap, which also owns Banana Republic and Old Navy. Joe Hansen, head of the 1.3 million-member United Food and Commercial Workers Union, said the company had set an "example" by realizing that higher wages are "an investment" in its workforce. Sarita Gupta, head of the national worker group Jobs with Justice, said she was "thrilled to see Gap joining the ranks of Costco and other companies who pay their employees a fairer wage."
Being compared to the likes of Costco is surely a welcome development for San Francisco-based Gap. In recent months, the company has often been paired with Walmart in the same critical breath. Last year, Gap and Walmart led other companies in a plan to address working conditions in Bangladesh after the Rana Plaza building collapse, which claimed more than a thousand lives in April 2013.
Labor groups pilloried the two retailers and other U.S. brands for declining to join a separate, more stringent initiative that includes labor unions as stakeholders, called the Bangladesh Accord on Fire and Building Safety. While it does pledge more than $40 million to factory upgrades, the plan developed in part by Gap and Walmart, known as the Alliance for Bangladesh Worker Safety, does not put signatories on the hook financially for improvements in the same manner as the accord.
Rep. George Miller (D-Calif.), a vocal critic of the two companies' decision, went so far as to say, "If Walmart and Gap want to stand alongside collapsing factories and burning factories and women jumping out of buildings, I guess that's their choice."
But on Thursday, labor leaders took Gap's minimum wage announcement as an opportunity to compare the company favorably to the world's largest retailer. After Bloomberg published a story Wednesday saying Walmart was "considering" backing Democrats' proposal to raise the minimum wage to $10.10 and peg it to inflation, a Walmart spokesman told HuffPost the company was not endorsing the measure and would remain neutral in the debate.
"The time is now for Walmart to show leadership and responsibility to its workers and our communities," Hansen said, "[and] follow the Gap's example and raise wages for every hourly Walmart worker."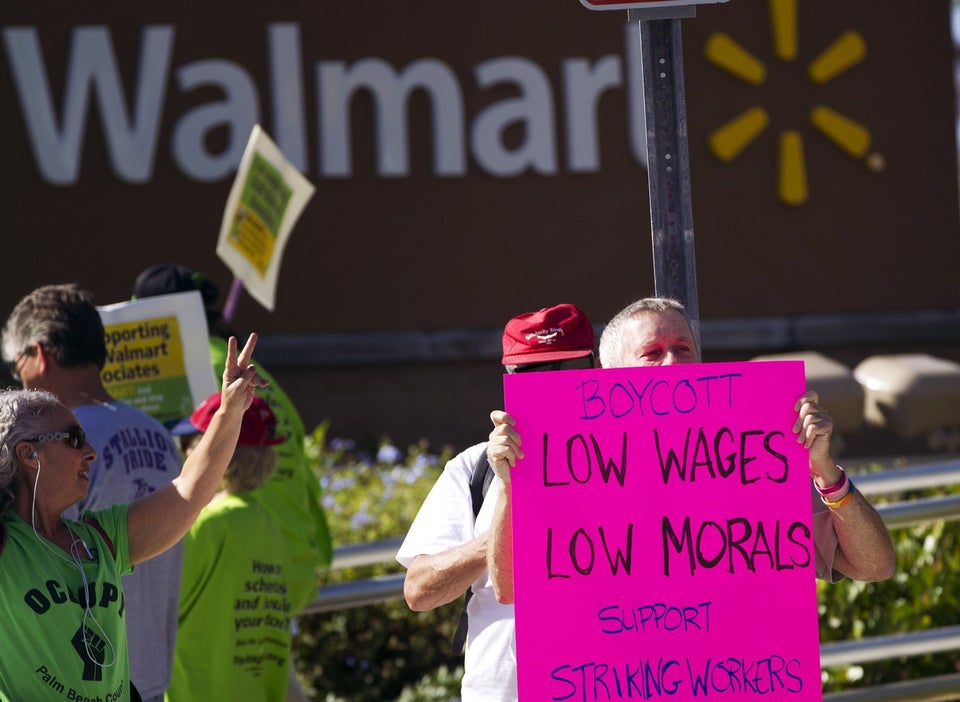 What Minimum Wage Haters Won't Say
Popular in the Community