Update: Gap spokesperson Renate Geerlings emailed Styleite and confirmed that some of the FEED USA bags were, in fact, made in China:
There are several bags in the FEED USA collection. The FEED USA Canvas Tote bag and the limited edition one-of-a-kind Bandana Bag are both made in the USA.

However, the FEED USA Denim Bucket bags are made in China, and should not have been connected to the made in the USA signs.

We apologize for any inaccurate messaging.

The line of totes and lunchbags are decked out with stars, stripes and maps of America on the outside --and for every bag sold, Gap donates $5 to improve school food and nutrition in the good ol' USA -- but on the inside, sewn into each sack is a tag that clearly reads "Made in China." And on all of the brand's advertisements and on its website, Gap boasts that the items were made in the US of A.
Now maybe just the tag was manufactured overseas, not the rest of the bag. Either way, it's kind of a big oversight.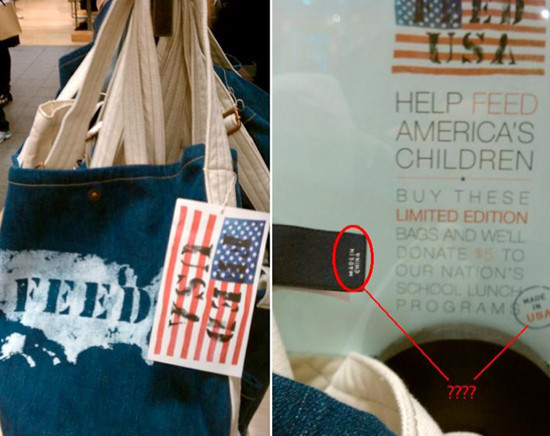 Related