Over a breakfast of grilled bread and Nutella, one latte and one black coffee, I recently caught up with style blogger Garance Doré. Although she was previously known (to American audiences, at least) only as The Sartorialist Scott Schuman's girlfriend, the French illustrator-turned-photographer has come into her own, accumulating a cult of devoted readers who feel at home with her honest, yet hysterical, anecdotes and who enjoy scrolling through her fashionable photographs and her chic illustrations. Doré and I discussed the current state of the style world as she sees it, her experimentation with video, her must-haves and her dream project.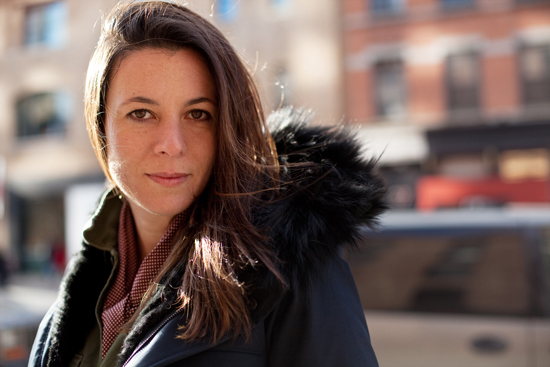 Tell me a little bit about your life pre-blog.
Before the blog I was living in the south of France and I was an illustrator. I was kind of frustrated. I wanted to move to Paris and, to tell you the truth, my boyfriend at the time didn't really feel like it but I thought I was not in the right place to do my job. I felt like I was remote from the things I like, like fashion. But even before all of this, when I was younger, I wanted to be an artist and my parents didn't want me to go to art school. And I was a very serious girl, so I listened to my parents and I did all of my studies and then I thought, "Maybe you can give yourself two or three years to try what you want to do."
I know you mention on your blog, though, that your mom was into fashion. Or at least that you, as a child, were into wearing her fashion.
During the '70s and '80s, she was really very stylish. She would travel and go to The Palace, a discothèque in Paris. She was wearing crazy things and she was a little bit rebellious. She would wear Thierry Mugler, and you couldn't really wear that in the little city where she lived [in Corsica], but she didn't care. She was doing it. And what I really remember the most is her taste level. She's not from a very super-educated background and she had and still has a taste level that is really striking. She didn't follow brands, she just believed in herself, and that there was no right or wrong.
But she still didn't want you to go into art?
Crazy, right? My mother emigrated from the North of Africa, so I think she was very insecure and I was the first of the family and I was very good at school. I had good grades, so they had expectations. Usually the first generation of immigrants, they want their kids--even if they are super intelligent, super tasteful--they want to protect their kids. I think for me it will be easier to tell my kids, "Ok, go there. Do that." Because I'm not so scared of their future. There isn't so much I will try to protect.
So, cue to present day, I wanted to talk about what goes on on your blog and how you choose who you photograph. It seems like you're sort of staying away from street style these days.
I think my main is concern is to be excited about what I do. I know that when I'm not excited about what I do, I can't do it. This is why sometimes I just don't post, when I'm not inspired. And I think this is the key to having my readers excited too. To me, a blog is nothing without the comments and the readers. It's important that they're following me and that we're having a story together. I never want to give cold meat, as we say, or just use a formula. Right now I'm in a moment when I'm not so excited about street style. I remember very precisely thinking, "I can't stand those pictures of people standing in the street." But sometimes I do. I speak for myself because Scott, for example, is doing a job that's totally different and that is going to become classic. But my point of view is much narrower, like I prefer to shoot girls, and it's always my own story.
What are your preferences? It seems like you shoot people that you're already acquainted with.
It's not really that. It's that I become friends with the people I shoot. I think when I started it was always someone that I wanted to be in some way...so of course we get along quite well. I shoot in a very emotional way and now, a lot of my friends I met through the blog.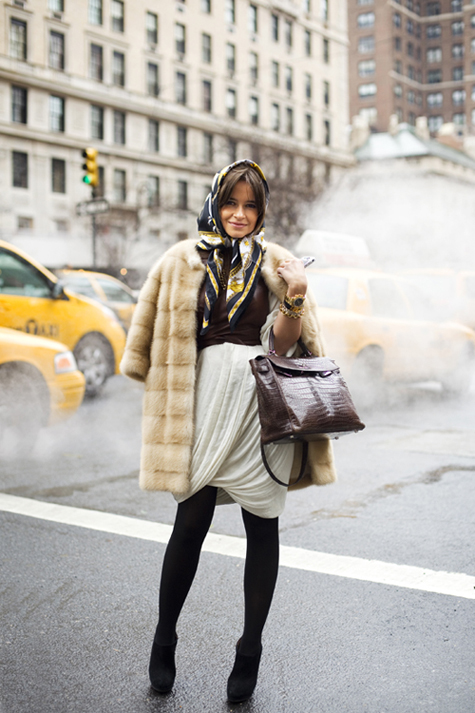 Are you ever hesitant to write about personal anecdotes like when you wrote about your mishap with sunless tanner or when you have a blemish? Are you uncomfortable writing about things like that?
It's exactly as I am with my friends. I like to laugh about myself and I discovered with the blog that I don't have so much of a division between personal life and not-personal life. I think that's the art of writing--if you're smart you can write about anything. It's just the way you tell things. Somebody writing the same story could make it very, very uncomfortable.
I noticed that you've been posting more and more video.
I think that nothing is different. Photo is a language. Video is another one. But it's all about what you say and I thought video would be a great way to not get tired of what I do, to discover new boundaries and how to show fashion. Like, what do you want to see about a fashion show: is it 36 dresses or is it the atmosphere, the feeling of the show? I love style and I want to see the details, but overall I want to see who was there, and I want to show the shoes and the products. It took me a long time to realize that my blog isn't so much about fashion but about a kind of lifestyle.
Maybe we could talk a little bit about your thoughts on the most recent set of fashion shows. Were you at all of the fashion weeks?
Yes. Paris was really very, very interesting because it's always the one everybody is waiting for and this time it was really strong. The rest of fashion week was so depressing, with McQueen in the beginning and Milan being only three days. There were a few things I really liked. I think Céline was super interesting. It was really interesting to see the excitement around it, like everyone was waiting for something to happen.
What do you think were the strongest trends?
Minimalism. Camels and beige. I think those were the big things. There were less "it shoes." For a few years fashion week was really over the top and then there was the recession and it was very dark. Now, with people like Phoebe Philo it's very more low-key.
Do you think the recession really affected the worlds of fashion and style?
It changed its face forever. With the recession came the death of many things but the birth of [style blogs] came at the same moment. I was lucky I was in the part that was growing. I think everything changed for the good, although I don't want any more magazines to disappear.
Well, would you say that style blogs are replacing fashion writing?
No. It's different. We just have to stop thinking with old mindset. It's just a different age. I think we have to see it as something more organic that goes with the greatness of the Internet. Blogs are a great laboratory, when you want to try to talk to people. So the blogs are going to change and evolve. You don't open a blog now for the same reason you did four years ago, because everything is so different. There will still be fashion writers with a fashion culture.
Because they say that style bloggers are replacing the fashion editors in the front rows of the shows...
There are a few bloggers, and I am one of them, in the front row and there are only so many places in the front row, so okay. I get it. But I was talking to a friend and she said this show used to invite 10 people from so-and-so magazine and now they invite less. Really to me, it's like a quiet revolution and new media always changes things but the "front row problem" is the part of the iceberg that everybody sees but to me it's not so important. When people ask me what does it do to you to be in the front row...the answer is nothing. I get a better view. I think that what's more interesting is that the love for fashion found such a great place for expression.
Who would you consider to be some emerging designers?
I don't know. In New York you have a lot of young designers that I like but everyone knows that they are emerging like [Joseph] Altuzarra, and Alexander Wang already has a very successful business. In London...it's very interesting but it's not so much my taste. And I think it's the same as what I was saying earlier...everyone is waiting for something to happen in London that they don't let the designers grow. I think New York is the best place for young designers because they feel that they're not totally alone here.
And speaking of designers, I know that Karl Lagerfeld was in town recently and you posted a picture on Twitter of him eating lunch...did you get to talk to him? Have you ever met him?
I've never talked to him. I haven't met him. I'd love to meet him but sometimes it's just better to have these people kept out there and to not know them.
Who is the most interesting person you've met?
Carine Roitfeld. She's just a very good person, so human and nice and irresistible.
Do you ever feel overwhelmed, with everything you have going on?
No. I just feel tired. But I always feel so lucky. I try to drink every second of that. Traveling is wonderful and meeting new people is wonderful. I'm really conscious of my luck.
When you travel, what are the most important things you bring?
My computer and my camera, my Scott because I love to do everything with him. And then clothes, of course I like to have all of my high heel shoes, which is stupid--
But you're not wearing high heels today!
No I had on high heels earlier, but we want to go to the park later, so as much as I don't care what people think about me, there are some moments when you don't want to be too ridiculous. And then, I like skinny jeans. I love menswear but I take it from Scott's luggage. And white shirts. I dress very simply and I add a little accessories. That's how you do it when you travel because you can't take so many clothes. Right now, I've been here for three weeks. I started in Aspen, then New York and it was cold, and then Arizona, which was hot...and now back to New York, so whatever I do I will never be able to bring enough stuff for all of that. And I'm going to Japan and then Australia, and it's the same thing. You have to limit yourself.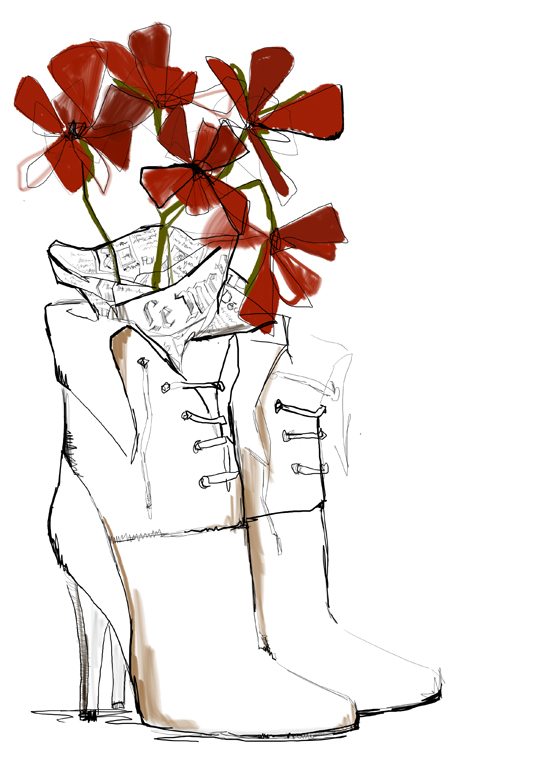 What are your upcoming projects?
I have a big exhibition in Australia that I'm working on. I'm illustrating an Australian designer.
And anything else that you can reveal you'll be up to?
There are a lot of projects, because I'm a freelancer so I'm always working on things. But you don't like to talk about things too early. We're working on a TV show with Scott. We don't know yet exactly what form it's going to have. It's the same thing: why would we do a classic TV show, when the world is changing? And the world of media is changing? So we are working on the concept. We want something that talks to the people very easily and that you can see on the Internet.
So it will be based on your lives or...
Well, I think it will be based on what we see. And the world is in such little pieces now and you take your information from everywhere. I'd like to go ask people I trust, "Who's a great musician?" and then maybe meet the musician and then do the same with fashion or food. I think it will be more fashion-oriented. But my dream project is to do a movie.
Really! About what?
About girls and life and fashion. But it's really a dream project. I'm not even at the beginning of it. But as a more realistic thing I think a TV would work. Like Gwyneth Paltrow with GOOP...people love to have someone who tells them "I like this, I like that." There are so many things around and people don't have that much time. GOOP isn't totally my taste but it's done in such a humble way, very simple. I think it was a brilliant idea.
So I just have one last question--is it true that you hate having your own picture taken?
Euh...no. I don't mind. I don't know. Like everybody, I think I look horrible in every picture. I know I'm a photographer. I suppose I'm comfortable having my picture taken. I should stop eating Nutella if I want to feel more comfortable.

Related