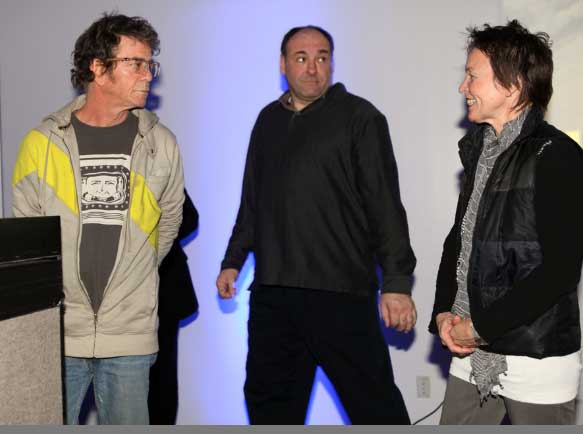 Lou Reed, James Gandolfini and Laurie Anderson at Tribeca Protest. Photo by Scott Gries
"Enough is enough", said Tribeca resident Kirsten Dunst. After all, the neighborhood already has over 400 UPS and FedEx trucks and a garbage garage. Laurie Anderson, Lou Reed, James Gandolfini, Jennifer Connelly, Paul Bettany, Michael Stipe, John Slattery and Talia Balsam agree. Last week, these folks along with 600+ people gathered at the Saatchi & Saatchi building on Hudson Street to protest the Bloomberg Administration's plan to dump a three-district, 120' high garbage depot, a 34,000 gallon fuel storage facility and a 5,000 ton salt shed onto the neighborhood.
This is not a "not in my backyard" situation. The city wants to truck in garbage from all over Manhattan. It's a terribly ill-conceived proposal. And we all know that New York City has seen its share of downright stupid proposals. Just imagine if Robert Moses had had his way. He wanted to level what's now Soho and portions of Washington Square and run a super highway through it? Thankfully, one woman, Jane Jacobs, galvanized support and stopped him.
Local activist and Tribeca Community president Carole DeSaram says, "the City's plan is total insanity -- to take billions of dollars of development rights and literally build a garbage garage".
"Where the city is going to find $500 million in this time of fiscal austerity is beyond me," said Richard Sloan, professor of Behavioral Medicine at Columbia University Medical Center. That's a half-billion dollars to ruin the neighborhood and reduce property values (and property tax revenue) and compromise the health and safety of the area residents.
Lou Reed, always succinct, says, "To take that kind of facility and put it right across the street from two parks is beyond my comprehension and environmentally irresponsible."
Fortunately, The Tribeca Community Association has a better plan. They propose accepting garbage from two adjacent districts, but not with the unfair burden of trucks and garbage from as far north as 59 St. and Lexington Avenue. The community plan, dubbed "St. John's Park at Hudson Rise!" integrates publicly accessible green space with critical sanitation services without devastating the neighborhood.
I am currently reading Russell Shorto's amazing book, The Island at the Center of the World, and so Laurie Anderson's remarks really hit home. "Is this really what the coast of Manhattan should look like? When you see what other cities do with their riversides, it's startling to see how long it is taking New York to realize we live next to this national resource, a national treasure. The Hudson River is an inspiring and beautiful part of our city."
I agree. For more information or to help fight the dump...
Visit the web site
Email
Sign the online petition
Make tax deductible donations to 501.c.3 non-profit: Tribeca Community Association, 533 Canal St., NY, NY 10013
Protest to Deputy Mayor Edward Skyler: 212-788-3191
Protest to Speaker Christine Quinn: 212-564-7747
Calling all HuffPost superfans!
Sign up for membership to become a founding member and help shape HuffPost's next chapter