Minnesota mom Angie Evenson has three daughters who adore running to the window and waving to the two garbage men who pick up their trash every week.
When one of her girls was diagnosed with cancer, the mom informed the men the family might not be there to say hello as often because of her daughter's treatment. What the garbage men did next left Evenson "speechless."
Evenson's three girls, 5-year-old Grace, 3-year-old Rose and 2-year-old Sophia, have offered a wave and a friendly smile to their neighborhood garbage men, Brandon Olsen and Taylor Fritz, for about two years.
In October, the garbage men surprised their biggest fans and left them candy for Halloween. They received drawings from the girls as a thank-you, but they also received a note from Evenson.
In the note, the mom informed them that her 3-year-old, Rose, had been diagnosed in September with stage four kidney cancer, which had spread to her lungs. She wanted them to know in case the girls weren't home to wave to them because of Rose's treatment.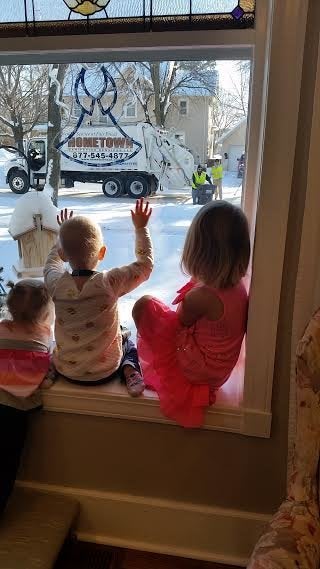 Evenson received a note of her own after she informed Olsen and Fritz of her daughter's diagnosis. The garbage men came to her door with a letter from the local sanitation services. She learned Olsen and Fritz had offered to transfer their free year of garbage pick-up they receive as employees to Evenson, but their boss decided to simply donate it.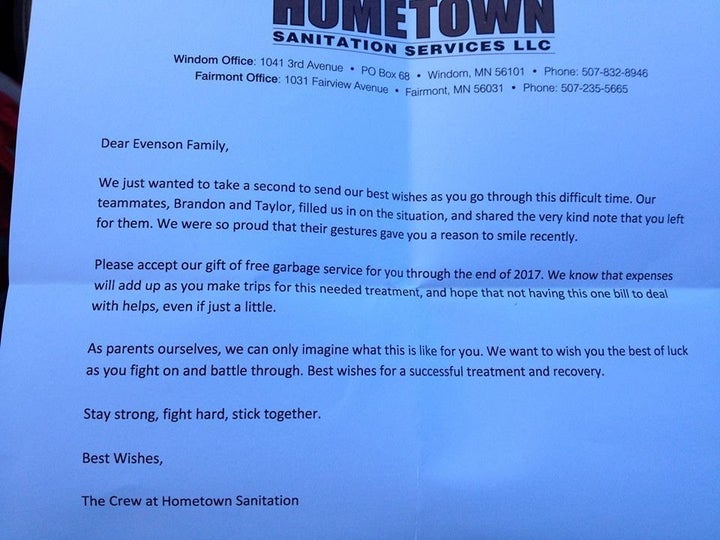 Evenson told HuffPost that when she learned what Olsen and Taylor had done, she was "speechless."
"We've gotten to the point where this is our new normal and we can talk about it now, but at that point when it was early on in the diagnosis, every day felt impossible to get through," she said. "Their small act really did make a difference in that time."
The girls have seen Olsen and Fritz "a handful of times" since they found out Rose had been diagnosed with cancer. In December, the garbage men left Christmas presents for them and their 6-month-old brother, Lincoln. During the holiday, the girls played with their veterinarian kit and My Little Pony toys, while Lincoln used his new walker.
Evenson said Rose will hopefully be done this summer with her treatment, which she receives in South Dakota. When she was first diagnosed, she had a large tumor removed from her abdomen along with her kidney. Since then, she has had weeks of radiation, weekly chemotherapy and several long hospital stays. Evenson said treatment was difficult for Rose at first, but her daughter's personality is coming back.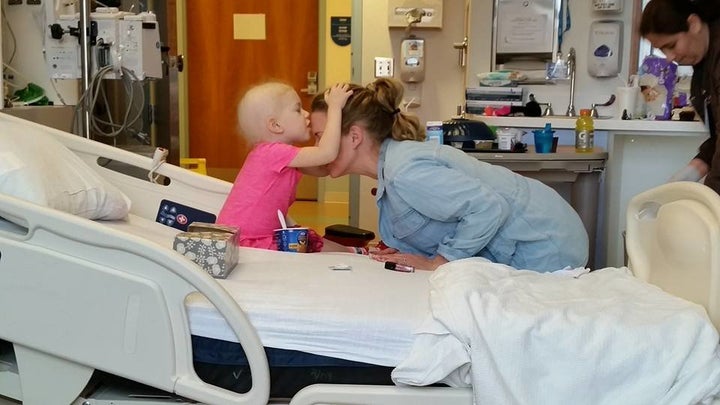 The mom of four said it's difficult to put her feelings about Olsen and Fritz's kind gesture into words. She told HuffPost a simple thank-you seems "so insufficient."
"I struggle to express what their gesture really meant to us in that time," she said. "It truly made us feel like we weren't alone."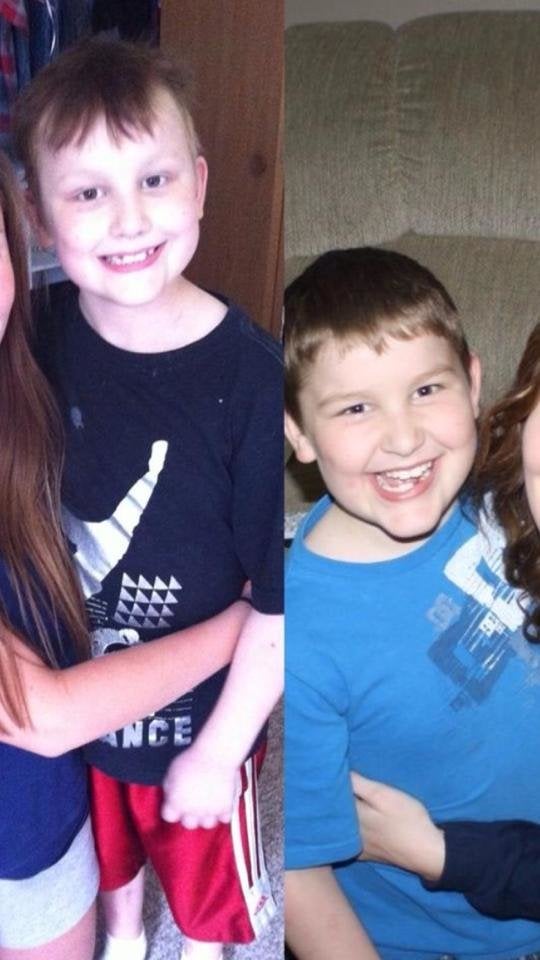 This Is What Pediatric Cancer Looks Like
Popular in the Community