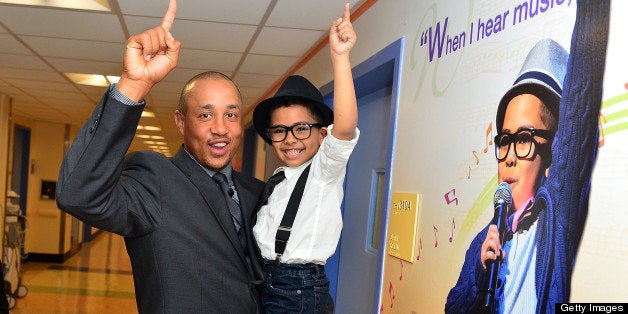 Growing up in Tulsa, my dream was to play in the NBA. I am fortunate to have been able to achieve my dream, and now helping other kids follow their dreams has proven to be just as impactful on my life as every minute that I played in the NBA.
Throughout my 13-year career, including eight with the New York Knicks, I've always felt it was important to support the local community and be a role model for those who need it most. In 1994, I started the John Starks Foundation, which provides academic scholarships to high school seniors based in the New York tri-state area and Tulsa.
After retiring, the Knicks offered me a position in the front office, where I'm involved in day-to-day efforts to expand Knicks alumni relations, community relations and fan development programs. I'm now in my ninth season in this position and nothing has been more special to me than my role with the Garden of Dreams Foundation.
Throughout a given year, the Foundation puts on 500+ events using all that MSG has to offer, including the Knicks, Rangers, Liberty, MSG Entertainment, MSG Networks and Fuse, to brighten the lives of children and families that are facing obstacles such as poverty and illness.
What I love most about working with the Foundation is that it provides these children with special opportunities that they would never normally receive, and then the children become a part of the Garden of Dreams family. I'm lucky enough to take part in many events each year that leave a lasting impression on the kids, and am fortunate to have been able to develop relationships and bonds with some of these special children.
On May 9th, I was able to take part in one of Garden of Dreams biggest projects to date, the unveiling of a restoration project the Foundation funded at the Children's Diagnostic Radiology Center at NewYork-Presbyterian Morgan Stanley Children's Hospital. The Center sees over 11,500 patients a year and hadn't been refurbished in 25 years.
To help transform the space into a place that is more child and family friendly, Garden of Dreams partnered with renowned artist James Kimak to create a 130-ft breathtaking mural with art from various events that the Foundation has held. I'm honored to be featured on the mural along with other athletes, musicians, performers, and most importantly, some of the inspiring children that have been touched by Garden of Dreams. The Foundation also funded new ceilings, lighting, wall protection, fresh paint and flooring in the space.
The best part of the unveiling event for me was being able to share a special moment with Malik, one of the children who is a part of the Garden of Dreams family and also featured on the mural. Malik participated in this year's annual Garden of Dreams Talent Show at Radio City Music Hall and performed again at the party celebrating the unveiling. His talent and smile is what the Garden of Dreams is all about, and I've been blessed to meet so many terrific children like Malik.
A hospital can be a very stressful environment for a child, so if the work Garden of Dreams has done at NewYork-Presbyterian Morgan Stanley Children's Hospital can help make one child's experience a little more comfortable or put a smile on a child's face, then it will have all been worth it.
Calling all HuffPost superfans!
Sign up for membership to become a founding member and help shape HuffPost's next chapter