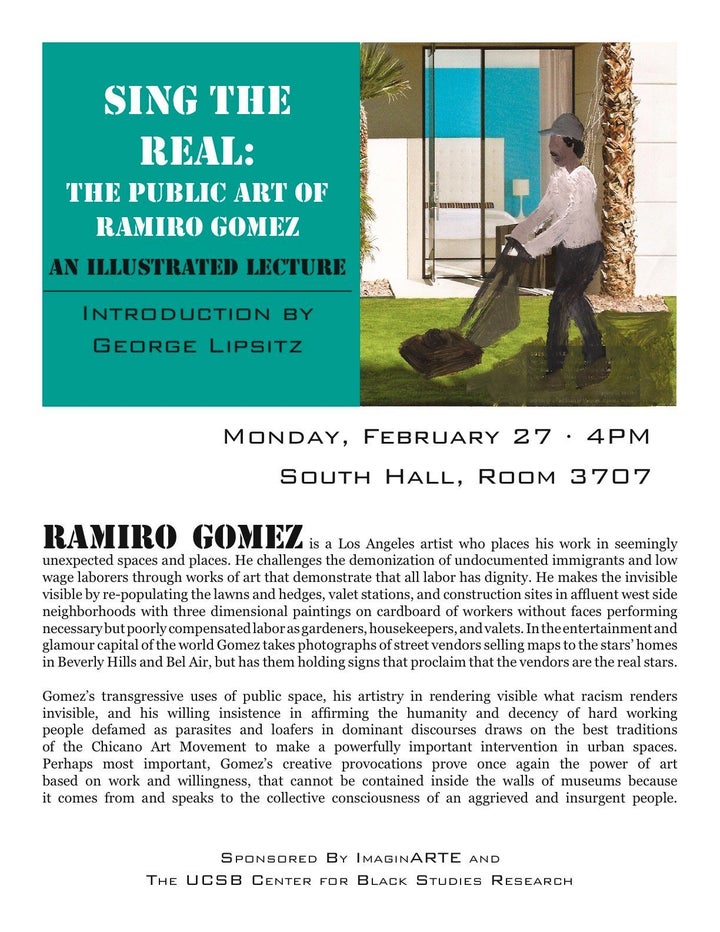 Since April 2011, Gomez has featured his astute observations and drawings of the valet workers, gardeners, and housekeepers that work in his community on his blog, "Happy Hills."
Described as a "body of work documenting the predominantly Hispanic workforce, who work tirelessly behind the scenes to present the beautiful images of the ideal Hollywood Hills homes," Gomez's artwork has recently garnered the attention of art and L.A. lifestyle blogs, and academia.
But unlike the L.A. graffiti art scene that inspired it, the cardboard paintings are purposefully makeshift so as to not mar any sites. Gomez says that the temporal aspect of his artwork "identifies with the transitory people who are clinging on a daily basis to jobs that may or may not be there tomorrow."
"It is an opportunity to reflect," says Gomez. "And to show that Beverly Hills, the Westside, and Los Angeles in general, does not just happen by miracle...You don't get that perfect green lawn without the hard work of somebody else."
Gomez invited The Huffington Post into his home and studio in West Hollywood on the weekend before he was to give a public lecture on his latest series at the University of California, Santa Barbara, and spoke about the recent interest in his work and the significance of his subject matter.
"In some circles, there's nothing worse than an immigrant, an "illegal" immigrant," said Gomez. "I think the reason my work is getting the attention is because people are tired of that negative portrayal."
Three years ago, Gomez dropped out of art school and took a job as a nanny to support himself in the city. He describes his move to Los Angeles as "jarring." A transplant from San Bernardino, CA, Gomez grew up in a working class family.
"My family is the reason I paint about these things. It's all very personal. The work, especially with housekeepers and gardeners, they're reflections of me, and many other people out here."
It was during this time that Gomez began painting over the glossy lux interiors and scenery found in lifestyle magazines and inserting the faceless figures of the workers whose physical labor is now shown.
His acrylic paintings of housekeepers tending perfect beds, scrubbing marble counter tops and washing a floor to ceiling pane of glass reads like a photographic memory, and perhaps I suggested, a social critique. But Gomez said, "It's not my intention to say, 'you're doing something wrong [to employers]' because at the same time, they aren't, they are providing an economy for a whole community that doesn't have anything else, or can't turn to anything else."
"I would want viewers to see their own parents washing the dishes. Whether or not they're getting paid for it, it's not about that. I want them to notice that labor and respect that work. You know, as little as someone might seem to be on the totem pole -- they might just be the valet outside of the restaurant -- they're important, because they're a face. And they have feelings, and they have thoughts, and they have a family, and they have lives."
As for the extent to which his current series is a political statement, "Perhaps subconsciously," starts Gomez. "It is intended to be a human statement."
TAKE A LOOK AT GOMEZ'S ARTWORK AND SHARE YOUR THOUGHTS IN THE COMMENTS BELOW: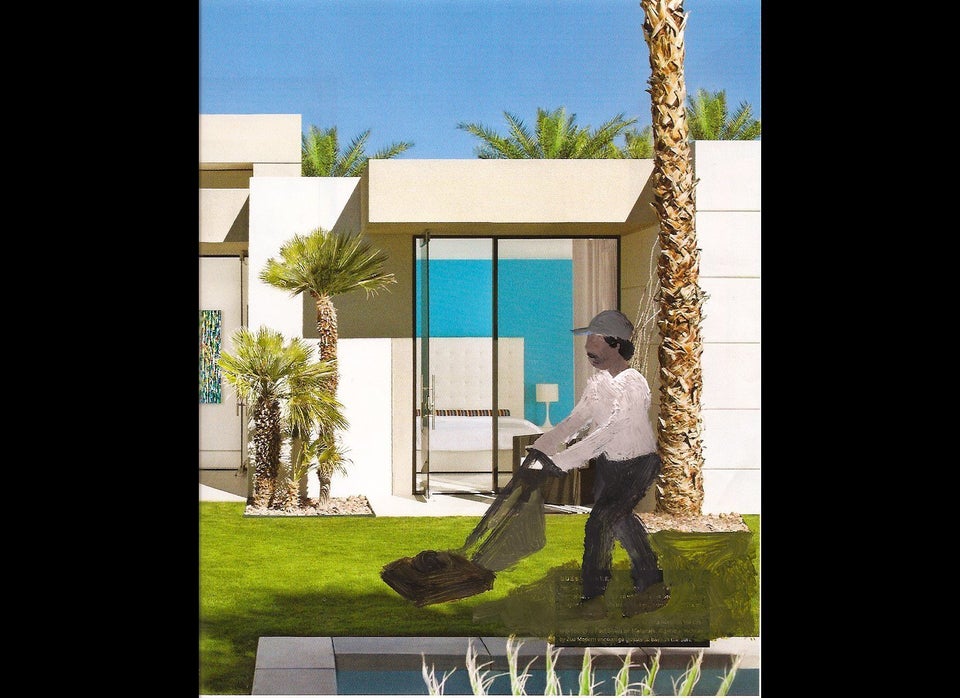 The Art of Ramiro Gomez
Popular in the Community