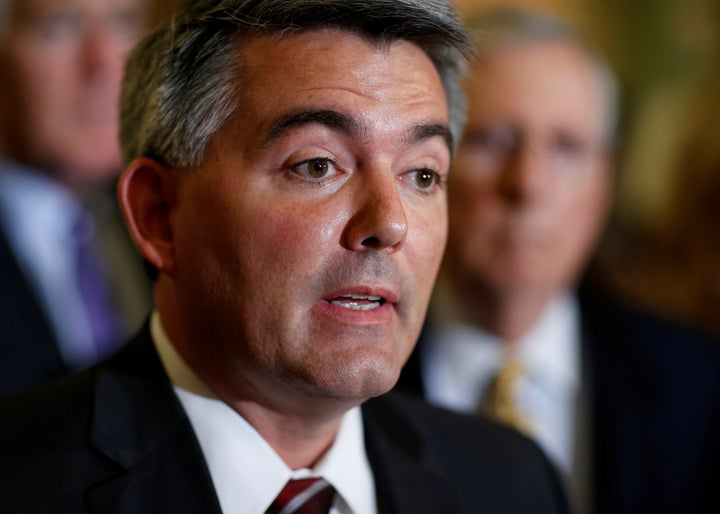 U.S. Sen. Cory Gardner (R-CO) has yet to comment on Trump's latest effort to deliver a body blow to Obamacare by eliminating insurance assistance for low-income people.
But in March, Gardner said he hoped Trump would use his presidential authority, ASAP, to dismantle Obamacare.
We also, I believe, need the Administration to move forward with some of its executive actions," Gardner told KHOW 630-AM's Ross Kaminsky. "Those executive actions they can take won't ever be scored by the Congressional Budget Office. That's not what the Congressional Budget Office does. But if they take those actions, it could result in significant improvement in the current system. [listen below]
You may recall, in the spring, Republicans the Congressional Budget Office estimated for the first time that tens of millions of Americans would lose health insurance under the House GOP's proposal to repeal Obamacare. The uninsured would include hundreds of thousands in Colorado.
The specter of millions of Americans losing health insurance generated such coast-to-coast angst and blow back that the seven-year GOP effort to kill Obamacare seemed doomed to die in the House.
So that's why a gloomy Gardner, calling Obamacare "a disaster for the American people," was looking at how Obamacare could be rolled back without legislation. Without repealing the law, Trump could do a lot through executive actions, Gardner said, and, bonus, they won't be scored by the CBO, so we won't get the nonpartisan estimate of the resultant misery. Not to mention the headlines.
Fast forward to yesterday.
Trump signed more executive orders aimed at Obamacare, as Gardner hoped he would, but it turns out Gardner was wrong about the CBO―at least with respect to one of Gardner's orders.
That's because, a few months after Gardner's radio appearance, Democrats asked the CBO to analyze what would happen if Trump eliminated Obamacare subsidies for insurance on the individual market. The CBO report was completed back in August, but it's getting a lot of attention now, because it shows that Trump's order will increase health insurance rates on the individual market by 20 percent in 2018 and that one million more Americans will lose insurance entirely next year, compared with current law.
Obamacare supporters say Congress can stop this chaos, without increasing the deficit, by providing the Obamacare funds that Trump wants to cut. They would be used to lower the cost of health insurance for low-income people, as Obamacare stipulates.
But Gardner will have to change his thinking drastically to get on board. To date, he's backed everything and anything in Congress to kill Obamacare. And when it looked like Congress wasn't going to be able to do it, he called for unilateral action by Trump.
Now, with the full repercussions of Trump's orders out in the open will Gardner shift his position, break his alliance with Trump, and endorse bipartisan congressional efforts to fix Obamacare, rather then nuke it?
BEFORE YOU GO