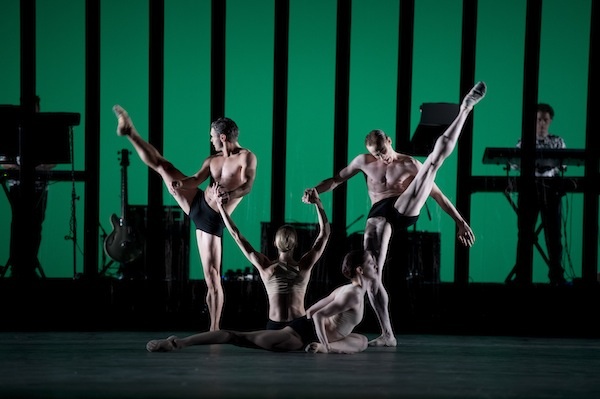 Photo by Bill Cooper. Courtesy of ROH.
It was difficult to say no to the Royal Opera House's resident choreographer, Wayne McGregor, says Gareth Pugh, arguably Britain's most innovative fashion designer. "Wayne called me up at the end of the summer last year. I had seen what he does. It's really amazing and different from traditional ballet. So I was obviously very interested and intrigued. I've never done costume design for dance or set design for a ballet. To do that on the level of the Royal Opera House is very much throwing myself in the deep end. But when these things come along, it's difficult to say no. They come once in a blue moon, so I said, 'Of course'."
Pugh, with his novel and outlandish take on design -- jelly-mould cat suits and inflatable dresses -- was just the right man for the job. "Wayne told me that he's never worked with point shoes and tutus before. And he wanted to see what my take on those would be."
In this instance, point shoes have taken the form of moulded, thigh high black boots while tutus have been rendered with spikes. Then there are the angular pointed masks and bodices with fitted veils. All in all, a fresh albeit unusual take on ballet costumes.
But then again, there's nothing conventional about this production. With a stellar lineup that reads like the cast of a sold-out music festival -- award-winning music producer Mark Ronson on bass guitar accompanied by an ensemble including, Alison Mosshart of the Kills, Jonny Pierce of the Drums and Boy George with Rufus Wainwright orchestrating three of the nine songs -- Carbon Life is an experiment in collaboration but also the Royal Opera House's bid to attract a younger demographic to the venue.
Part ballet, part rock gig, Carbon Life takes a multi-disciplinary approach and borrows from dance, music and fashion to produce an original spectacle.
Video by
Pugh, a former dancer himself, looks at his own work in the same multi-disciplinary light. "I sort of fell into doing fashion. When I left Sunderland to go to university it was a choice for me to make between doing either sculpture or fashion. I figured that doing fashion at St Martins would give me the chance to do both, because a lot of the things I was doing in sculpture were about the body."
His final collection -- featuring models with balloons attached to their bodies -- at his graduation show in 2003 at Central Saint Martins, piqued the interest of Dazed & Confused's then fashion editor Nicola Formichetti. This secured the designer the much-coveted cover of the pioneering magazine.
Despite publicity and endorsement from influential people in the industry, Pugh didn't have it easy, moving into a commune in a Peckham squat back in 2005 to avoid going on the dole. Pugh has certainly come a very long way since then. With financial backing from fellow fashion designer Rick Owens and his wife, Michelle Lamy and support from the likes of Anna Wintour and Lady Gaga, there is no turning back for Pugh.
With help from Rick Owens, Pugh has managed to strike a balance between producing signature pieces and ensuring that they are the sort of clothes that will sell and can work well in a shop. Besides business advice, the most important thing Pugh has learned from Owens is how to say no. "The best thing Rick [Owens] ever told me was how to say no, which translates to a lot of different problems and life circumstances, not necessarily on a creative level, but in many aspects of life. I think he means by saying that, you need time to be able to think."
His dark and sculptural designs and the flamboyant personalities who champion his work are somewhat at odds with the designer's down-to-earth and good-humoured personality. Boyish, at times even sheepish, Pugh says he's a simple person. "I think it's really important to have a sense of who and where you. The friends who I'm around with are people who I've known for 10 years, and we've all grown up together. It's very important for me to keep them. They're very important to me, as is my boyfriend who, whenever I'm not working, I like to spend as much possible time with." He adds: "There are more important things than work."
'Carbon Life', Royal Opera House, London. Until 23 April. Box office: +44 (0)2073 044 000, www.roh.org.uk
Popular in the Community