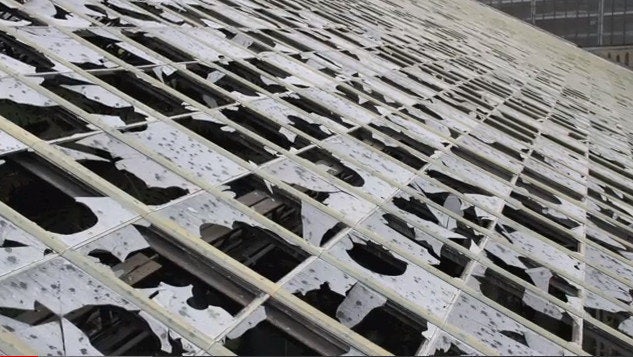 Zvezdana Kubat, assistant press secretary for the Chicago Park District, told HuffPost Chicago Monday that because the daunting and expensive process of cleaning up the glass is one that has to be done "piece by piece, by hand," establishing a timeline has been difficult. The conservatory's website said the process will continue through mid-August, but that is a moving target thanks to the complexity of the undertaking.
"It's such huge damage that has happened, this came as a great big shock," Kubat said. "It will take some time for us to clean up and rebuild."
(Scroll down to watch video detailing the extensive damage to the facility, taken by a conservatory staff member.)
Despite the damage -- which affected the conservatory's Fern Room, Show House, Desert House and production houses -- the facility, located at 300 N. Central Park, re-opened its doors to unaffected areas just days after the storm hit. The areas that sustained the storm had, for the most part, been more recently updated than those that were severely impacted. The Fern Room's single-pane glass, for example, was last updated in the 1940s, while other areas of the conservatory have double-pane glass. Kubat estimates that 70 percent of that room's glass roof was destroyed.
So while life goes on in some parts of the conservatory, the clean-up and repair in the facility's affected areas remain costly, in addition to cumbersome. The glass clean-up is expected to cost the conservatory approximately $2 million on top of the construction and repair costs. It is unclear how much of the damage will be covered by their insurer and, with colder temperatures threatening the facility's plant life only a few months away, the entire process has turned into a bit of a race against time.
And though she said financial support has come in from all around the world Kubat admitted they "could use some bigger [donations], but we're certainly appreciative of anything anyone can do to help us out."
Popular in the Community