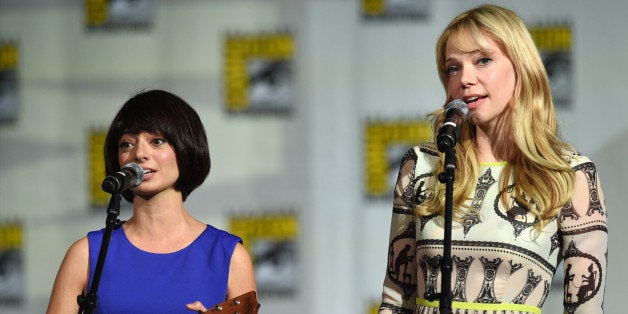 "I had that same freakout when I saw the 'Silicon Valley' billboard in LA," Lindhome said, this time joining me at the HuffPost office. "It was all these guys who were in our 'Garfunkel and Oates' web series. None of them had TV shows and then it was like, 'Oh, you're all on the same one.' It was surreal."
Their short-lived HBO digital series was a big first step for Lindhome (Garfunkel) and Micucci (Oates), leading to their first television series, appropriately called "Garfunkel and Oates," which debuts Thursday night on IFC.
Both women have been writing and performing funny songs since they were in high school and college, but similar to the stars of Comedy Central's "Key & Peele," they were solo acts until meeting. After realizing they had the same comedic sensibilities, Lindhome and Micucci decided to join forces. But why "Garfunkel and Oates"? Why not "Simon and Hall"?
"It's really hard to name a band," Lindhome joked. "That was actually the first name we came up with, then we kept changing it."
"'3, 2, 1, Mezzanine' was one," Micucci remembered. "I thought 'Garfunkel and Oates' would be too confusing, but it ended up being confusing in the best of ways because the first time we played a comedy club, it was because they thought we were the real Garfunkel and Oates."
About six months after they did that show, they became friends with the real John Oates, when his assistant tracked the ladies down on MySpace. They have remained in touch, and Mr. Oates even makes a cameo in the new show.
"He plays the owner of a porn store in the second episode," Lindhome said. "People didn't recognize him!"
"It was a funny phone call to be like, 'Hey John, we'd love to have you on the show. Do you want to be a guy who works at a porn shop?' But he was totally game," Micucci added.
In addition to Oates, Sir Ben Kingsley and "Weird Al" Yankovic (a personal hero for both Lindom and Micucci) also make cameos in the first season.
"'Weird Al' chastises us in the show," Lindhome explained. "We meet our hero, but Al's so mean to us -- and anyone who has met him in real life knows he's the exact opposite, he's so nice -- so we wrote a part where he's telling us off."
"'You're making fun of two Rock and Roll Hall of Famers doing the best they can!'" Micucci joked, mimicking Al's character.
"That was crazy," Micucci said. "He was so good. And nice, too! But it was good that the scene was supposed to be awkward and nervous, because I was feeling that so I was right in the character. Not a lot of preparation for that scene!"
As a semi-autobiographical show about the comedy-folk duo, Lindhome and Micucci drew inspiration from "Flight of the Conchords," but also took cues from female duos on show such as "Broad City" and "Laverne & Shirley."
"We mostly watched those shows to find out how you can have a B-story when there's only two characters," Lindhome said. "We learned that from other people."
"Then we just did the thing we wanted to do," Micucci added.
Drawing from their own conversations and experiences in the comedy/music world, the most unique part of the pilot episode, which is available online, is the dialogue between the leads. It features such repeatable phrases as "Going full 'Mermaid,'" to describe a woman who barely speaks on dates, and "beige curtains," which is essentially a nicer way to say, "basic bitch."
"'Basic Bitch' is kind of mean," Lindhome laughed. "Beige curtains ... there's nothing wrong with them. You're not like, 'Ew, gross! Beige curtains!' You just don't notice them either way. They're just, like, fine" Lindhome said.
In addition to their new show, Garfunkel and Oates are currently in the middle of a national tour, performing for and meeting their fans who have supported them since the early YouTube days.
"Sometimes the fans bring us gifts. Someone gave us duck vibrators once," Lindhome laughed.
"And one time we got a book called, 'Tickle His Pickle,'" Micucci added. "Because we have a song about giving hand jobs. That was nice."
The ladies don't mind the NSFW gifts, and really love it when their fans draw them ("It's really flattering," Micucci said), but one thing their admirers can't count on is getting high with the duo, even though, as their song "Weed Card" suggests, they are no strangers to California's medical marijuana laws.
"Doing drugs with strangers on the road is probably not the best thing for two women to do," Lindhome said. "A lot of our comedian friends [like Doug Benson] do it, but it just feels wrong to us. When Doug does it, it's a part of the whole experience of seeing him but for us, it's a little different. You don't want to be doing drugs with strangers in their hotel rooms."
"We're also kind of boring on the road," Micucci added. "We like to go back to our hotel rooms."
"And eat spaghetti," Lindhome said.
"And play solitaire," Micucci added.
Just don't call them beige curtains.
"Garfunkel and Oates" premieres Thursday, Aug. 7, at 10 p.m. ET on IFC.
Related
Popular in the Community