The original plan was to make a ramp tart as a first course. Some of the people at the table would be from foreign parts, and they probably wouldn't have eaten ramps. It was a good idea, but this was a few weeks ago and ramps hadn't yet materialized in our farmers' market (though they were appearing on a few restaurant menus, judging by several chefs' Twittering). The idea of a tart had lodged in my head, however -- plus I'd already made the pastry -- and I still wanted to use something in the allium family (onions, garlic and so forth). That triggered a memory of something I'd seen not long before on the menu at the fine London restaurant Koffmann's: A refurbishment of the classic flavors associated with snails -- garlic and parsley -- where the garlic was rendered as a custard and the parsley as a foam.
I certainly wasn't going to be dragging a foam into what was intended as a fairly simple tart, but the garlic custard was a grand idea: I'd make something like a quiche, but with plenty of parsley and lots of simmered garlic in the creamy filling. Both ingredients would share top billing. And for a texture contrast? Well, apart from their association with snails, garlic and parsley can evoke south-western France, where excellent walnuts are grown and eaten. By coincidence I'd just bought some of those Périgord walnuts at a local food store, so the connection grew even firmer.
Having made pastry -- with four ounces butter, six or seven ounces flour, salt and cold water -- and lined a 22cm fluted removable-bottom tart pan (8-1/2 or 9 inches would work for these quantities too), I lined the pastry shell with aluminum foil and put it in the freezer. I then heated the oven to 400 degrees F.
I peeled and rinsed the cloves from three medium-small heads of garlic and cut off their hard bases, then brought them to the boil in salted water, simmered for a few seconds and drained. If I'd wanted a milder garlic flavor I could have repeated this once or even twice more, but I didn't. I then simmered the garlic cloves in whole milk to cover, with some salt; when they were tender -- this could take 10 minutes or it could take 20 -- I pureed the mixture with an immersion blender, then added half milk and half cream to make a total of 1-1/2 cups. Into this I whisked two whole eggs and one yolk and stirred in a big bunch of flat-leaf parsley that I'd washed, dried and chopped after removing the bigger stems, the grated zest of half a lemon and of course plenty of salt and pepper.
The tart shell was now frozen; I added pie weights (beans in my case) to the foil lining and baked the shell for 15 minutes. I removed the foil and beans and returned the shell to the oven to bake completely crisp and golden; this took another quarter of a hour, but much will depend on your oven.
To the fully baked shell, I added the garlic-parsley custard and topped it with lightly toasted walnut meats (they would continue to toast in the oven because they'd float to the surface of the filling). I lowered the oven temperature to 375 F and baked the tart until the custard was slightly puffy and set but not hard and cracked. This took about 25 minutes -- but, again, everything depends on your oven. Start checking at the 15-minute mark but be ready for it to take as long as half an hour.
Anyway, timing isn't important, because, like so many foods, this tart eats far better tepid or at room temperature than it would hot from the oven. When it has cooled, the flavors blossom, and those flavors are alluring ones: all that garlic, once simmered in milk, becomes softer but no less distinctive. And the parsley is an equal partner; in fact, you could use more of it and less garlic and call this a parsley tart. If on the other hand you wanted something more assertive, you could add a couple of rinsed anchovies to the garlic custard and grate in some more lemon zest.
So the lack of ramps turned out to be a gift -- both to the cook and to his guests.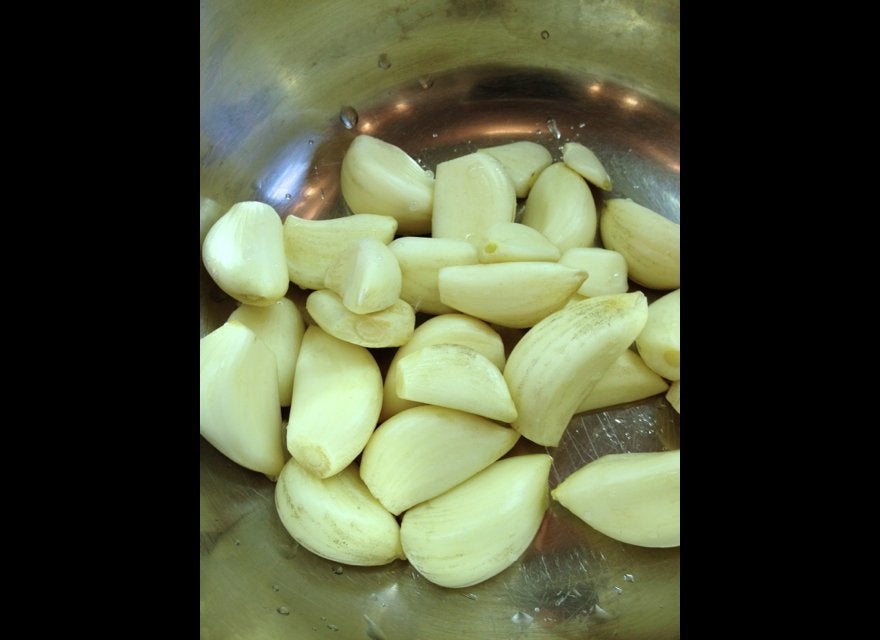 Cooking Off the Cuff: Garlic And Parsley Tart