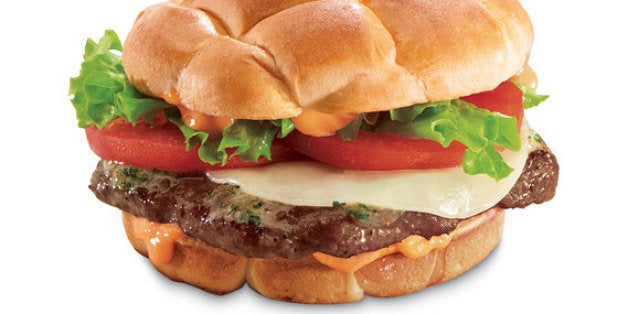 Overshadowed last week by the clamor of a management shift at McDonald's Corp. were significant changes at one of Big Mac's toughest competitors. Jack in The Box, the No. 5 burger chain, quietly moved its menu and its dining experience a notch more upscale, small shifts that will result in the repositioning of the brand up and away from many QSR competitors.
Jack in the Box announcing new burgers isn't new, but last week's was different because the burgers are a touch more sophisticated. The new Buttery Jack burgers are quarter-pound beef patties puddled with melted garlic-herb butter like a fine steak and served on a new bakery-style signature bun.
Two varieties--both at top-tier prices--are available: The $4.49 Classic Buttery Jack has creamy tomato sauce, green leaf lettuce, fresh tomatoes and Provolone cheese; the $4.79 Bacon & Swiss Buttery Jack has creamy bacon mayo, hickory-smoked bacon and Swiss cheese. This is exactly the "good ol' cheeseburger where the quality of the meat reclaims the spotlight" I had in mind when I forecast that 2015 will be the Year of the Cheeseburger.
Advertising that broke during yesterday's Super Bowl emphasizes just how different these burgers are. Spots show taste-testers enjoying the burgers, which one calls "classy." But when asked if these burgers could come from Jack in the Box, no is the popular answer, much to the mortification of longtime mascot Jack in one spot. In another commercial, when a young woman says she doesn't like fast food so it can't be Jack's, Jack steps up from behind her and says, "Hi. I made that." "Really?" she asks. The official hashtag for the campaign is #ButterBelieveIt. Secret Weapon Marketing, Santa Monica, Calif., is Jack's lead agency.
"The Buttery Jacks are truly a masterpiece of creativity," Iwona Alter, Jack in the Box VP-menu strategy & innovation, says in a release announcing the burgers. "We tested more than 150 combinations and builds before we found the perfect burger, with seasoning mixed right into the signature patty and garlic herb butter melted right on top.
Garlic-butter burgers on better buns (say that 10 times fast) are earlier manifestations of Jack in the Box's plan to refine its food and the experience of eating it. Later this year, food will start being served in baskets by crew in new uniforms, for example.
Jack in the Box posted a respectable 2.0% gain in same-store sales for its fiscal 2014, which ended Sept. 28, 2014. A 3.6% increase in average check offset a 1.6% decline in customer traffic. The numbers are good but not as good as they've been for Qdoba, the fast-casual Mexican chain that Jack in the Box also owns and which it has been rebranding. Qdoba, which has moved to a single price for entrees with free add-ons, posted a strong 6% increase in same-store sales.
The changes are coming under the direction of Frances Allen, who joined as president of the Jack in the Box brand in October. She brought food service and retail experience from Denny's, Dunkin' Brands, PepsiCo, Frito-Lay and other stops. But the modernization of the brand began under former Jack CEO Linda Lang and has accelerated under Len Comma, who ascended to chairman-president-CEO on Jan. 1, 2014.
In his conversation with analysts during the Q4 earnings call in November, Comma hinted broadly at the upscaling that begins this week. "I think what you can expect to see over the next couple of years is that we will focus holistically on executing the brand in a way to drive more consumer loyalty or affinity to the brand. And that will have to be done through a combination of things," he said. "One, I think we really have to look at our menu very carefully to decide how we can generate a greater consumer value proposition. And I think when you look at the equities that we have on our existing menu and look at the innovation that we have been able to achieve over the last handful of years, I think we have a golden opportunity to up the ante with our menu and really take both taste and quality to a new level."
Jack in the Box has been careful about balancing LTOs between low- and high-price items. On the high end, it has tried the Bacon Insider. Ultimate Cheeseburgers fall in the middle and additions to its Monster Taco line balance on the low side.
Comma also identified an opportunity to simplify the Jack menu, heighten value perceptions and to make ordering easier. Its Late Night Munchie Meals, which have been very successful for the chain, are all $6 bundled combos. Jack in the Box may pursue a similar strategy at breakfast and other dayparts, Comma suggested.
"If you look at the late-night work that we did, it was holistic approach," Comma told analysts. "We didn't just add new products to the menu. We added new products and packaging that was branded holistically.
"It was a late-night experience. It included music. It included uniforms. It included maybe a little edgier service and packaging and voice of the brand. And I think that the consumer has responded very favorably to that. When you see what we have done with late-night, at least the holistic approach associated with it, you can anticipate that we will take a very similar approach to the entire business."
Related
Popular in the Community