We are familiar with the play.
January 14, 1973. Super Bowl VII.
Miami Dolphins' kicker Garo Yepremian makes an effort to play quarterback after a messed up FG attempt with 2:07 left and Miami leading Washington 14-0. As he tries to pass, the ball slides out of his hands and the Redskins' Mike Bass returns it for a TD.
For a moment, the Dolphins' perfect season is vulnerable.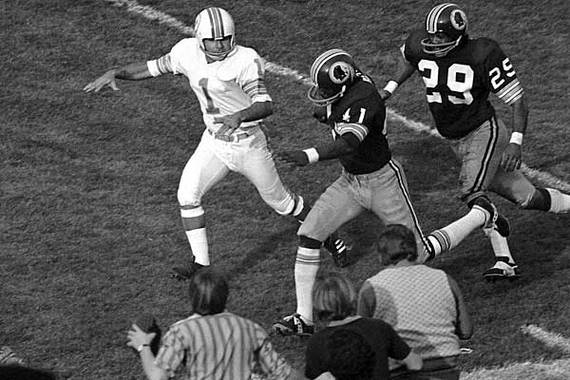 Even with a pair of Super Bowl rings, more than 1,000 career points scored, and his former ownership of the NFL record for most consecutive field goals, Yepremian's name is forever associated with that split-second foul up.
Yet Garo Yepremian still can't believe his good fortune and position in life. At 5' 8", the Cyprus-born, soccer-style placekicker is still grateful that he even had the opportunity to err.
"Whether it's snowing, raining, or whether it's cloudy, to me it's a gorgeous day," says Yepremian, 69. "When I see things in the rest of the world, I see and always realize just how fortunate I am to be here."
And, of course, every Super Bowl season, the ill-fated snafu replays over and over again.
"People, they mention it all of the time," says Yepremian. "And the funny thing is that I don't make a dime off of it."
The Pass: "I Honestly Felt as If My Life Was Over"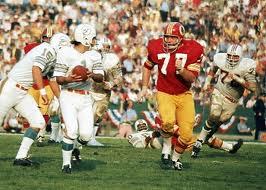 The Miami Dolphins walked onto the field at the Los Angeles Memorial Coliseum with a sterling 16-0 record.
Miami's 'No-Name Defense' dominated the NFC Champion Washington Redskins. In the final minutes, Miami attempted to give the Dolphins a 17-0 lead with a 41-yard field goal.
However, Yepremian saw his kick blocked by Washington's Bill Brundage. Instead of falling on the ball, he made a poor attempt at a pass. The ball was smacked in the air. Redskins' cornerback Mike Bass caught it and galloped 49 yards to move Washington within a touchdown. President Nixon, watching on a White House television, jumped up and down. Miami coach Don Shula winced. With a seven point margin, anything was possible.
"I honestly felt as if my life was over," says Yepremian. "I never, ever had been disappointed like that in my life. Goodness, I felt as if it was the end. Norm Evans, the spiritual leader of the Dolphins, he said, 'don't worry, God is with you.' That was the best thing that ever happened to me, to have that encouragement from a friend. If the other team scored, and it would have went to overtime, that would've haunted me for the rest of my life."
Fortunately for Garo, it was the Redskins' only score. Miami won 14-7. Yepremian, whose pass attempt was so inept the NFL ruled it a fumble, was free to celebrate.
The blunder gnawed at him during the off-season, but he wouldn't let any bad feelings extend beyond that.
"I took a negative and I turned it into a positive," says Yepremian. "That happened in 1972, and I played 10 years after that. I could have taken it as a negative, and I could have then made a failure of out myself. But I persevered, and I was voted kicker of the decade of the 70's.
"Some of my teammates, they are jealous at the attention. But I never use the past in my motivational speeches, I never talk of the negative. I talk of the pride in my country, my flag, my freedom, and my anthem. And I talk about how proud I am to be an American."
Yepremian's Unlikely Story
Born in Larnaca, Cyprus to Armenian parents, Yepremian's family lacked indoor plumbing and, he says, kept the home heated in winter by burning olive pits.
In 1965, he was working on the bottom floor of a London warehouse and playing semipro soccer on weekends. It was his older brother, Krikor -- captain of the Indiana University soccer team -- who thought up the notion that kicking an American pigskin could be Garo's ticket to a better life.
"Krikor saw the Gogolak brothers, Pete and Charlie, and he saw that they had success kicking the football 'soccer style,' as they called it. So my brother got an idea, my brother tried to get me a scholarship, and he said, 'Hey, Garo, kicks the ball much further.'
After the brothers realized that his soccer career made him ineligible to play in college, Krikor pestered the Atlanta Falcons and the Detroit Lions to give his brother a tryout. With ten dollars in savings to his name, Garo was signed by the Detroit Lions on Thursday, October 13, 1966, and kicked against the Baltimore Colts on Sunday, October 16, 1966. He wasn't sure how to put his uniform on.
Not speaking any English, Garo had not seen a pro football game before he suited up as a Lion.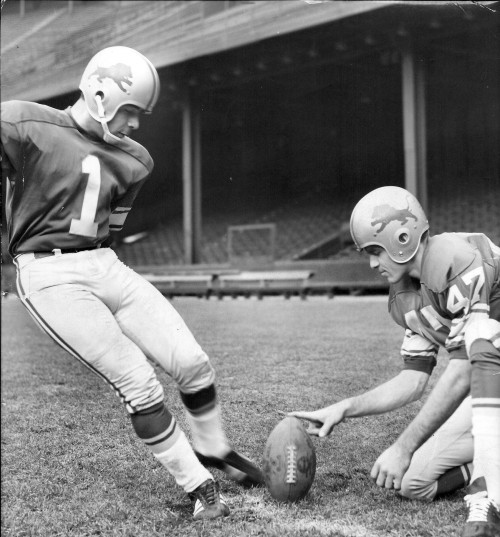 "I was scared to death," says Yepremian. "Detroit had already played five games, and I had never even seen a uniform. I was watching the players to see how they got dressed. It was strange and scary at the same time. I was 142 pounds, with a 28 inch waste, and there were these huge guys wearing a lot of equipment.
"In that first game," recalls Yepremian, "we were losing by a big score, losing badly, at halftime I don't think we had crossed midfield yet. But we scored a touchdown somehow, and I kicked the extra point. I was running off the field with my arms in the air, like we had won a championship. Well, Alex Karras came over, and he put his foot on the bench, and he said to me, 'what the you-know-what are you celebrating? Why are you celebrating when we are losing so badly?' I said, "Because I just keeked a touchdown."
Tonight show host Johnny Carson repeated that line for years.
When Yepremian missed the 1969 season while serving in the U.S. Army Reserve, the Lions replaced him.
"Lester Ford of the Lions said to me, 'You are going to be drafted, but we need you to be on the team. Just go to Europe, and come back during the season, and then you can avoid the draft.' But this was the country that had given me a home, so I couldn't do that. I joined the medical core, I was a cook in the medical core, and I spent four years in the National Guard. That gave me a lot of pride, a lot of discipline, a lot of love and appreciation for my country. I think young people and society would gain a lot, if they had to serve. We are the most giving, forgiving country in the world."
Garo returned to his suburban Detroit home and earned an income by making neckties in the basement. Around that time, in 1970, the Miami Dolphins invited him to training camp.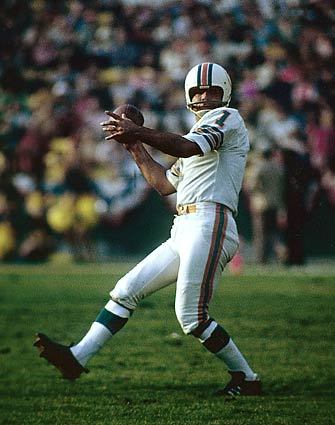 Yepremian helped the Miami Dolphins achieve the first and only perfect season in NFL history.
"One of my biggest memories was in the third game, we were playing the Vikings, and we were losing 14-6, and there was three and a half minutes to go. And coach Shula, with three and a half minutes to go, he sends me out for a 51 yard field goal. I lined up for it, but I had never kicked that far. But then, I started to think that if he has this much faith in me, I might as well have that much faith in myself. We ended up winning 16-14."
Earl Morrall's replacement of starting quarterback Bob Griese was one of the marvels of the Dolphins success that season. Morrall, age 38, filled in when Griese went down with a fractured leg and dislocated ankle in the fifth game of the 1972 season and improved Griese's start into a 15-0 record. Griese came back to start the AFC title game and Super Bowl.
"To me, what's most memorable is that Earl Morrall came in and won those 11 games. He was so much older that we would put a rocking chair in front of his locker, as the old man. But he was the hero basically for the whole season. Earl never complained, and he had class."
Garo's career with the Dolphins ended in 1978, and following stints with the New Orleans Saints and Tampa Bay Buccaneers, he retired.
Over his career, Yepremian was successful on 210 of 313 field goals and 444 of 464 extra points for a total of 1,074 points.
The Garo Yepremian Foundation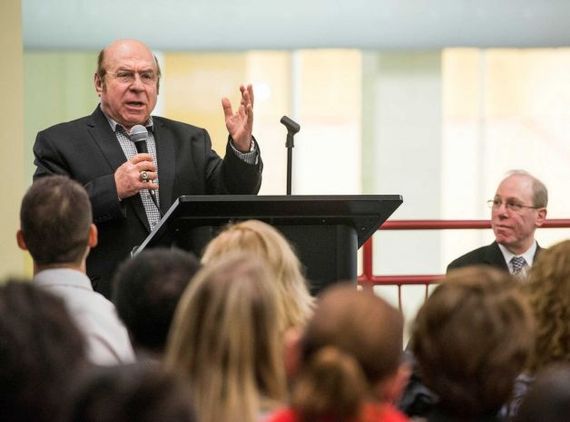 Garo and Maritza, his wife of 42 years, raised two sons: Garo Jr. and Azad. His daughter-in-law, Debby Lu, passed away in 2004, following a protracted battle with brain tumors. Garo founded the Garo Yepremian Foundation in Debby Lu's honor in 2001. He has since built a studio in the basement of his home, where he currently churns out between 40 and 50 oil and acrylic paintings every year. Some of the proceeds from these sales are put toward brain tumor research.
"What's scary is that more and more people are affected by brain tumors and brain cancers. Could it be the water? Or because of the modified foods? Or because of all of the electronics we use? Nobody knows yet."
On Wednesday, Garo will re-enact the famous 'Yepremian-to-Bass' flub as part of a Wounded Warrior Project fundraiser. Mike Bass will be there to scoop up the ball and take it in for six.
"It's his biggest notoriety," laughs Yepremian. "He'll never be forgotten. When people talk about me and the pass, they talk about him running the football back for a touchdown."
Calling all HuffPost superfans!
Sign up for membership to become a founding member and help shape HuffPost's next chapter