COLORADO SPRINGS, Colo. -- A loving father and husband, a man of faith and kindness, a New England Patriots fan, a skilled figure skater and a practical joker -- those were just some of the ways the congregation of Hope Chapel in Colorado Springs remembered officer Garrett Swasey.
The tight-knit community paid tribute to Swasey in emotional but upbeat Sunday morning service two days after the 44-year-old was killed by a shooter who apparently targeted a Planned Parenthood in the city.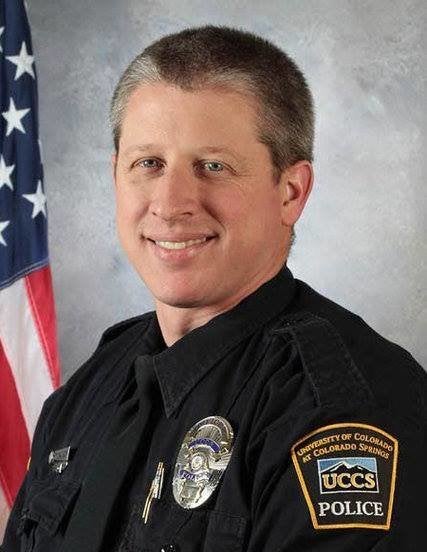 "Father, today is a day of rejoicing because we know where our brother Garrett is," church elder Kurt Aichele said in an opening prayer. "Thank you that we have a reason to celebrate. We come before you thankful for the time we spent with him."
Swasey, who served as an officer at the University of Colorado at Colorado Springs, was among three killed in the Friday shooting. The suspect, identified as Robert Lewis Dear, was taken into custody.
Boxes of tissues were scattered around the chapel for the roughly 100 people who attended the service memorializing Swasey, who served as a church elder and a care group leader at Hope Chapel.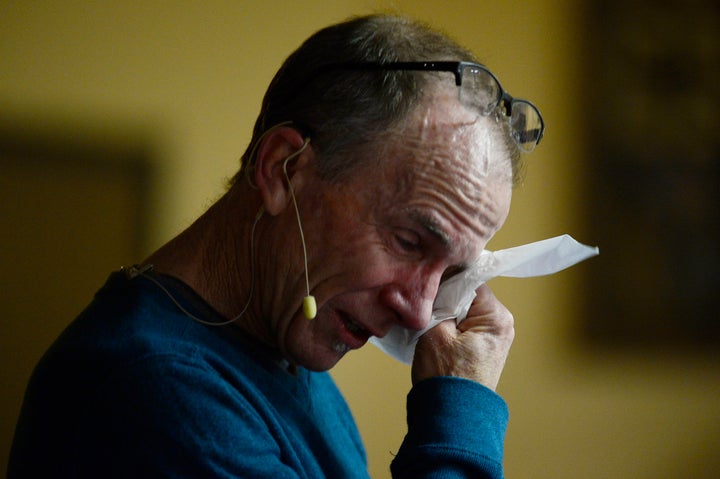 "He was your gift to us for a while and we thank you for that. There's nothing that truly belongs to us," church elder Scott Dontanville said as he relayed condolences sent from other churches around the world.
Dontanville played a video of Swasey, an accomplished youth figure skater, from the 1992 U.S. championships. 
The congregation's pride in Swasey was evident. People cheered during complicated portions of his routine and laughed at the more theatrical ones.
"He's so pretty!" one congregant yelled out, to laughter. Another shouted, "That's our Garrett right there, you guys!"
After the video, Dontanville broke down in tears. 
"You don't realize how much you love somebody until you can't tell them anymore."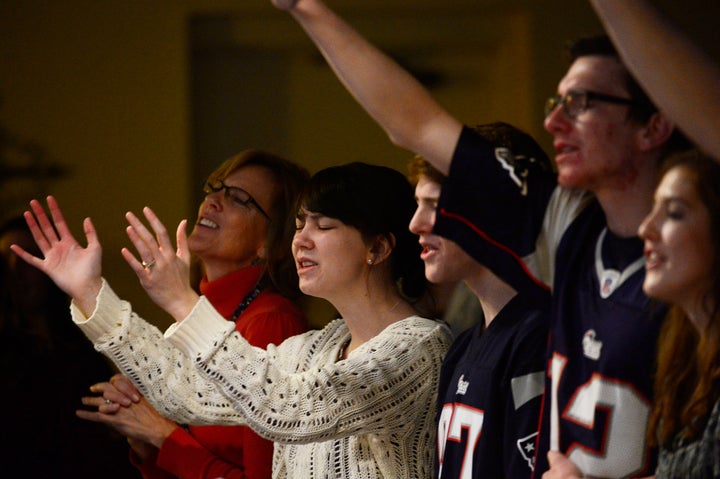 Many in attendance wore New England Patriots gear, to honor Swasey's beloved football team, which is scheduled to play the Denver Broncos later Sunday. At New Hope, where elders take turns giving the weekly sermon, Swasey kept a long-running joke of dropping sly pro-Patriots messages into his sermons. 
Dontanville joked that he still intended to support the hometown team even though he should "probably root for the Patriots" in Swasey's honor.
"I love you, Garrett, but not that much," Dontanville said, drawing more laughter from the congregation. 
Before the service, the congregation sang "Happy Birthday" for members who had recently celebrated a birthday; among them was Swasey's 10-year-old son, Elijah.
Swasey and his wife, Rachel, also had a 6-year-old daughter, Faith. Both served in the church ministry.
Dontanville asked reporters to respect the family's privacy, but said Swasey's widow was strong.
"Rachel is solid," Dontalville said. "Rock solid."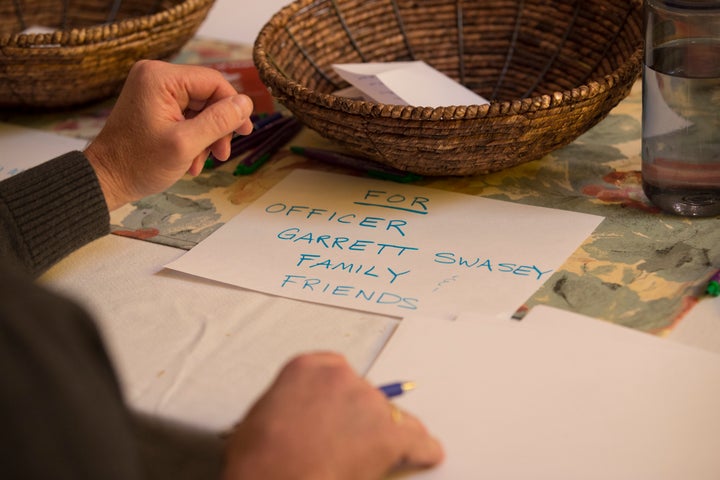 Michael Donahue, a fellow church elder and care group leader, described Swasey after the service as a "very selfless man who truly cared."
Dontanville said was still shocked by Swasey's death. 
"Our last conversation was a week ago. Next thing you know, he's gone," Dontanville said. He had shed "thousands" of tears, he said. 
"I didn't know my body could produce that much moisture."
Dontanville reminded the congregation: "We have a strong foundation in this church. We can go through these trials."
He and other church elders also prayed for Swasey's alleged killer, calling for his forgiveness. 
"I've never met him. Garett has never met him. Garett may never meet him, unless he repents for his sins -- and he's sinned, not just shooting Garrett," Dontanville said. "I pray for his soul, that he may reach out to [God] for forgiveness."
"We forgive him," he added. "We can't not."
Calling all HuffPost superfans!
Sign up for membership to become a founding member and help shape HuffPost's next chapter