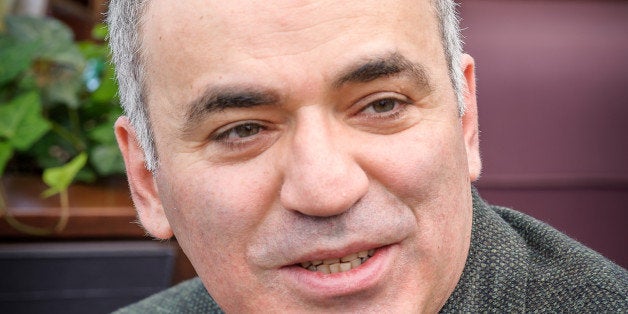 Since his retirement, Garry Kasparov, the Russian chess master who held the title of world chess champion for 15 years, has become one of Russian President Vladimir Putin's most high-profile opponents. He spoke to The Huffington Post this week about Russia's recently passed anti-gay laws that have spurred protests around the world, why he doesn't believe in a boycott of the 2014 Winter Olympic games in Sochi, Russia, and why things are likely to keep getting worse in his native country.
On Tuesday, just two days before President Barack Obama was scheduled to visit St. Petersburg for the G-20 Summit, the Associated Press published a rare interview with Putin in which he said Russian policies do not discriminate against gay people. Kasparov, who in 2008 ran for president against Putin before withdrawing, was not convinced.
The chess master spoke to The Huffington Post in New York City where he moved in February, concerned about facing political persecution if he stayed in Russia.
Huffington Post: Unlike some critics of Russia's new anti-gay laws, you've been advocating for a boycott of Putin, rather than the Sochi Olympics. Can you explain what such a boycott would look like and why it would be effective?
Garry Kasparov: I was a professional athlete and I never liked the idea of pushing athletes out of the competition for political reasons. The boycott is not about athletes, it's about Putin and his oppressive regime, and about his new laws. To send a message about that, you don't have to do it in the field or at the skating rink.
One, I think that no politician -- I'm talking about leaders of countries and top notch politicians -- should attend the games, and thereby help Putin gain more authority and confidence.
Two, I think Putin understands the language of money, and the Olympic sponsors have plenty of opportunity to send such a message. McDonald's, Coke, Visa all have mainly customers outside of Russia, and they rely on the income from the free world, and they should be sensitive to the demand of the public here to send a message. They don't have to pull out of the games, but they can easily send a message by putting rainbow flags on each can or burger, or by creating an environment that will send a message of disapproval about Russia's draconian laws.
Three, the major television networks can easily demonstrate their disapproval of Putin's policies by simply inviting the people of Sochi who have been kicked out of their homes during construction for the games, or general Russian human rights activists. It's a free world, and nobody can stop NBC from talking to the people of Russia and not only corrupt Russian officials.
How do you think Putin and other Russian officials will react to outside pressure and criticism?
I think it's very difficult to give exact predictions of the potential effect if these things happen, but I can tell you exactly what is going to happen if no steps are taken. Putin reads signals, and if the West swallows again, he will keep pushing. No dictator starts out with the same brutal agenda. Even Hitler in '36 was different than in '39.
It's about building a wall on Putin's expansion. It's also about taking actions to protect our environment -- you know what they're doing in Russia and it's an opportunity to either show protest or be subdued by a dictator who wants to use the Olympic games as his personal triumph.
When I say Hitler, many people get upset, but I say it just to remind everyone that in 1936 [the year that Germany hosted the summer Olympics] Hitler's record was relatively quiet compared to what happened afterwards.
Are things getting worse for gay people, and other minorities, in Russia?
Yes. I think it's a natural progression. Every dictator has to add more to the equation by demonstrating his brutality and his willingness to go as far as necessary.
That's why I would like us to look at an overall protest against Putin's policies and not just be limited by the anti-gay laws. Those are just a few of several laws that are as bad, including the anti-adoption law and the law forcing NGOs to be registered as foreign agents.
Are you in touch with gay-rights advocates in the country?
I'm in touch with everyone. I don't do specific divisions for gay activists or those who are protecting the environment. For me, whether it's evicting people from their houses in Sochi or anti-gay laws or environmental disaster, it's all part of the overall attack on civil rights. That's why I'm equally happy to communicate with each group and protect any of those who are in danger.
What do you think is the worst-case scenario for next year's Olympics, and what is the best?
The worst-case scenario, and I don't want to think about it, is that technology can fail. In the Olympics they require quite sophisticated construction, and knowing the companies that are working in Sochi, I can only pray that nothing happens with this construction during the Olympics. The best-case scenario is that the Olympic games will pass and politicians, sponsors and the mass media of the free world will use it as an opportunity to send a message to Putin and to the Russian people.
But the Olympic games start in around six months, and I think six months for Russia today is quite a long time. It's quite a fragile situation and it's not an accident that Putin recently signed a law turning Sochi into a besieged city, under martial law for months.
What can sympathetic people in the United States or other countries do to help?
I don't think that people who are not engaged in politics, big business or mass media have a direct responsibility for changing things in Russia. But in the free world, I believe that even ordinary people have a great opportunity to influence those who are making decisions. Here, I think people getting together and sending letters, demonstrating, sharing Facebook stories -- in other words, using the basic instruments ordinary people have, to knock at the doors of NBC, McDonald's or the White House.
If you force the mass media to actually take a stand, it will eventually reach the ears of the White House and other ears of the free world and that will have an impact.
What did you make of calls earlier this summer to move the games to another city?
I don't want to argue for things that are unpractical. Eventually, I would love to hear the full story of the Olympics committee actually voting for Sochi, a subtropical resort with none of the proper infrastructure in place, for the Winter Olympics.
What do you make of Putin's claim this week that Russia's new anti-gay propaganda laws are not in fact discriminatory against gay people. We have absolutely normal relations, he told the Associated Press, and I don't see anything out of the ordinary here.
It's just an attempt to buy time.
Read what Adolf Hitler said in 1936. Same story. Look, the problem is that Putin doesn't care about the validity of his words. He just says what suits him right now. He doesn't have a mass media that will be picking through every word and actually calling on him to take responsibility. Now, Putin recognizes that if he pushes too hard he might face major protest. After the end of the Olympics, he's not going to take responsibility for making those statements.
This interview has been condensed for clarity and content.
Popular in the Community