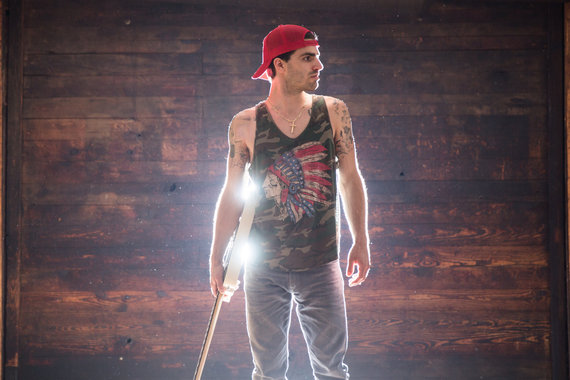 As the saying goes, everything is bigger in Texas. That was certainly the case for rising country star Mitch Rossell over the weekend, where he celebrated his birthday in much bigger fashion than he could have ever imagined.
When he's not performing, Rossell spends much of his time writing songs and recording videos for his fans. And although it's his creative YouTube videos (spanning everything from reinterpreted cover tunes to high-production videos of original songs) that have garnered him lots of fan attention, his songwriting chops are what caught the attention of country's all-time best-selling artist, Garth Brooks.
Brooks first heard Rossell's music late last year, after having songs sent to him while he was considering tracks for his album Man Against Machine. Although none of Rossell's songs made it on the album, Brooks took an interest in the Chattanooga native, and the two stayed in touch. Brooks called Rossell one of his favorite young artists earlier this year, noting he is "one hell of a songwriter."
When Rossell invited Brooks to attend a showcase he was playing in Nashville in February, he never thought the superstar would show up. "He's got so much going on, and as much as I wanted to hope he'd come, I really didn't think it would happen," Rossell says. He was shocked when 30 minutes before showtime a delivery man showed up with a half-dozen pizzas, saying they were from Garth. Rossell was blown away by the gesture, but Garth wasn't done yet. Moments later, the country legend walked in the door and watched the entire show from the back wall of 12th and Porter in downtown Nashville.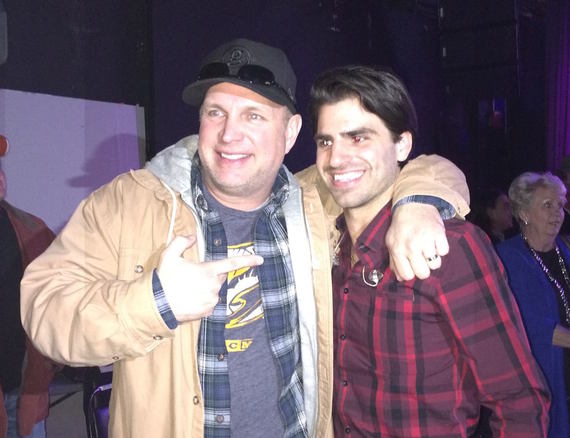 Fast forward a few months after that show in Nashville, and Brooks invited Rossell to do some writing. Brooks took the collaboration to a new level last weekend in Dallas when he invited Rossell to join him onstage, playing guitar and singing harmony to Brooks' greatest hits. Toward the end of the show, Brooks introduced the audience at American Airlines Arena to Rossell and led them in a "Happy Birthday" serenade. Despite his whirlwind week, Rossell took some time to tell me about the high points - and the best birthday surprise ever!
I'm sure the past few days have been completely surreal. Has any of it started to sink in yet?
You know, I think I'm still just in awe. As Garth said on stage, he's never done this for anyone, so I just feel so honored, humbled, and overwhelmed by it all. With each passing minute though, it's sinking in more and more. I just keep smiling.

Did you ever think you'd have 21,000 people sing "Happy Birthday" to you?
No, I definitely never envisioned that, or that Garth Brooks would be the one orchestrating it! I have had big dreams for a while, but everything I'm experiencing is more like a fairy tale. And what better place than Texas to have 21,000 people sing Happy Birthday to you. They were really gracious to do that.

You and Garth have been co-writing. What's that process been like?
Writing with Garth is VERY surreal for me because Garth is the reason I started writing songs in the first place...I mean, talk about coming full circle. He inspires me so much, and his passion and enthusiasm are just remarkable. I can relate to it, ya know? I'm a passionate guy...I feel very deeply, and I think we share that trait.
What's the best advice Garth has given you?
Wow...honestly, there is no way I could choose. I have learned a lot in this business from a lot of knowledgeable people, but I truly believe if you combined all of it, what Garth has taught me alone would outweigh it. I am so unbelievably blessed to soak up wisdom from the absolute greatest of all time. Oh...and you can still kick ass when you're an old man! ;-) (That one's for you, g!)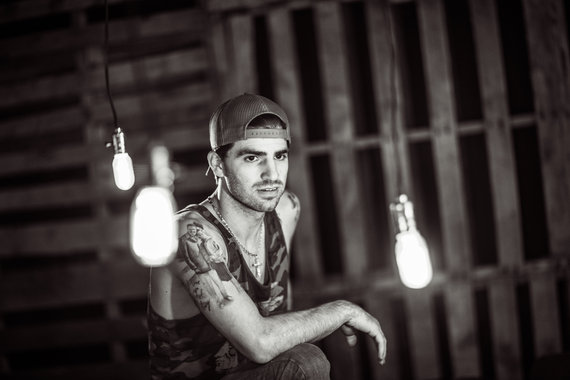 For a country artist, performing live with Garth Brooks is bucket-list stuff. What are the other things you're most looking forward to in the weeks and months ahead?
You know, right now I'm just trying to soak in this moment and this feeling and really embrace it. I'm very guilty of over planning and always pushing to the next thing, but this is something so unique and amazing that I want to live in it for a little while.

When can fans look forward to new music from you?
I can't say a date at this point, but hopefully very soon. It's definitely in the works, just waiting for some things to come together first. I'm writing all the time and there is ALWAYS something going on behind the scenes that's leading to new music, so stay tuned!

Do you have plans to go on the road any time soon?
I've been wanting to get out on a consistent road schedule for a while now...I love meeting new people that love music and just letting the world hear my songs. It's all in good time though, so I'm trying to be patient.
Anything else you'd like to tell fans?
No matter what dreams you pursue, it's not always glamorous. Matter of fact, MOST of it isn't. I have grinded, clawed, fought, and doubted myself plenty of times...but God, friends and family, and the fans that supported me always threw me a rope at the last minute. Surround yourself with good people, work hard, pray hard, and take it from me...dreams can come true.
Fans can follow Rossell at MitchRossell.com or download his 2014 debut album, I Got Dressed Up For This, and several cover songs, at iTunes.
Images and videos courtesy of Mitch Rossell.
REAL LIFE. REAL NEWS. REAL VOICES.
Help us tell more of the stories that matter from voices that too often remain unheard.