Stopping by San Jose Nov 13 to kickoff their three-day leg of a world tour that started last year, Trisha Yearwood and husband, Garth Brooks carved out some time to meet with media.

A long time fan who grew up with their music and songs memorized, I attended the press conference wondering what drove these two to leave a comfortable home and get up on stage each night. I was also curious if this power country couple ever went on a double date with Tim McGraw and Faith Hill!

Wearing a ball cap and hoodie, Garth bounced in accompanied by Trisha in a plaid shirt and jeans.
Garth is the #1-selling solo artist in US history with 136 million albums sold. His touring days from the 90's are legendary as he incorporated the arena-rock-party-style of Kiss, Queen and rodeo rocker Chris Ledoux, forever transforming country music. He retired in 2001 to raise his kids, seeing them through to college before deciding to re-enter the music scene.

Trisha has won three Grammy Awards, sold 15 million albums, and is quickly becoming the next big lifestyle maven with three New York Times Best-selling cookbooks, host of an Emmy award-winning Food Network show, as well as new lines of cookware and furniture.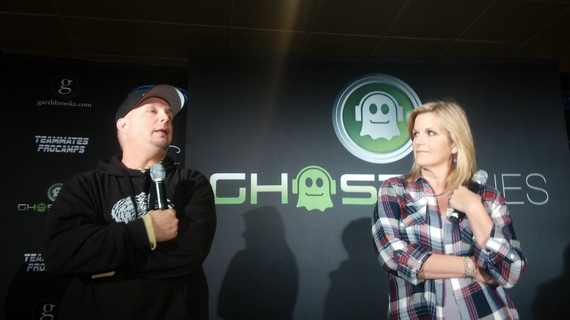 For people who routinely summit the peak of professional success, I asked them about their drive to get on stage night after night - is it faith, ego, or music?

Trisha simply answered, "yes," and then explained that as a little girl singing in church, while there's respect for those in the choir, she wanted more.

"This burning desire to sing never went away," she said. "I feel its what I'm supposed to do. Ego yes, I love being told I do a good job, but it's the music. I feel lucky, because we both love music and get to be here together."

Garth affirmed with approval and then added, "When you're allotted this life, it's a dream people gave you. Monetarily, do I need to? No. There's a feeling you get. If I don't go out there, I die - music is air. That air is what we do. We've done 140 shows this tour, I cry every time."

He then compared it to a surprise homecoming from a soldier, who unexpectedly reunites with their family. "It's the most fun thing on the planet. You have to look down and see if your feet are touching the ground, you feel so good."

The question about doubling with Tim and Faith, elicited good-natured laughs. They answered no because they are never in the same city together - except for bumping into each other at award shows. Garth and Trisha did mention they started out with Faith singing demos. Tim and Garth attended a friend's wedding together as a bridesmaid and maid of honor. "What did you wear?" Trisha asked, an eyebrow up. "A tux of course," Garth grinned. "It was a good girlfriend of ours who had guy pals stand in."

The press conference ended and we were invited to meet Garth and Trisha one-on-one.

Garth took a seat on the edge of the stage, a few feet from the chair I sat in. With my questions already answered, I simply began to thank him for a moment back in 1999 when his charity, Teammates for Kids, came to Colorado. My Columbine classmates were invited to watch his celebrity softball game at Coors Field. I blubbered my way through the reflection, touched by the memory and slipping into fan girl mode.

Eyes big, he asked how you get through something like Columbine. "Prayer and community," I said, then met by his "amen" acknowledgement.

He pushed himself off the stage and kindly sat quietly by me as I gathered my emotions. One memory I didn't surface while sitting next to Garth, was that in the Columbine aftermath, on a 5-hour loop, I listened to his song "The Change." His heartfelt delivery leant to my healing. What a beautiful moment that 16 years later, the message and meaning of that song, coupled with my experience, would be honored, as the artist sat quietly with me.

I'm beginning to understand what Mr. Brooks means when he says music is air.
Calling all HuffPost superfans!
Sign up for membership to become a founding member and help shape HuffPost's next chapter