Technology has changed, the buyer and the buyer's journey has changed, the marketing funnel is no longer deterministic and all of this disruption is challenging chief technologists, sales leaders and marketing executives like never before. Sales and marketing are tasked with maintaining and growing the current business -- delivering shareholder value, stock prices and revenue numbers, while adapting to new and innovative methods of responding and delivering to customer and prospect needs. "It's a really tough place to be," says Tiffani Bova (Twitter: @Tiffani_Bova), who is a vice president and distinguished analyst at Gartner and one of the top enterprise technology sales analysts in the world and an authority on the topic of sales transformation.
Bova focuses exclusively on go to market strategies and sales transformation and innovation for large technology companies. Having sold technology for about 15 years before taking the job at Gartner, Bova likes to say that she's a "recovering seller" that now gets to live vicariously through her clients without actually having to carry a quota -- a good place to be.
In her recent Harvard Business Review article entitled, Reinvent Your Sales Process While Still Hitting Your Numbers, Bova talks about the Seller's Dilemma, a term she coined to describe the delicate dance of any sales leader who is faced with the difficult challenge of hitting the numbers on a quarterly basis while at the same time having to think about the transformation that needs to be made in the sales force.
According to Bova, when push comes to shove, the default will always be hitting the numbers, which is not acceptable in a market where differentiation is compressed, competition is increased and the buyer is in the driver's seat. Gartner research shows that 'The Future of Sales Depends on Solving the Seller's Dilemma' and Bova offers just the solution - a shared responsibility and team effort from the triangulation of technology, sales and marketing.
To begin to solve the Seller's Dillema, Bova advises technology, sales and marketing executives to start by recognizing and dealing with these 6 truths.

1. The customer, not technology, is the most disruptive thing in the market today - Buying behavior has changed in many markets. Customers via social media have access to more information about suppliers, their products and prices and others' experiences. As a result buyers, not vendors, have much more control of their own journey - which Bova feels is one of the most disruptive factors in the sales world: "Customers are going out and looking for information first, they're talking to their peers, they're looking for expert opinion - whether it's Gartner or others - and the provider ends up being fourth or fifth on that list as they are looking for information. By the time they show up to a salesperson, they're [customer] 50 percent or so through their buying journey."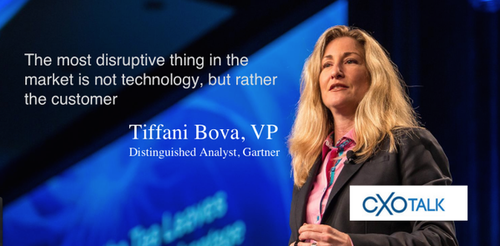 In addition, customers today have this experience with technology when they're at home with their smart phones, televisions and computers, so they expect that same kind of relationship with their technology at work, and there is definitely a gap between those two things. The trick with customers knowing what they want and being more demanding about it, is that they may have misperceptions of what the technology can do. They may have their own perception of what they should be looking at and what they need. Because of this, Bova does not think any decision should be made without talking to the customers.
"We are in business to make sure we're satisfying and delighting our customers and driving fantastic user experience and customer experiences every day. If we are not doing it for that, then what are we doing it for? Sure, we are doing it for shareholder value and revenue and all of that, but if you don't have a happy set of customers it just gets more difficult." -- Bova
2. All companies are going to become digital companies - As CIO's start to digitalize their own business and start to behave like their own service provider and vendors, servicing their customers internally, all companies are going to actually become technology companies -- an idea that Gartner started talking about at their Symposium event. Yet while most managers believe that their company has strongly differentiated products, most of their customers disagree -- a gap which Bova terms "Compressed Differentiation". In her blog on the topic, she writes, "The differences between products and vendors in many categories are narrower than ever before. In a recent poll of IT buyers, for instance, a majority saw little difference in their vendors' offerings. A more general poll across product categories is even starker: 80 percent of managers said they believed their companies had strongly differentiated products, but fewer than 10 percent of those firms' customers agreed."
A lot of CIO's are embracing the digitalization as a way to create an even greater differentiated advantage, but the disconnect between the 10 percent to the 80 percent lies in the fact that sales and marketing may have a view of what they're actually delivering from a product perspective, yet the end user doesn't feel that same thing. Bova thinks this has a lot to do with messaging and positioning for that CIO's CMO or marketing department to really understand what the product and service is and the value it brings to the business, and making sure that they are clearly communicating that to their customers.
"If the CIO believes one thing and if the customer believes another, the truth is somewhere in the middle, which means we've got to help educate the customer more and we've got to get more information out of the CIO's mind and to the marketer. That bridge between the CIO and the CMO is becoming even more important," says Bova.
3. Marketing and sales need to work together - "There's always been this tit-for-tat between sales and marketing," says Bova who worries that the divide between sales and marketing is growing as digital starts to take over and marketing starts driving more digital. Building trust between the sales and marketing department is becoming something that can't continue to be ignored and even though it's true that marketing is going to have more control over revenue, and buying and the buyer journey.
"We've got to make sure that the two are working together because if you've got people pulling in separate directions, the customer will know it. If the customer feels that the brand is talking out of two sides of their mouth, one from marketing and content, and then the sales rep shows up in front of them and it's a completely different conversation, that's a terrible experience." - Bova

In a Gartner blog, Bova says that if she had $1 million to invest in marketing the first thing she would do is make sure to incent marketing to go on sales calls to help build the alignment between marketing and sales. "I think that marketing really needs to not only think differently about how they bring the brand to market, but they've got to get closer to customers beyond just data," says Bova who challenges marketers to go on a sales call, either via phone or face-to-face, at least once a quarter so they can actually hear how well their content and segmentation and buyer journey mapping is doing live in the field.
4. The triangulation of technology, marketing and sales needs to be a connected model - Bova talked about the importance of creating synergies between the CIO and the CMO and between the CMO and the chief sales officer or chief revenue officer, but she stresses that it really has to be the triangulation between all three.
"I like to think about looking at it in a connected model. That connection between what is the product and who is the customer and how do they want to buy really becomes critical and if you can connect that conversation, then it's the team of technology, marketing and sales that's deciding on what's the right strategic direction. I think all three have got to come together to work more closely as a united front where all are strategizing and then each play their part in the execution of it. It has to be that trifecta of the right products, to the right customers, through the right sales model and all three need to be held accountable," explains Bova.
The problem is that while this becomes easier to do at higher levels in the organization where the executives are bonused and comped and managed and measured differently, it is difficult for someone who is lower in the organization and only responsible for a piece of the business. An individual seller is just trying to hit their numbers and isn't interested in getting into who is responsible. As an individual contributor they are focused on trying to sell, service the customer, satisfy the customer, hit their quota and earn their commission check. This is why the collaborative culture of the business needs to be embraced from the top and all the way down and businesses need to start to look at this as a team effort, regardless of who carries the quota.
5. Organizations need to work on establishing and building trust internally - The foundation for the successful alignment of the corporate company strategy with the product strategy, marketing strategy and sales strategy is the trust it takes to come together in a way that is better for the company, and more importantly for the best of the customer.
Building trust takes time and with executives coming in and out of the organization, it is difficult to establish and build on trust which exacerbates the Seller's Dilemma. Bova says the number of executives reporting to the CEO having doubled in the past three decades, mostly due to an increase in functional specialists like CIOs and CMOs, not general managers responsible for cross-functional integration.
"It takes time to build that trust and create that kind of synergy between executives, as well as in the field. If sales is going to trust marketing they have got to constantly prove it day after day after day, and if marketing is going to trust sales, the same thing has to happen, so I think the turnover at the executive level makes that ability to establish trust even more difficult," says Bova.
6. Sales management needs to manage and measure sales reps differently - To accommodate the buyer who is on a different journey, sales managers need to look at the way they manage their sales force. Sales management still manages the sales rep with the same metrics and tools that they've always measured with, yet the technology, the buyer and the buyer journey has changed. With customer's more than half way along on their journey by the time they call sales, it's obvious that sales has to respond differently. The problem is that because of the way sales is managed, when a buyer calls in, the sales rep takes them backwards in the journey as they enter them into their CRM system and make sure to cross all the T's and dot all the I's before they can put them in their system at the correct percentage of where they are actually at on the journey.
This process leaves customers frustrated and feeling that sales doesn't understand their pain points and their vertical or industry very well. Perhaps this is why Gartner research actually shows that customers now view their interaction with sales as the least valuable interaction during the buyer's journey, something that Bova sees as an opportunity for sales to step up and be a much greater resource for customers for information, thought leadership and competitive differentiation. "Sellers have very little control, they can't control the price, the product or who they get to sell to, but at the end of the day the one thing a sales rep does have control over is how they behave in front of the customer, their research and preparation, their integrity and their ability to drive trust," says Bova.
You can watch the full interview with Tiffani Bova here. Please join me and Michael Krigsman every Friday at 3PM EST as we host CXOTalk - connecting with thought leaders and innovative executives who are pushing the boundaries within their companies and their fields.
Popular in the Community