Los Angeles artist Gary Baseman is currently raising funds for his upcoming film project, "Mythical Creatures," based on the heartbreaking story of his father's narrow escape from Poland during the Holocaust. Yet Baseman is plotting a film experience like no other, combining his father's narrative with animation, theater and other fantastical storytelling devices to create a creative space somewhere between life, art and a beautiful dream.

"My parents were holocaust survivors, all of their friends were holocaust survivors," Baseman explained in an email to the Huffington Post Arts. "That was the world that I knew. Holocaust survivors looked at me as the new generation, and so shielded me from the horror that they went through. They kind of protected me from any real facts, just giving me basic stories. I was just a little Hollywood kid -- Disneyland, the Dodgers, Warner Brothers cartoons. I had no idea the depth and the horror of their experiences. It was all very abstract, but I do think how I am as an artist -- my drive -- came from wanting to create something special. So the pain that they went through wasn't in vain."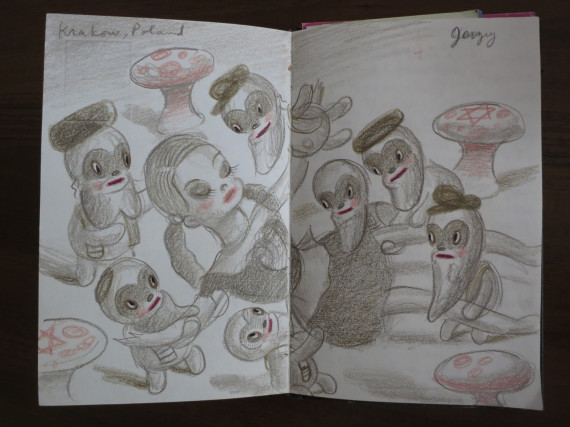 "I always loved my parents but I was never overly close to them," Baseman explained. "They weren't my confidants but at the same time there was always this respect. I never really needed to tell their story; they really pushed me to tell my story. It wasn't until my father was getting older that I realized I was a keeper of their story. If I didn't tell their story it would disappear. I had that burden placed right on my chest: if I didn't tell his story it would be gone. I needed to go back to his original town."
And that's exactly what Baseman did. After getting a Fulbright Fellowship to teach art in Eastern Europe, he travelled to his father's and mother's tiny hometowns in Poland. It was here that Baseman learned the dark depths of his father's tale. "Both their towns were completely mass murdered, everything they owned and everyone they knew. When I learned that story about my dad, this guy who looked kind of like Fred Flintstone, always dirty from his working class job working on houses. And then, when I heard the story, I thought woah, this guy was more like John Wayne. It was like okay this story really needs to be told."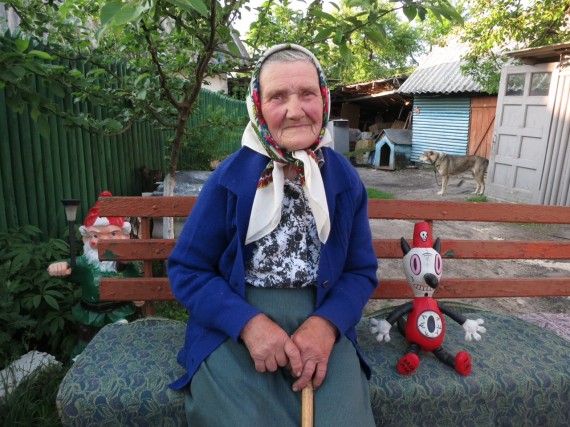 Witness to the massacre at Gary's father's hometown during the Holocaust with Toby
Baseman is telling the story of his parents, a story patched together through found documents, family secrets, and the boundless imagination. Thus it seems fitting that Baseman would incorporate his whimsical artwork into the fabric of the storytelling. "I thought: let's tell this story and let's tell it through a dream reality. Because I also don't know all the facts completely."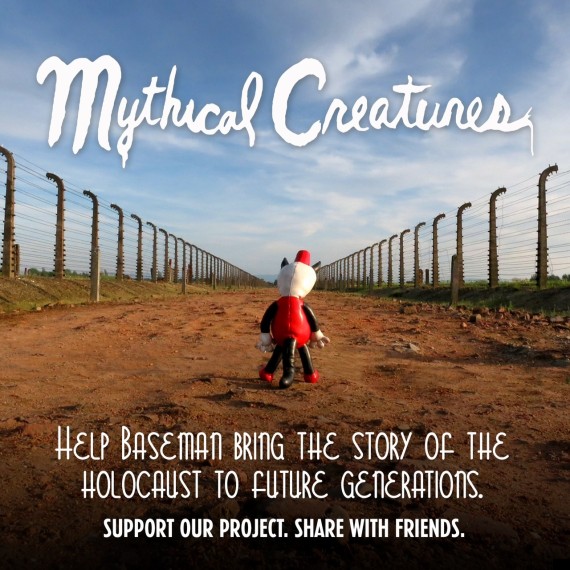 The film's description on Kickstarter reads:
"This is a story I recently learned about my late father, Ben Baseman, through a rare book hidden in our dining room closet. During World War II, my father was one of one hundred Jews in Berezne, Poland (now Ukraine), who narrowly escaped a murderous invasion by Nazi soldiers where thousands were executed, including my grandparents. Ben fled to the surrounding forests. There he fought as a partisan against the Nazis for over four years, until finally returning to his hometown to avenge his family's death by killing the men responsible. Arrested and sentenced to die himself, Ben thwarted death a second time by miraculously escaping from a Ukrainian prison. Soonafter, he met his future wife, my mother Naomi Baseman. In 1948, the two moved to North America to start a new life. Ben became an electrician and Naomi worked at the famous Canter's Deli Bakery for 35 years. My parents had four children and home became Fairfax Village, Los Angeles."
Baseman is collaborating with filmmaker David Charles on the project, along with various Ukrainian artists and storytellers they encounter in their travels. The two worked together previously on a similar project, a short animated piece for mocaTV combining Baseman's imagery with Die Antwoord's music. The short, called "Buckingham Warrior," also centered around the adventures of Baseman's father.
For the past two years, Baseman and Charles have been researching and preparing for "Mythical Creatures." Now the time has come to return to the Ukraine for a new batch of stories, to hear the local legends true and not-so-much face to face. "How well do the people living there know the past?" Baseman mused. "Growing up in LA, my parents took me to Disneyland; when I went to Warsaw it looked like Disneyland. All the buildings are new. They have these old Polish folk dressed up like it's the 1600s. They see Jews as mythical creatures." Hence the title.
To make this magical film a reality, Baseman and Charles are aiming to raise $75,000 on Kickstarter by August 18. They had already made it to over $50,000 at the time of publication. Gifts for contributing include T-shirts, original drawings and a limited edition signed print, a collaboration with Shepard Fairey. For $10,000 Baseman will even make your home his next canvas, painting on your wall or wherever you so desire.
With support from Sundance Institute's New Frontier Story Lab and the LA Museum of the Holocaust, Baseman and Charles hope to create a cinematic experience to help younger generations understand one of history's darkest moments in a radically new way. In Baseman's words: "It's a celebration of the bittersweetness of life. The ugliness and the rawness has a trueness and beauty to it."
Learn more about Baseman's project and how you can get involved below:
REAL LIFE. REAL NEWS. REAL VOICES.
Help us tell more of the stories that matter from voices that too often remain unheard.