No one tires of hearing someone rip a guitar to pieces. Hell, no one tires of doing it. But sitting on a balcony overlooking lower Manhattan on a humid August day, bluesy rock-'n'-roller and soon-to-be-legend Gary Clark Jr. explains that he wants his newest album, "The Story Of Sonny Boy Slim," (out Sept. 11), to be more than just a guitar-shredding feast. He wants you to know he's also a "singer-songwriter soul funk dude."
Clark's always had pipes, he told The Huffington Post while donning his signature hat, Ray-Ban sunglasses and all-black ensemble. Though he has Stevie Ray Vaughan-like moments that pack the power to leave listeners drooling, Clark felt it was time to change things up. Time to "turn the guitar up and make some noise" -- vocally, that is.
"I was just waiting for the time to bust that out," Clark said. "And I really wanted this album to be more musical, more expressive -- not just wait for the guitar solo, you know?"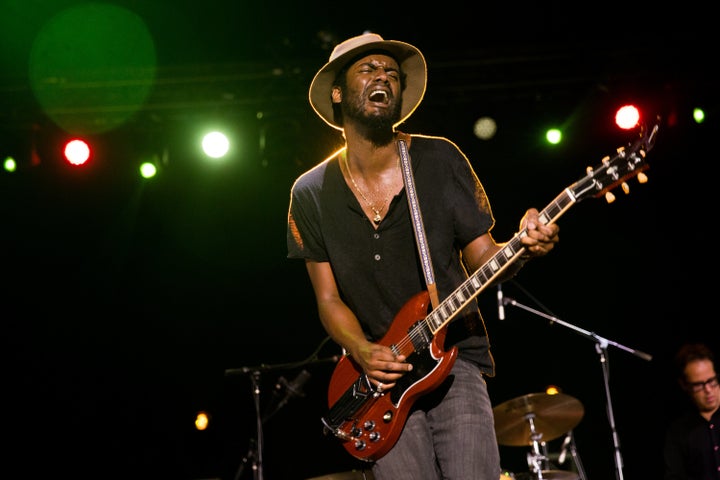 "The Story of Sonny Boy Slim," a title made up of an amalgamation of nicknames Clark's accrued over the years, is different than what we've heard from him. His 2012 first studio album, "Blak and Blu," woke us up to his bluesy rock-'n'-roll frisk. His 2014 album "Gary Clark Jr. Live" is one for the books. 
But he had a lot of reflecting to do prior to his latest release after an "all of a sudden" switch from a down home Austin, Texas life to a "bigger" existence as a van-riding, trailer-pulling musician. He needed to take a step back. Reflect. Get things off his chest. An album was born, with him as a producer, songwriter and performer. He felt a "weight lifted off my shoulders," when he finished it.
"I became very aware of how important music was in my life," he said. "And if I didn't have that outlet, I don't know what kind of trouble I'd be in."
This guy … long time ago, he told me I was musically schizophrenic."
Thirty-one-year-old Slim -- a nickname Clark got in his early "blues scene circle" days -- starts the album off with "The Healing," which hearkens a gospel-music-as-salvation tempo that sets an appropriate stage for the rest of the album. Nearly 45 minutes and 12 songs later, Clark bequeaths to us the Motown feel-good we crave in the track "Our Love." He graces us with country bliss with the song "Church" and straight-up groove in the tracks "Can't Sleep" and "Shake." 
For Clark fans who wait for him to destroy the instrument he knows most, there are times when the album seems restrained. But he's already turned the guitar right-side up in performances of his newest songs. He reminds us of his uncanny ability to seamlessly weave together sounds and genres with little hesitation. It's not something he consciously does, he said. He's just making "soul music." 
"This guy … long time ago, he told me I was musically schizophrenic. And that was the first time that I thought about it being strange, 'cause I don't really think about putting genres together," Clark said. "I just kind of do it. My whole songwriting process isn't really a process. I just noodle around and a melody will come to me and I'll just express it."
In what was becoming an increasingly hotter early afternoon, the two of us pondered how he grasped such skill. Clark reckons it was probably growing up in the Austin music scene, where he'd see the cross-pollination of performers in a rockabilly show dash over to perform in a blues gig. Clark was picking up on the "weird" "melting pot" of Austin.
"I mean, Sixth Street, if you walk up and down the street on a weekend, or any night of the week, it's a lot of information, you know, musically," he said. "I like to be able to pop in and hear some blues and then go get a slice of pizza across the street and there's a country band playing."
To be even in the conversation with [Hendrix], whether it's positive or negative, I mean, I think I'm doing something right."
Clark was young, maybe five or six years old, when he and his sisters first started singing hits from Stevie Wonder, Marvin Gaye, Al Green, Prince and Michael Jackson -- the latter of whom can be thanked for paving Clark's musical brick road. He was just five years old when he saw Jackson perform on his "Bad" tour -- Clark's first ever concert.
"It was like one of my first real memories of this major energy, excitement. The lights, loud music. So I mean, if that didn't stick, I don't know what would at five years old," Clark explained. His shyness during the interview continued to dissipate as he described putting flashlights in his socks as a kid and dancing around with the lights off -- a "ridiculous" endeavor, he concluded. 
There's something notable about Clark's respect for the musicians who've paved the way to make his career possible. With reverence, he described the "emotional" and "thought-provoking" experience of playing alongside artists including B.B. King, Mick Jagger, Buddy Guy, Booker T. Jones and Jeff Beck at the White House in 2012. Clark paid special attention to King and Guy that day.
"To look at B.B. King up there and know that he played segregated venues and he put in work, and grew up in a small place in Mississippi. Just his struggle and for him to be at the White House … [with] the Obamas, just that whole thing," Clark remembered. "It was like, I wouldn't be here if they hadn't paved that path, so for me it was really a humbling moment. And to see them up there proud and I could see how Buddy ... had this thing like, 'Man, we're here. All this work.'"
It's this demeanor that's made Clark want to push aside any Hendrix comparisons he's received. It's not that he doesn't appreciate them -- it's out of respect for the late Jimi. 
"It used to bug me. It really used to bother me because Hendrix is great, like once again, paved the way. I wouldn't be here if it weren't for that guy," Clark said. "You know, people will say, 'Oh, you're nothing like Hendrix.' Blah blah blah. Like, I know that. I don't ever wake up and go, 'I'm coming for you, Jimi!' It doesn't happen. I know my place and I know my influences and to be even in the conversation with him, whether it's positive or negative, I mean, I think I'm doing something right."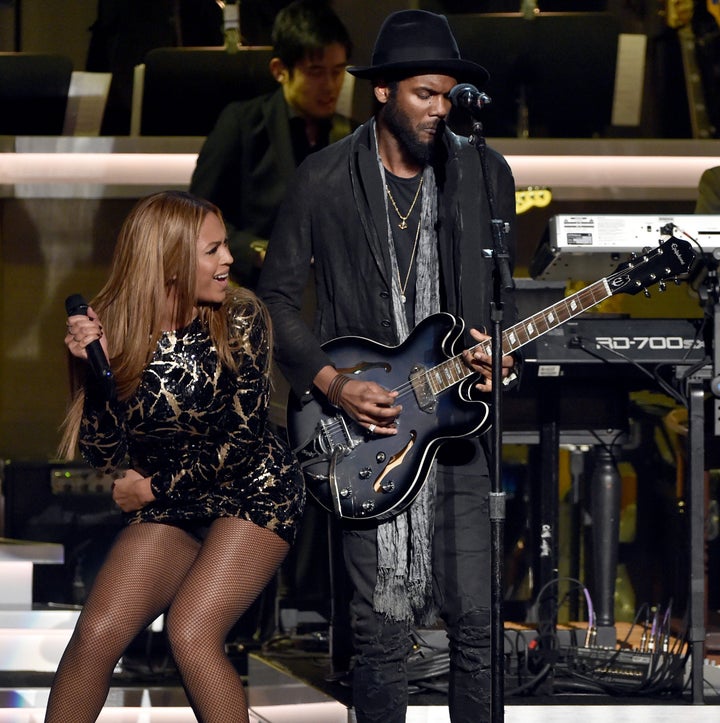 As Clark joins the ranks of his guitar-legend lodestars, he's paying it forward to younger talent, including to a fledgling guitarist named Brandon "Taz" Niederauer. During Clark's show at Central Park's Rumsey Playfield last year, Clark unexpectedly asked Niederauer, whom he'd previously met, to join him onstage for an encore performance of "Bright Lights." The babe-in-the-woods 11-year-old said absolutely. 
"His eyes get really big, he's like, 'Yeah man,'" Clark remembered upon asking Niederauer to join him onstage. "So I'm like, 'Alright well, you can take this part here ... I was like, 'Are you cool with that?' He's like 'I got it, don't worry about it.' I'm like, 'Who the hell are you, man?'"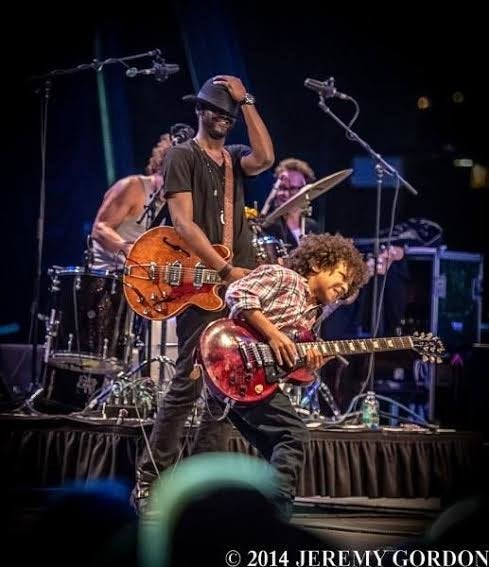 The now 12-year-old Niederauer, a longtime fan of Clark's, told HuffPost it was "the most amazing show," -- like "fire on stage," he said -- especially to play alongside someone who's "basically starting his own genre." 
"I really want to be like him because he's so successful at what he does. He's so good at what he does," Niederauer said. "And he doesn't do it like everybody else does." After the show, Clark realized he had to "step it up 'cause these kids are not playing around," he said laughing. 
Perhaps it is rising musicians like Niederauer who pushed Clark to give "120 percent" on "The Story Of Sonny Boy Slim." Or perhaps he's just taking on new sounds and roles as his career ascends -- which includes a recent studio session with Childish Gambino. Regardless, this upcoming year is going to be a big one. In addition to his worldwide tour for his new release, he's opening for the Foo Fighters in the band's upcoming September and October shows.
Clark's also got a new "little man" to show around: his son, Zion Rain, with partner Nicole Trunfio. Prior to his latest release, Clark did a lot of reflecting into his uncharted world of fatherhood.   
"Hopefully he'll understand what I'm out here trying to do," the new father said. "But it's amazing. It's so beautiful." 
And while Clark has no plans for his new babe musically -- because, who knows, "he might do something completely different, be interested in other things" --  he hopes "he'll understand where my music comes from and know that a lot of this last record was really inspired by him."
"Nicole was pregnant when I was recording and so I'd walk to the studio, come back home," Clark said. "And, you know, I was just in this world of the unknown and being responsible for raising a little human being. So a lot of that was going on in my head when I was in the studio. So, I'm doing this for you, son."
PHOTO GALLERY
14 Music Documentaries Worth A Watch
For a constant stream of entertainment news and discussion, follow HuffPost Entertainment on Viber.
Calling all HuffPost superfans!
Sign up for membership to become a founding member and help shape HuffPost's next chapter