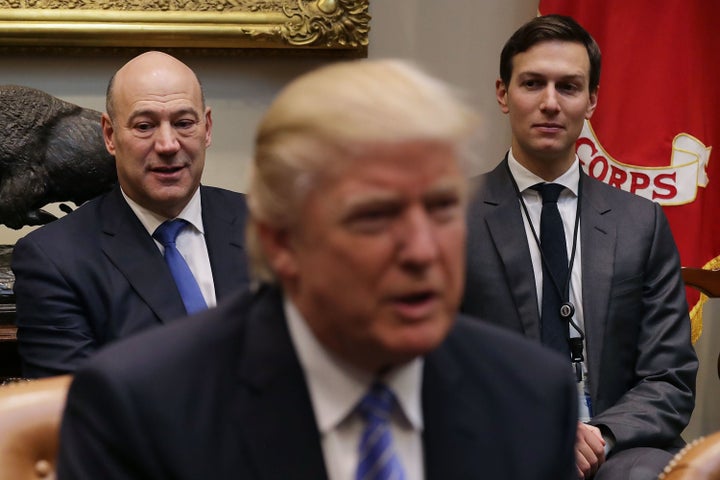 President Donald Trump's administration says its ethics rules require Gary Cohn, the director of Trump's National Economic Council, to recuse himself from changing derivatives rules he lobbied on while working at Goldman Sachs.
But Cohn can work on gutting financial regulation in other ways, because slashing bank rules doesn't directly involve Goldman Sachs, a White House spokesperson told The Huffington Post.
"Throughout his entire tenure in the Trump Administration, Gary has been recused from taking action in matters in which Goldman Sachs is a direct party," the spokesperson said in an email.
Goldman stock is up 38 percent since the election, hitting record highs as investors bet that the Trump administration will slash both corporate taxes and bank regulations put in place since the 2008 financial crisis.
The White House first said Cohn would recuse himself from Goldman matters when the Financial Times' Barney Jopson and Ben McLannahan reported on Thursday that Cohn met with officials at the Commodities Future Trading Commission in 2015 and 2016 ― when he worked at Goldman Sachs ― to lobby the regulator about derivatives rules. Those rules are part of the 2010 financial reform law known as Dodd-Frank. Cohn, who now holds a key position in the Trump administration, is leading the White House's efforts to roll back critical portions of Dodd-Frank.
The White House spokesperson did not respond to a HuffPost question about what other matters Cohn has recused himself from, besides the CFTC derivatives rules.
Cohn worked at Goldman Sachs for 26 years. He was the company's second most senior executive since 2010, and was its president and chief operating officer for a decade.
As director of the National Economic Council, Cohn is the second most important financial policy adviser after Treasury Secretary Steven Mnuchin. Mnuchin is also a former Goldman Sachs executive, who, like his father before him, became a partner at the bank. Mnuchin left the company in 2002 and went on to found a hedge fund and run OneWest Bank, which foreclosed on tens of thousands of homeowners during the housing crisis. 
Cohn is driving Trump's attempt to undo bank regulation and is leading efforts to craft a corporate tax cut. He was also at Trump's side earlier this month as the president signed an executive order telling agencies to review Dodd-Frank.
While the order was largely symbolic, its meaning was clear: Wall Street is now operating with a presidential permission slip. Financial deregulation is one of Trump's priorities, and his advisers will make it happen, either by rewriting rules or simply failing to enforce existing ones.
Trump also signed an executive order that will likely nullify a rule ― one that had never actually been implemented ― requiring brokers to act in the best interests of retirement savers.
Sens. Elizabeth Warren (D-Mass.) and Tammy Baldwin (D-Wis.) sent letters on Feb. 9 to Cohn, Goldman Sachs and the Department of Labor, the agency that wrote the retirement rule, asking if the bank had any contact with Cohn regarding the executive orders. Goldman's general counsel Greg Palm responded on Wednesday, telling the senators that "we had no involvement in the drafting of any executive orders, nor did we receive any advance notice of their issuance." 
A Goldman Sachs spokesman declined to comment.