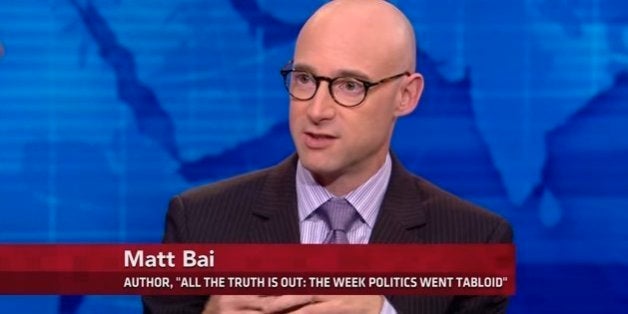 NEW YORK -- The New York Times issued an unusual correction Monday after former Miami Herald journalists disputed a chronological detail included in a recent Times magazine excerpt from Matt Bai's new book on the Gary Hart scandal, All The Truth Is Out: The Week Politics Went Tabloid. The paper's decision comes even though one Herald reporter who was interviewed for the book did not object to the chronology prior to the book's publication.
Bai, a Yahoo News columnist and former Times magazine writer, told The Huffington Post that the Times correction -- or in his punctuation, "correction" -- "doesn't actually correct any facts." Indeed, the Times doesn't state unequivocally what happened 27 years ago, but does suggest it's "likely" events played out as the two former Herald reporters now contend.
The dispute centers on when Herald reporters Tom Fiedler and Jim McGee learned that Hart, a Colorado senator and front-runner for the 1988 Democratic presidential nomination, dared reporters curious about allegations of marital infidelity to "follow me around." The story of the Herald's stakeout has long been retold as an example of reporters being challenged to uncover a lie and doing just that.
But Bai wrote that the journalists didn't know about Hart's directive beforehand, and that therefore it couldn't have served as justification for prying into the former senator's private life. The reporters' confrontation with Hart plays a central role in Bai's book, with the author describing it as "the very moment when the walls between the public and private lives of candidates, between politics and celebrity, came tumbling down forever."
Hart announced his candidacy in mid-April and was quickly dogged by allegations of infidelity following a Newsweek profile. Fiedler wrote a piece on April 27 looking at how the media handles unsubstantiated allegations. Hart dismissed the claims to Fiedler, who later received a tip that they were true.
McGee had begun staking out the townhouse on Friday, May 1, when he saw Hart with a young woman who was not his wife. McGee then alerted his colleagues who were still in Miami. Fiedler, flying to Washington, D.C., to join the operation the next day, noticed the "follow me" quote in an advance copy of a New York Times Magazine profile by E.J. Dionne, which was slated for publication that Sunday. The Herald included the "follow me" quote in its blockbuster story on May 3, 1987, which has been interpreted as having prompted the stakeout.
The Herald's Fiedler and McGee reported on May 3 that Hart denied allegations of "womanizing" outside his Capitol Hill townhouse, and cited an interview with The New York Times in which Hart issued a challenge to journalists to follow him.
A May 8, 1987 reconstruction of the Hart reporting by Fiedler, McGee and then-investigations editor James Savage suggests the paper's journalists learned of the "follow me" quote on the May 2 flight, after surveillance had already begun:
Investigations Editor Savage, photographer Smith and reporter Fiedler caught pre-dawn flights to Washington and discussed their objectives during the flight. Fiedler circled a passage in a New York Times Magazine article slated for Sunday publication and handed it to Savage.

"Follow me around, I don't care," Hart was quoted as saying. "I'm serious. If anybody wants to put a tail on me, go ahead. They'd be very bored."
So in Bai's retelling -- based on this contemporaneous Herald reconstruction of the bombshell story, as well as a 2013 interview with Fiedler -- the stakeout had started before the reporters knew of Hart's challenge.
The Times noted on Monday that after publication the former Herald journalists had disputed the chronology as written by Bai:
In interviews before publication, the reporter Tom Fiedler confirmed seeing that article for the first time on Saturday, May 2, as he flew to Washington to join a stakeout of Hart's townhouse. But after publication, Fiedler recalled that he may actually have seen the Times article on Thursday or Friday. Jim McGee and James Savage, Fiedler's former colleagues at The Herald, recall that McGee became aware of the story on Friday, before McGee flew to Washington. Fiedler then showed the article to Savage on the plane on Saturday.
The Times concluded that "it is likely that the original version of this article, based in large part on Fiedler's account, referred incorrectly to the point at which any of the Herald journalists first saw the Times article quoting Hart as saying, 'Follow me around.'"
In an emailed statement to HuffPost, Bai expressed disappointment with The Times decision.
"I'm disappointed that Tom Fiedler and his former colleagues from the Miami Herald are now trying to reverse their own narrative of events in 1987, and that the country's best newspaper would assist them, even in a small way, by issuing a 'correction' that doesn't actually correct any facts," Bai wrote. "I find it particularly disturbing that Fiedler, someone I'd very much admired, has now invented a new version of events after repeatedly and recently reconfirming his own longstanding account, which is something we as journalists often condemn in the people we cover."
Fiedler, now the dean of Boston University's College of Communication, didn't object to the chronology during a 2013 interview for All The Truth Is Out or after seeing a galley of the book before publication. Fiedler only mentioned one correction to Bai on Aug. 27 after reading the book, according to an exchange shared with HuffPost. Fiedler pointed out that he once worked at The Orlando Sentinel, not the Sun Sentinel.
In an email to HuffPost, Fiedler said he "didn't object to its chronology, which in retrospect was a mistake."
"My reasoning was that asking Matt to significantly rewrite that chapter would make me appear defensive about our actions -- which I am not -- and whiney," Fiedler said.
Fiedler also didn't object to the chronology in a Sept 22 email to Bai, a day after the Times magazine ran the excerpt, according to an exchange shared with HuffPost. In that email, Fiedler also acknowledged "clarifying" his Boston University bio, which had previously indicated that Herald reporters followed Hart's challenge.
Fiedler told HuffPost that Savage asked for the Times correction, not him.
Savage shared the correction request to the Times with HuffPost. In the request, Savage said Fiedler read the Hart profile either Thursday or Friday of the week in question and showed it to McGee before his trip to Washington. Savage said McGee and Fiedler told him they had "clear memories of sharing the pre-publication copy" of the Times magazine story before his decision to put McGee on a plane.

Fiedler said he gave McGee a file that included his reporting notes prior to the latter's departure for Washington, but cannot recollect other aspects.

"I clearly recall being given the printout of Dionne's article late in the week by our Sunday opinion-section editor, Richard Bard," Fiedler said in an email to HuffPost. "What I can't recall is when I read it, and whether I pointed the Dionne piece out for McGee among all the other things in that file, or whether he simply came across it."
Bai explained in an email to HuffPost why he didn't interview Savage or McGee after speaking with Fiedler.
"All three Herald reporters wrote an exhaustive, blow-by-blow account of the stakeout and the events leading up to it during that week in 1987, when their memories were fresh and reliable," Bai said. "In our interview, Fiedler, the lead reporter on the story, reconfirmed all the details of that account. If you've read 'All the President's Men,' and Bob Woodward has again confirmed the critical details in the book, no one would expect you to check with Bernstein to make sure Woodward wasn't lying."
Times Standards Editor Philip Corbett told HuffPost that "editors and researchers here put a lot of time into trying to sort out this question, and what we were able to determine is reflected in the correction." He declined to comment further.
The dispute between Bai and the Herald reporters is about more than the detail itself, but about the significance that's been attached to it.
Fiedler told HuffPost that the Herald didn't need Hart's challenge to stake out his home. That argument echoes the one he advanced in a Politico Magazine piece last month in which he recalled Hart dismissing the allegations when Fiedler asked about them on April 27, 1987.
"For Bai, much hinges on the precise timing of this quote," Fiedler wrote in Politico. "He claims that the Herald used the 'follow me around' challenge to justify its pursuit of Hart. This was dishonest, he suggests, because we couldn't have known about it before the stakeout -- the quote appeared in the Times on May 3, the same day our story ran. What Bai doesn't acknowledge is that we didn't need the Dionne quote for justification."
In a Sept. interview pegged to the book, Bai told HuffPost that he thinks that the media "as an industry, told ourselves a story over time" about the investigation into the allegations against Hart.
"I think that story enabled reporters to avoid some very uncomfortable questions about why Hart was subjected to a level of scrutiny and an incursion into privacy that no presidential candidate prior to that had endured from anyone," Bai said, "let alone from some of the leading papers in the country."
UPDATE: Nov. 11 -- Savage, who declined to comment prior to this article's publication, responded Tuesday with the correction request he sent to the Times.
Fiedler also elaborated Tuesday as to his personal recollections of the events leading up to the Herald's stakeout, and his previous statement on McGee's recollection of events has been updated.
REAL LIFE. REAL NEWS. REAL VOICES.
Help us tell more of the stories that matter from voices that too often remain unheard.