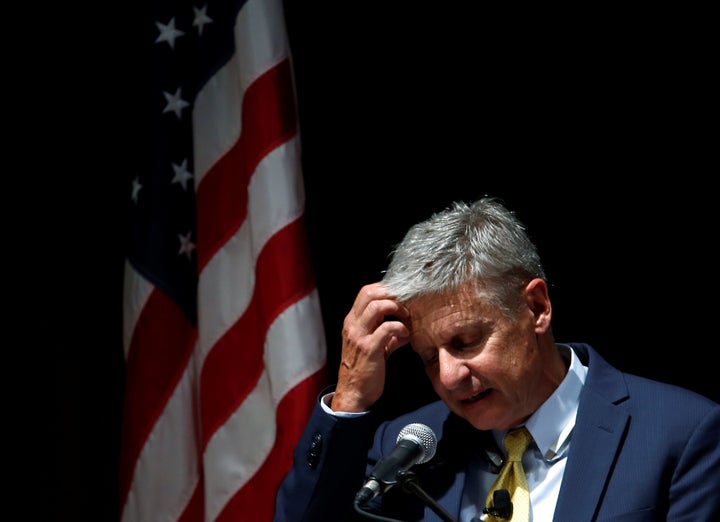 Between the racist reality TV star leading the GOP and an unsettled Democratic Party, "none of the above" could win a respectable number of votes right now when it comes to the 2016 election.
How about a libertarian whom people haven't heard of?
Gary Johnson wants to find out. At this past weekend's contentious Libertarian Party convention, he won the nomination along with his running mate, former Massachusetts Gov. William Weld. A recent poll showed Johnson attracting 10 percent of the general election vote -- a highly respectable number for a relatively obscure former governor of New Mexico. With continued success, he could get a coveted spot at the presidential debates. The mainstream press is paying attention.
But even considering Donald Trump and Hillary Clinton's high unfavorable ratings, it's difficult to imagine Johnson playing a consequential role on Election Day. Libertarians may see an exemplary record of slashing budgets, preaching foreign policy restraint and advocating for personal freedoms from gambling to drug use. But Johnson is also kind of an oddball (at least compared to other politicians) who is most at ease talking obsessively about his personal fitness.
In an interview with The Huffington Post's "Candidate Confessional" podcast, Johnson talked about his 2012 White House run, exuding bitterness over the media's failure to properly appreciate his athletic feats.
"I ran a 2:48 marathon and they don't even report on it!" he proclaimed at one point, noting the coverage Paul Ryan and others had received for times far less impressive.
At another point, Johnson talked about the 500 miles he rode on his bike across New Hampshire over a five-day period. "Ron Paul, national news is that he rode around a lake on his bicycle. And we rode 100 miles a day for five days, and the notion was, 'What do you have to do to get some attention around here?'"  
At yet another point, he recalled the trips he took across Iowa for an annual bike ride there.
"There is more coverage about [Romney's] kids doing one leg of the RAGBRAI than us riding RAGBRAI every day," he exclaimed.
Such unconventional notions of what constitute campaign "moments" make Johnson a particularly tricky politician to cover. How seriously do you report on a candidate who's climbing mountains as frequently as he is issuing policy papers? When he ran in 2012, Johnson got a lot of attention from men's magazines. In September 2011, he appeared shirtless atop a bike in GQ for a feature story that asked: "Is this the Sanest Man Running For President?" The subhed wondered why balancing the budget as governor of New Mexico and climbing Mount Everest with a broken leg didn't "at least give him a shot" at the GOP nomination.
The writer discovered that here was a new version of John McCain's Straight Talk Express. This version wore bike shorts. "Do not confuse his Zen-like quality for a lack of cojones," she wrote. "The guy has brass ones. He's a five-time Ironman triathlete. He paraglides and hot-gas balloons. (Not hot air, hot gas.) He biked across the Alps. And from the right angle, he looks like Harrison Ford."
But Republican voters didn't see a Han Solo. If they bothered to notice Johnson at all, they caught him flailing or making a joke about dog shit (yes, dog shit). Johnson blames much of this on reporters who refused to cover him and TV execs who kept him off most debate stages. But he also admits he made some odd choices.
Early in the race, he spent the vast majority of his time -- 90 percent, he estimates -- doing Internet talk radio because, well, it was free publicity.
"A mid-40-year-old in the basement conducting the interview and ... the only persons listening were his parents the next floor up," was how Johnson described it. "It was just horrible."
And then there was his first campaign stop. Rather than hold a rally in his childhood hometown, Johnson took a few reporters with him as he climbed a mountain -- Tuckerman's Ravine on Mount Washington, to be exact. Only, the conditions were downright treacherous.
"These guys are like, 'What the fuck? This is serious. This. Is. Serious,'" he recalled. By the time they got down, they were thankful to be alive. "I said, 'Should we do it again?' And everybody looks at me and says, ahem, 'No.' And I said, 'You know, you guys are right. We are really fortunate to be here in one piece.'"
These guys are like, 'What the fuck? This is serious. This. Is. Serious.'

Gary Johnson, on climbing Tuckerman's Ravine the day after announcing his 2012 campaign.
Johnson seemed to bumble at basic campaign functions where he was simply trying to get some notice for his core issues. Once, he showed up at a poker tournament to capitalize on his advocacy for legalizing online gaming, only to have bouncers shadow him and the host try to keep him away from the players.
"It was demeaning," he said. "I didn't get kicked out. But I might as well have been kicked out. I mean, it was just a slap in the face."
Johnson had paid his own way to the tournament.
Like most losing candidates, Johnson said he took lessons from his failures. He won't be doing Internet radio again. And he seemed committed to not getting quite so caught up in the media's failure to spotlight his athletic prowess. But while the 2012 campaign may have had its share of humiliations, his ego remains firmly intact for 2016.
"It's not a fair process. It is a manipulated process. That's the reality," said Johnson. "Am I frustrated? Not so much frustrated as, I feel enlightened. I really do feel enlightened. It's the way the game is played. Ok, alright. I'm a good games player. I got to tell you guys. I'm a good chess player. I really am. I'd love to play Putin in chess. See how that turns out."
This podcast was edited by Christine Conetta. Listen to it above or download it on iTunes. And while you're there, please subscribe to, rate and review our show. Make sure to tune in to next week's episode, when our guest will be Ron Klain, Al Gore's lawyer and top aide on the 2000 recount. 
REAL LIFE. REAL NEWS. REAL VOICES.
Help us tell more of the stories that matter from voices that too often remain unheard.
BEFORE YOU GO
PHOTO GALLERY
#ElectionPlotTwist Somehow Makes The 2016 Election Even Crazier