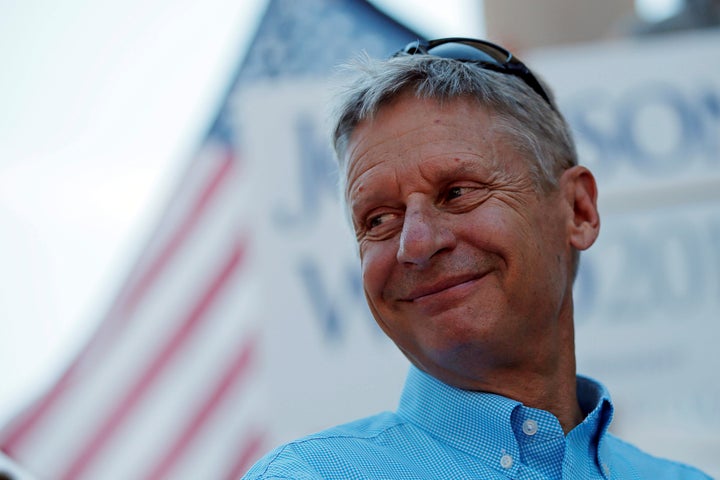 Most politicians are born with a congenital inability to admit that they don't know something. Gary Johnson is not most politicians.
The Libertarian candidate for president and former New Mexico governor made headlines last month when he made it clear he was unfamiliar with Aleppo, the divided Syrian city ravaged by civil war.
Most seekers of high office would rather pretend their earpiece malfunctioned than acknowledge their lack of knowledge in a given area. (As The Huffington Post's Jason Linkins noted about Johnson's bloopers, 'There but for the grace of God go all of us.') But Johnson has gone so far as to argue that his poor grasp of international affairs could be a good thing as president. After all, if you can't find a given country on the world map, he suggested, then you're a lot less likely to end up starting a disastrous war with that country.
All this talk about what Johnson doesn't know has dredged up a fun anecdote from way back in June 2000 (hat tip Mark Ames). At the time, Al Gore and George W. Bush were in the thick of the presidential campaign, and the New York Times' Gail Collins relayed some remarks that then-Gov. Johnson made to reporters. Collins called it one of the more amazing moments on the trail that year:
Boosting his friend George W. Bush to reporters, Gov. Gary Johnson of New Mexico recalls a conversation they had at a conference on state government. "George turns to me and says, 'What are they talking about?' I said, 'I don't know.' He said, 'You don't know a thing, do you?' And I said, 'Not one thing.' He said, 'Neither do I.' And we kind of high-fived."
It's worth noting that, according to Collins, Johnson said he and the future two-term president "kind of" high-fived over not knowing stuff. So it's quite possible there was no literal high-five, or any hand-to-hand contact at all. But from Johnson's telling, the two men readily acknowledged, and relished, the fact that they didn't know anything about the subject at hand.
REAL LIFE. REAL NEWS. REAL VOICES.
Help us tell more of the stories that matter from voices that too often remain unheard.