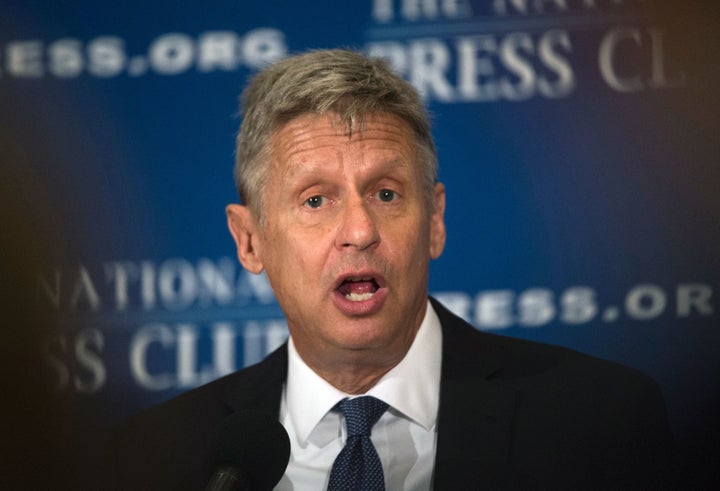 HuffPost Pollster has new charts that allow users to compare poll questions with and without Libertarian candidate Gary Johnson named. Voters don't see Hillary Clinton as an agent of change. And Americans are deeply divided by education level. This is HuffPollster for Thursday, July 28, 2016
GARY JOHNSON DOESN'T SEEM TO CHANGE THE TRAJECTORY OF THE RACE - "When polls ask voters to choose between Republican nominee Donald Trump and Democratic nominee Hillary Clinton, Clinton currently leads Trump by over 1 percentage point overall. When Libertarian nominee Gary Johnson is included in the question, that lead evaporates. Johnson himself averages nearly 9 percent support when he's named in poll questions. Clinton loses over 4 percentage points to Johnson, going from 43.9 percent in questions without any explicit mention of him to 39.6 percent with the Libertarian in the picture. Trump drops more than 3 points, from 42.6 percent to 39.2 percent, when Johnson is a named option in the poll. If it seems counterintuitive that a Libertarian candidate would pull more from Clinton than from Trump, keep in mind that we're in the middle of the conventions. Johnson was taking more from Trump than Clinton a few days ago."  [HuffPost]
The numbers have shifted slightly since publication, but the general trend is still the same: Johnson pulls slightly more support from Clinton than Trump to make the race tied when he's included. According to the estimates, without Johnson in the picture there's about an 89 percent chance that Clinton leads Trump. With Johnson, that drops to a 65 percent chance that Clinton is ahead.
VOTERS KNOW MORE ABOUT CLINTON'S POSITIONS, DOUBT SHE WILL BRING CHANGE - Baxter Oliphant: "More voters say they know a lot about where Clinton stands on important issues than say the same about Trump. About half (53%) say they know a lot about Clinton's positions; by comparison, fewer (43%) are confident they know where Trump stands. Republicans and Republican-leaning independents are just as likely to say they know a lot about where Clinton stands (50%) as they are about Trump (53%). Democrats and Democratic-leaning independents, on the other hand, say they know much more about Clinton's positions (57% say a lot) than Trump's (36%)....Even voters who say they will support Clinton in a matchup against Trump this fall say she's unlikely to bring much change to the way things work in Washington. Well over half (58%) say this, while another 38% say she will bring positive change. Trump's supporters are roughly evenly divided between those who say she would make things worse (52%) and those who say things wouldn't change much under a Clinton administration (46%)." [Pew]
CLINTON AND TRUMP DIVIDE AMERICANS BY EDUCATION - Eli Yokley: "Among America's most-educated voters, Democratic presidential candidate Hillary Clinton holds a strong lead over her Republican rival, Donald Trump, a Morning Consult analysis has found. But among voters who did not ever attend college – working class Americans to whom the Democratic Party hopes to appeal during its convention here this week – the race is nearly tied…. Clinton [has] a 17-point lead over Trump, 51 percent to 34 percent, among voters with post-graduate degrees. With voters who have only a bachelor's degree, Clinton leads Trump, 45 percent to 40 percent….Trump once said, 'I love the poorly educated,' and according to the survey, he has an advantage with voters over the age of 65 who did not attend college, leading Clinton 49 percent to 33 percent. Among the entire population of those who did not attend college, Trump led Clinton by only 1 point during the survey period, 41 percent to 40 percent." [Morning Consult]
The Democratic Party no longer relies on working-class whites - Ronald Brownstein: "[E]xcept for Bill Clinton in 1996, no Democrat has won more than 40 percent of white voters without a college education since 1980, according to media exit polls. On a national basis, Democrats have largely replaced them with increased support from Millennials, minorities, and college-educated whites—while running just enough above their national numbers among working-class whites in the key Midwestern battlegrounds to retain the advantage in those pivotal states….Even so, many in the party are incredulous that so many blue-collar whites are flocking to Donald Trump, a candidate Democrats view as uniquely divisive and unqualified. The post-Republican National Convention polls released on Monday poked directly at that anxiety. Trump held big leads among non-college whites in the surveys released by both CBS (23 percentage points) and CNN/ORC (fully 39 percentage points). The CNN poll had Trump attracting not only 69 percent of non-college white men but 64 percent of white women without college degrees—and recording most of his convention gains among the latter." [The Atlantic]
MANY AMERICANS AREN'T SATISFIED WITH TREATMENT OF MINORITY GROUPS - Art Swift: "Among six key groups in society, Americans are least satisfied with the way Arabs and immigrants are treated in the U.S. Less than half of Americans are satisfied with the treatment of either group. In contrast, Americans are most satisfied with the way Asians are treated (75% very or somewhat satisfied). A slim majority, 51%, are satisfied with the treatment of blacks….Thirty-two percent of black Americans say they are satisfied with how society treats blacks, within two percentage points of the lowest reading over the past 15 years. Americans of other racial and ethnic identities are more positive about the treatment of blacks, however. Forty-seven percent of Hispanics and 56% of whites are satisfied with society's treatment of blacks." [Gallup]
HUFFPOLLSTER VIA EMAIL! - You can receive this daily update every weekday morning via email! Just click here, enter your email address, and click "sign up." That's all there is to it (and you can unsubscribe anytime).
THURSDAY'S 'OUTLIERS' - Links to the best of news at the intersection of polling, politics and political data:
-Donald Trump is performing poorly among Catholic voters. [538]
-The Republican Convention speeches increased support for Trump. [PSB Research]
-John McCormick says that convention bounces are like sugar highs. [Bloomberg]
-Mark Blumenthal digs deeper into the NBC/SurveyMonkey poll that showed no convention bounce for Trump. [SurveyMonkey]
-Stephen Sestanovich explains why Trump's pro-Russia stance won't help him among voters. [WSJ] 
-Nate Silver argues that the Democratic primary actually wasn't a close race at all. [538]
-Danny Hayes predicts that Clinton's nomination could cause more women to become politically involved and to run for office. [WashPost]
REAL LIFE. REAL NEWS. REAL VOICES.
Help us tell more of the stories that matter from voices that too often remain unheard.