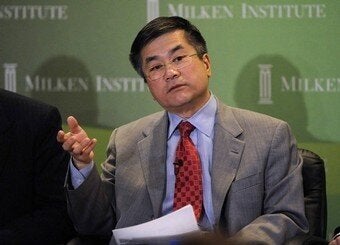 President Obama and Vice President Biden introduced former Washington Gov. Gary Locke as Commerce Secretary nominee Wednesday.
"I'm sure it's not lost on anyone that we've tried this a couple of times. But I'm a big believer in keeping at something until you get it right," Obama said. Locke is Obama's third nominee for the post. His previous two choices for the post dropped out well before the Senate had a chance to confirm them.
"Gary will be a trusted voice in my cabinet, a tireless advocate for our economic competitiveness, and an influential ambassador for American industry who will help us do everything we can - especially now - to promote it around the world," the president said. "I'm grateful he's agreed to leave one Washington for another, and I look forward to having him on my team as we continue the work of turning our economy around and bringing about a stronger, more prosperous future for all Americans."
Locke, 59, works for the Seattle-based law firm Davis Wright Tremaine on issues involving China, energy and governmental relations. "Our nation's economic success is tied directly to America continuing to lead in technology and innovation and in exporting those products, services and ideas to markets around the globe," Locke said in accepting the nomination. "The Department of Commerce can and will help create jobs and the economic vitality our country needs."
Locke's record is not completely unblemished. He was briefly linked to a scandal over foreign contributions to President Bill Clinton's 1996 campaign. In July 1998, he gave a deposition to the House Committee on Government Reform and Oversight about his relationships with questioned Clinton donors. But the committee later said the deposition produced no evidence that Locke knowingly accepted illegal campaign donations.
Locke denied any wrongdoing, and he subsequently returned some checks tied to people implicated in the fundraising scandal, including $750 from John Huang. The former Commerce Department official was the Democratic Party's chief fundraiser for the Asian-American population in the 1996 elections, and he became one of the central figures in the national Democratic Party fundraising scandal.
In December 1997, Locke's political committee was fined a maximum $2,500 by state regulators after it admitted breaking campaign finance laws during two out-of-state fundraisers in 1996.
And in March 1998, state investigators cleared Locke of wrongdoing following complaints that he unlawfully took $10,000 in campaign contributions from members of a Buddhist church.
Locke, the first Chinese-American governor in U.S. history, served two terms in Washington state from 1997 to 2005. He chose to step down to spend more time with his kids. However, ugly, racist threats against his family also played a factor in Locke's decision to not seek a third term. In 2003, a member of an extreme right-wing group was arrested for plotting to assassinate Gov. Locke.
Locke was a state co-chair of Hillary Clinton's campaign. "Gary was a visionary governor and he will be a tremendous asset to our campaign as we take our message of change across Washington," Clinton said in a prepared statement at the time. "I'm honored to have his support."
Earlier on Monday, Gov. Jennifer Granholm (D-MI) said she had heard Locke's name floated in a one-on-one conversation she had at the National Governors Association meeting.
Born into an immigrant family on Jan. 21, 1950, Locke spent his first six years in Seattle's Yesler Terrace, a public housing project for families of World War II veterans. He worked in his father's grocery store, became an Eagle Scout and graduated with honors from Seattle's Franklin High School in 1968. Through a combination of part-time jobs, financial aid and scholarships, Locke attended Yale University, earning a bachelor's degree in political science in 1972.

Governor Locke with Mona Locke and their children Dylan and Emily After receiving his law degree from Boston University in 1975, he worked for several years as a deputy prosecutor in King County, prosecuting felony crimes. In 1982, Locke was elected to the Washington State House of Representatives, where he served on the House Judiciary and Appropriations committees, with his final five years spent as chairman of the House Appropriations Committee.

Prior to being elected governor, Locke served as chief executive of King County in 1993 and took on the issues and challenges facing Washington's largest city.

Locke and his wife, Mona Lee Locke, a former reporter for the NBC affiliate KING 5 television in Seattle, were married Oct. 15, 1994. The Lockes have three children--Emily, born in March 1997, Dylan, born in March 1999 and Madeline, born in November 2004.
Popular in the Community