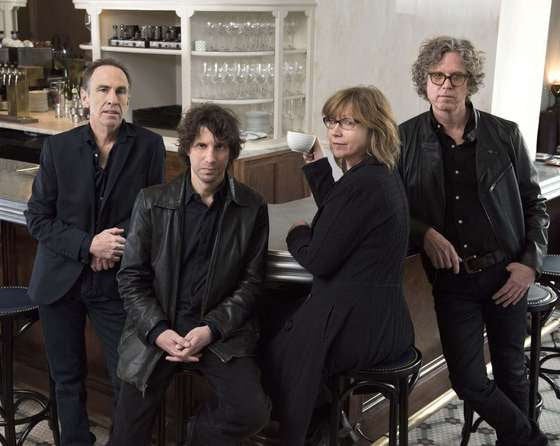 At one point a couple of years ago, Jayhawks singer Gary Louris faced a big decision.
"I wasn't sure I wanted to make a Jayhawks record. I didn't know if I wanted to be a Jayhawk anymore," Louris told The Huffington Post.
Louris joined The Jayhawks in 1985, a whopping 30-plus years ago, and has been making music with the Minneapolis-based band ever since. Through various iterations of the group, he has remained a steady force, helping to create a sound filled with killer harmonies, touching lyrics and music that's stood the test of time. Simultaneously, he released solo material and spent time writing for other acts, including Dixie Chicks and Nickel Creek.
It has been four years since The Jayhawks released their last album, "Mockingbird Time," and during that period, Louris underwent a lot of changes in his life and also overcame an addiction to painkillers. 
"I went through a lot of pretty tumultuous personal issues. I went to rehab and all that kind of stuff, and had other drama and divorce," Louris said. "I came out of rehab kind of like, 'What do I want to do with my life?'"
Traveling had taken a toll over the years, not to mention the isolation both on and off the road.
"It took me a while to just really decide I need music. I need it more than ever and it wasn't the cause of my problems," Louris said. 
Following that realization, it didn't take long before the veteran musician started writing new music. He created demos and got serious about recording at his home studio. He didn't have a specific outlet in mind for the songs -- until it dawned on him to get the band back together again.
The seeds were planted, and everything fell into place for "Paging Mr. Proust," the new Jayhawks album, due out April 29. Co-produced by R.E.M. guitarist Peter Buck, the set features long-time core band members Louris (lead vocalist/guitars), Marc Perlman (bass), Tim O'Reagan (drums/vocals) and Karen Grotberg (keyboards/vocals).
"I think sometimes I took the band for granted and I think there's something about my new clarity. Like, 'Oh, my God, Marc Perlman, I knew he was a good bass player, but he's a great bass player! And Tim, I always knew I loved playing with him because when I play with him everything just feels right. And Karen is amazing," Louris said.
Together they created an 11-track album that leads with the catchy "Quiet Corners and Empty Spaces."
"It's a big pop song that's a little bit out of step with the current style, but I'm always drawn to kind of uplifting, brutal and desperate [songs], but hopeful at the same time. It kind of has an uplifting feel to it. But most of my songs have a bit of a melancholic vibe to them," Louris said.
It's true. And that's part of the Jayhawks' magic. Songs like "Save It For a Rainy Day" and "Blue" juxtapose upbeat music with a mix of melancholy and hopeful lyrics.
Looking back on this career with The Jayhawks, Louris views different segments of the band's career (and even specific albums, for that matter) as turning points. 
"'Tomorrow the Green Grass,' to me, was a really important record for us. We flexed our muscles and started expanding and creating a new version of ourselves. 'Sound of Lies' was kind of brave. With 'Smile' we took some real chances and I'm glad that we did. Some of the songs soared and some flopped. 'Rainy Day Music' was just a little simpler," Louris said.

"Rainy Day Music" is the easiest album to play live, he said. It translates really well to the audience, too. Looking ahead, The Jayhawks will have a chance to test out the new songs live with a slew of tour dates lined up through the summer. Now, three decades into performing, Louris says he's looking forward to hitting the road.
"It's a weird thing because I didn't want to be that veteran band that wouldn't let go and couldn't do anything else," Louris said. "I wanted to leave them hungry, I wanted people to miss us. Now I've kind of changed to the point where I realize it's kind of cool to have this history, this longevity … I feel like we're different and I don't know why. I think it's because our music was never geared toward a 21-year-old. It was geared for a wider spectrum … It wasn't like we're the party band from the '80s."
At 61, Louris feels like he's hitting a great stride. And he's OK with that coming later in life. 
"My life has always been funny and I've always been late, with everything personally and musically. I didn't get into a band 'til I was 26. I wasn't in The Jayhawks until I was 30," he said. "Everything happens later, so I've embraced the idea that we have a history and it's nothing to be ashamed of that you're not this new band. It's actually cool that we have an audience that keeps growing."
Even the clarity, as Louris says, has come later in life. 
"It's as they say, the problems don't go away. You just deal with them better you don't shove everything under a rug and wait for it to go away. You just kind of face things and you grow up," he said.
Growing up ... and forever a Jayhawk.  
Calling all HuffPost superfans!
Sign up for membership to become a founding member and help shape HuffPost's next chapter
BEFORE YOU GO
PHOTO GALLERY
11 Musicians Prince Has Impacted Over The Years