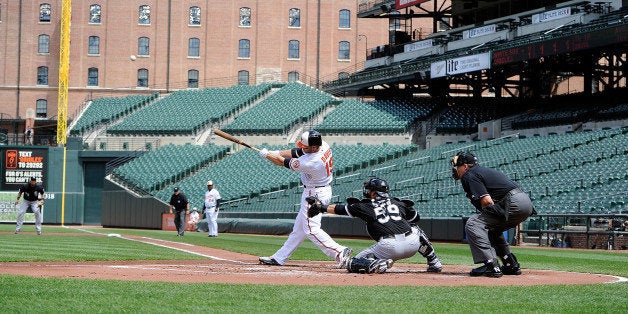 The Baltimore Orioles played a home game Wednesday against the Chicago White Sox in an empty stadium.
The unprecedented decision to play the game with no fans at Orioles Park at Camden Yards was made after Baltimore protests turned to rioting Monday following the death of Freddie Gray, 25, who suffered an unexplained fatal spinal injury this month in police custody.
What was it like to be in the empty ballpark? The Huffington Post spoke to one of the men who called the game, MASN broadcaster Gary Thorne, about the sights, sounds and emotions viewers couldn't see, as well as the role baseball plays in times of crisis.
What a game. And for better or for worse, a historic one. When did you find out the game would be held, but it would be closed to the public? And what was your reaction?

I heard it [Tuesday] afternoon, when we had a call from our producer for the games on television saying they made a decision they were going to play a game, that no one was going to be allowed in the ballpark. And I was just kind of stunned, I guess was my first reaction. Trying to think, 'What is this going to sound like? What is this going to look like for a game?' And then wondering, 'Has this ever happened before?' Which it hadn't. Those are my first reactions to it, just trying to wrap my mind around it.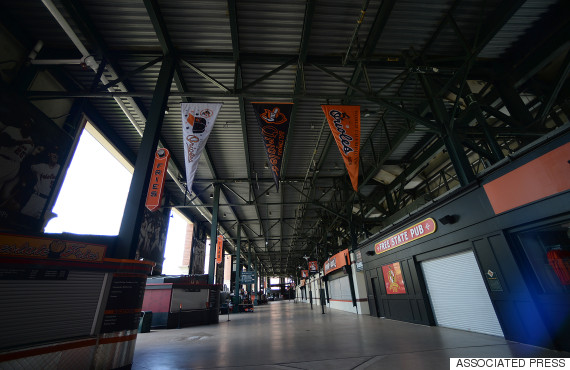 Do you prepare any differently for a game like this -- a sense that you have a bigger challenge to really convey what's going on?

I guess I tried not to do that consciously, thinking about, 'Alright, what am I going to do for this game?' And I finally -- and this was all yesterday thinking about it -- it was like, 'Well, wait a minute. It's baseball.' There are not going to be any people there, but you do games with 50,000-60,000. And you do games with 3,000 or 4,000 sometimes, but this time, there's just nobody. It's still a game. And so I didn't want to over think that, so I just went to the ballpark to try and do a baseball game, and just let it flow, as you do with all games and you kind of feed off the game itself. And what was going to be missing was the fact that you couldn't feed off fans. The fans oftentimes fill the void. If it's a home team, and it's a home run, and it's a walkoff, there's not much you've got to say. You just listen. That wasn't going to be there today, for any circumstance. So you're going to have to carry that with your voice that you might not have to do otherwise. But other than that, it was pretty much -- it was a baseball game.
What did it feel like when you first arrived at Camden Yards?

It was quiet. That's what it was. Going to the ballpark it was very quiet. There wasn't much going on downtown. You didn't have the usual gatherings around the restaurants and bars around the ballpark. And then when you went in, it was empty! You could hear everything. You could hear the grounds crew talking to each other while they were preparing the field, you could hear the players around the batting cage talking to each other. You could hear things you wouldn't otherwise hear and there was nothing else to fill the void. There were times where it was just very quiet. And in that sense, that's completely unusual. You just kind of sit and listen to the silence. And think you're probably never going to have this chance to do this again at a major league ballpark.
What did that feel like? Eerie and cold, or more personal, even though there weren't any people there other than the bare bones?

Well, it certainly was bare bones. There's no question about that. But I actually felt that there was an intimacy at the ballpark with the few people who were there. Especially with the players before the game, in the clubhouse, during press conferences and out on the field while they were taking batting practice. There was a real intimacy because everybody understood that they were going to be involved in something that might never happen again -- hopefully, doesn't -- and a unique situation, and this is the group of people who are going to be inside experiencing it.
Watching the game online, you could hear some of the players talking -- we were hoping for some good dugout gossip. But any sounds that stood out to you, the crack of a bat or the pop of ball hitting a glove?

It was kind of funny before the game, the players and talking to [Orioles manager] Buck Showalter, they were very aware that things they were going to say were going to be heard. So I think there was a good deal of shutdown in that regard, especially what you might hear between the bench and the umpire, between the bench and opponent's players. There's a lot of jibing that goes on and things like that. I don't think there was much of that today. The players realized that was going to be heard and they didn't want it to be heard, they certainly didn't want anything they could be saying to umpires to be derogatory and would be heard. And what I did hear though at different times, was the chatter of the ballplayers to one another on their team. Encouraging them from the dugout and the guy at bat, talking to them, 'Nice defensive play,' and somebody hollering out. You don't hear that in the course of a ball game. And today, that was continual. The guys were cheering for one another and urging each other on. You could hear that, and I thought that was pretty good. I thought that was interesting.
What did it feel like to hear that for the first time, despite the fact that you've covered ball games for years?

You know it's going on, but you don't expect to hear it, so you're not looking for it. And then today, you know it's going on and you're looking for it. You're listening for it because you know you're probably going to be able to hear it. And it kind of just reminded me of, 'It's the kids' part of the game. It's going back to the little boys playing a man's game. This is the stuff you did in Little League, they're hollering the same stuff. 'Let's go! Let's go!' 'Look for a good pitch!' 'Come on!' 'Don't swing at that stuff!' It's the same stuff you did as a kid. And here they are doing it to one another as they do every day. And to hear that, kind of made you smile.
What was it like in the press box? Some writers on Twitter said you could hear each other chew, you and your co-announcer, Jim Palmer, joked during the broadcast about using your 'masters voice' versus your 'free baseball for everyone voice.'

Well, we're a level above ... the writing press ... so I know a lot of the guys who were tweeting, especially on the Chris Davis home run, they could hear the whole thing from my call upstairs, which they would never hear if there was a crowd in there. But they could hear it downstairs when we called it a home run. And next door was the White Sox broadcasters ... and they were kidding me during the game, 'Quiet down! We can hear you over here! Keep the noise down!' kind of thing. Which, at a regular game, you'd never hear the other broadcasters, even though there's a pretty good wall that separates it.
Did you and Jim ever have a moment where you realized you were part of history?

A little bit, maybe before the game. You know that it's a unique situation, and we said that. But I think the moment for us though -- because it was unexpected -- at the very start of the game, there was a chant from Orioles fans coming from fans who were standing way outside the centerfield area on the street up against the fence. And you could hear them and see them. And we showed them. And we looked at one another on that one, when we realized that was going on. And that's kind of special. They can't get in, but they're here at the game, they're here at the park, and they're outside cheering, 'Let's go O's.' And they did that for the whole game. They cheered different plays, they cheered players, they hollered out player's names. I think that's the moment I'll remember about this game, are those fans that were outside doing that.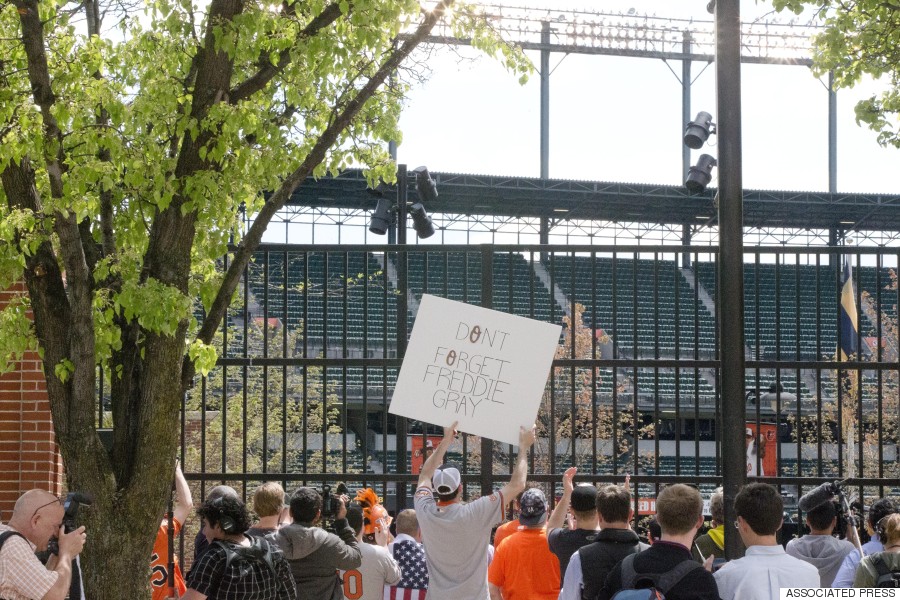 Do you think it was the right call to close the game to the public?

Short answer is yes. Safety first. It would've been nice to have the fans view the ballgame as a kind of uniting of the Orioles and the community and perhaps a chance to just relax, take a big breath and enjoy a ballgame. I understand that position. But, at the ballgame, had fans been in there and you would've attracted a large crowd, and if there were those who wanted to violate the law and cause trouble, it would've provided a gathering place. And I just don't think that that risk could be taken and I think that was the right call for safety purposes.
Did you feel that tension and emotion on Saturday, when they asked fans to stay in the stadium as protests continued?

Well, of course being in the stadium, you really had no idea what was going on outside. We had a TV on behind us to look at some of the pictures. But you didn't have a good feel for what was going on in the city even right outside the ballpark. You didn't really have a good feel for how many people were there, what kind of problems there were, what was going on. And then when the announcement came on asking us not to leave, for an inning or so, that was a surprise. And without knowing, the anxiety there was, 'Well, what the hell is going on? What don't we know?' And then when the game ended, there was no problem getting out, there were no problems leaving and going through town at the time. But that was anxious moment, largely again, because you just didn't know.
After going through this game -- and obviously the situation is far from over in Baltimore -- what are your thoughts on sports, particularly baseball, being in the middle of these issues and conversations?

I think it's inevitable. This isn't the first time. Whether it was the breakout of World War II, the end of it, World War I, Vietnam, ... Martin Luther King Jr.'s death, the Kennedys' deaths, baseball -- if it was going on -- during the time of national turmoil, or sadness, or grief, it's there. Baseball's there. It's played every day. It's part of the fans, it's part of their life, whether they follow closely or just on the periphery. It's there every day. And so baseball can't help but be part of the daily activities, even in times like these. And I think it's not about baseball being politically involved, it's about baseball being community-involved, and I think there's a difference. Like what [Orioles player] Adam Jones was talking about today, that this is his city. He lives here, it's a part of his community, he reaches out all the time, especially to kids, boys and girls clubs and schools. He feels this. These are people he sees who are some of them getting themselves in trouble out on the streets, and the city suffers. And so they feel it. The players feel it. The managers feel it. Certainly the owner, Peter Angelos and his family, feel it. And they're part of it. So there are things that can be done through the baseball game and the individual players that are positives, to try and help the situation and community when it's struggling like this. I think that's the part that any sports team can play in a community and should.
Does this stand out as one of the most bizarre experiences in your career as a sports announcer?

Yeah, sure. When you're doing a game like this in an empty ballpark. I think back, I was with the Mets in 9/11 when the baseball game was one of the first things that happened again in New York City as a public event. I was in the earthquake in San Francisco in '89 and that was a tumultuous event where the ballpark was involved ... If the game's there, it can't avoid being a part of social events that are taking place around it. And it shouldn't. It should be part of it. And should be whatever positive it can be for the community, for the nation, whatever the situation may be.
When baseball does return to Camden Yards, do you have any anticipation on what that game will mean for the city of Baltimore?

When the Orioles return home here, it will be one more piece of getting back to a daily routine that people are used to. I hate using -- normalcy is the word that get used there, but normalcy I don't think is an appropriate term because it's not normal. There are things going on that are going to continue on the air, investigations regarding the underlying problems … the death of that young man in police custody, those things are still going to be going on. But it's a return to life, on the same level as the curfew goes away, the restaurants are open, public areas are open after 10 o'clock, that sort of thing. An Orioles game will be one piece in that wall that starts putting it back together again so that you have some kind of life that looks like it did before.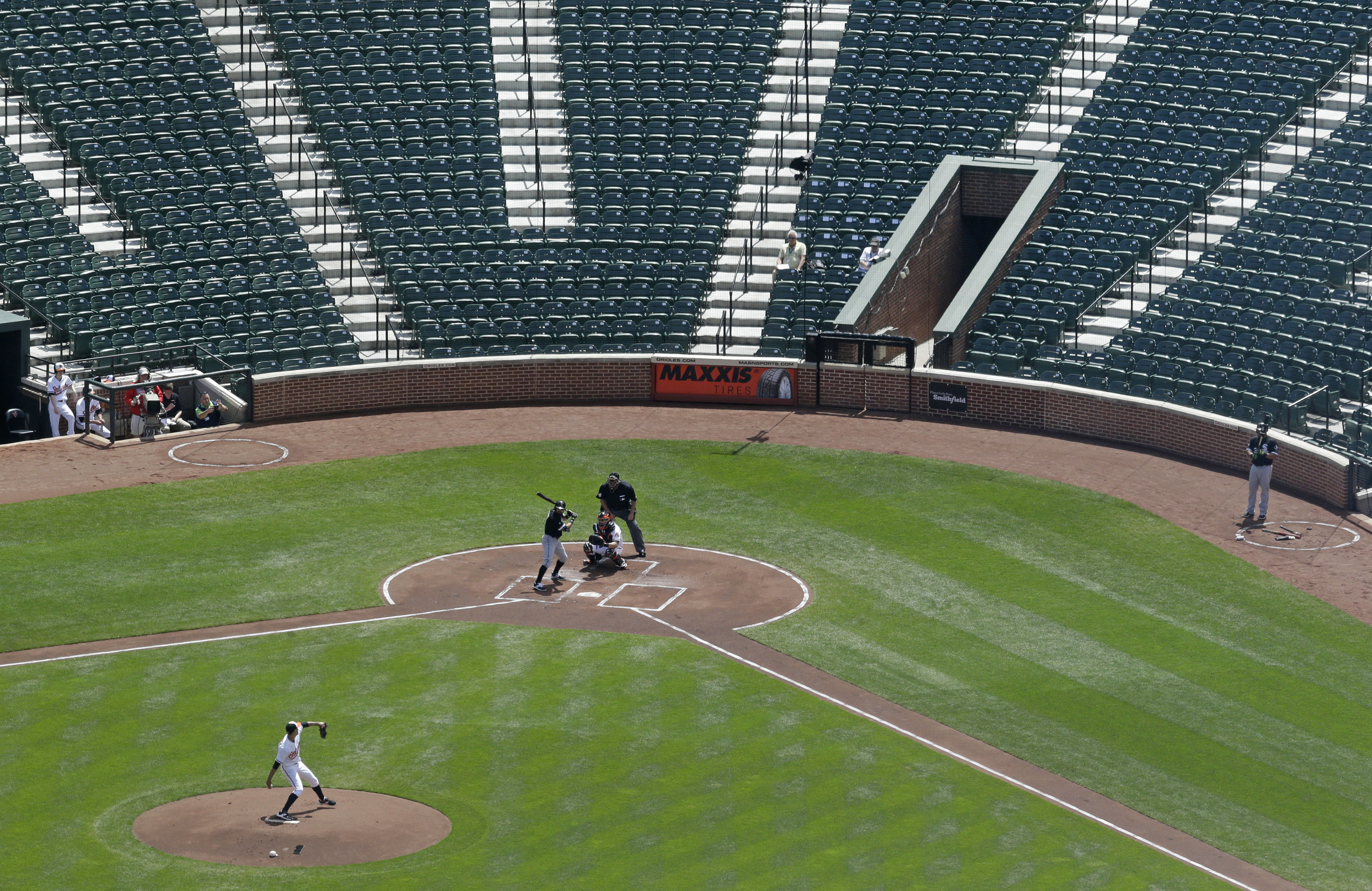 Before You Go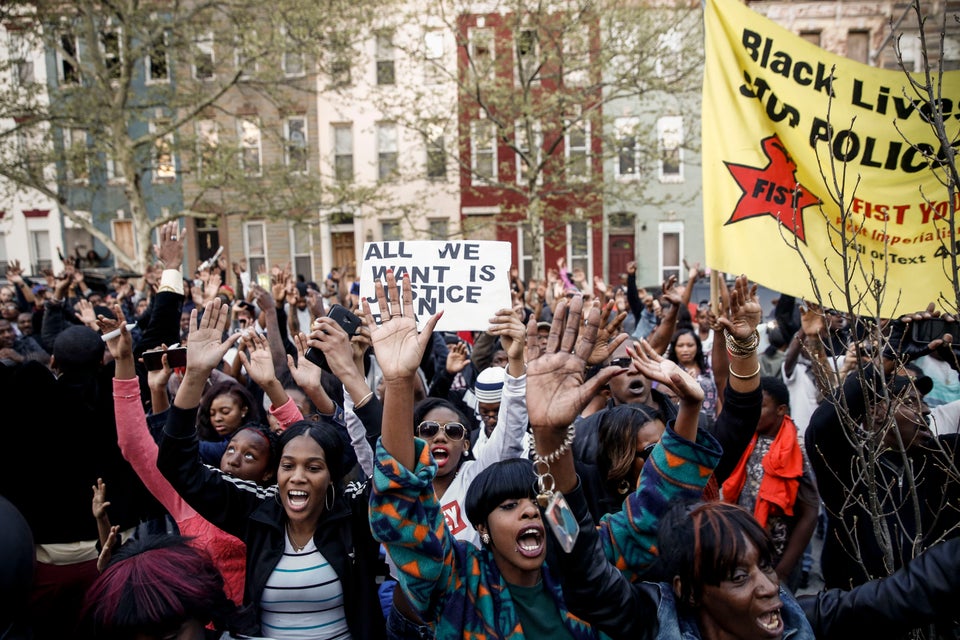 'Justice For Freddie Gray' Protests
Popular in the Community