When Colorado police launched the "click it or ticket" seatbelt campaign awhile back, we're pretty sure the "it" was never intended to be a gas can.
A Facebook photo recently posted to the Colorado Department of Transportation's page shows a toddler and gas can sharing a vehicle's back seat. The gas can is securely strapped into a child's safety seat. The toddler, seated opposite the gas can, looks free to roam about the cabin.
(Scroll down for full photo)
After the photo gained national attention earlier this week, Denver news stations tracked down Sandra Ramirez, the driver of the car (and the child's mother), for an explanation.
"My son was in a seat belt as I (was) getting pulled over," said Ramirez in a separate interview with KDVR. "He's a very smart guy. He can unbuckle his seat belt. He jumped into the backseat on the other side and put on his 'big boy' seat belt."
Ramirez has been ordered to appear in Aurora Municipal Court on June 29.
WATCH Ramirez's interview with KDVR, above. Original photo, below. Do you believe her explanation?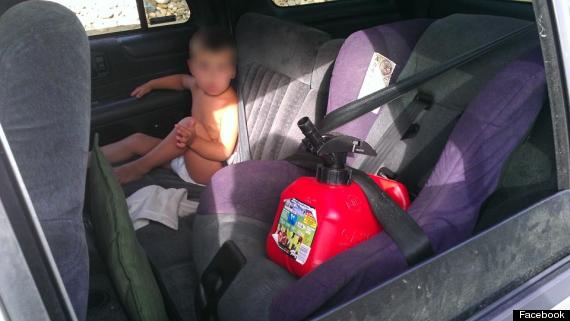 REAL LIFE. REAL NEWS. REAL VOICES.
Help us tell more of the stories that matter from voices that too often remain unheard.