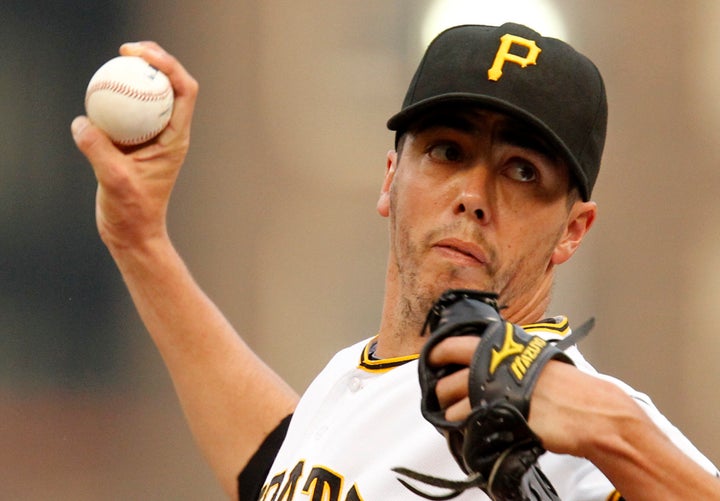 An industry spokesman defended providing for travel and accommodations, but said the offer of baseball tickets had been withdrawn.
"No one's getting paid anything, let's start there," said Chris Tucker, a spokesman for oil and gas lobby group Energy in Depth, in an email to HuffPost. "What we're trying to do is provide an opportunity for folks to participate in a federal forum on best practices in shale development, especially those who might not otherwise have the means or ability to get to it themselves."
The emailed offer appears to have been sent to undisclosed recipients by Thomas Shepstone, head of Shepstone Management Company, an environmental, land use and zoning consultancy based in Honesdale, Pa.
Shepstone is also listed as the campaign manager of something called the Northeast Marcellus Initiative, a new effort launched in April that serves, according to the group's website, as "the eyes and ears (as well as arms, legs and heart)" of Energy in Depth in the Marcellus Shale. That formation is a vast area of potentially copious natural gas yields underlying parts of Pennsylvania, West Virginia, Ohio and New York.
Energy in Depth is the broader coalition of oil and gas producers that has largely spearheaded the campaign to defend and support natural gas exploration against charges that its practices -- particularly the use of hydraulic fracturing -- are a risk to public health and the environment.
The federal panel, and the public meeting in Pennsylvania slated for next Monday, are part of several ongoing efforts to get to the bottom of that question.
Shepstone apparently wanted to make sure that supporters of natural gas drilling in the Marcellus were well represented at the June 13 meeting. His email message follows:
-------- Original Message --------
Subject: Department of Energy Meeting on Hydraulic Fracturing
Date: Thu, 9 Jun 2011 12:11:46 -0400
From: Thomas Shepstone
To: Undisclosed-recipients:

There is an extremely important meeting coming up this Monday and we need folks to attend.

Here is the essential background, folks:
Department of Energy to Host Secretary of Energy Advisory Board Natural Gas Subcommittee Meeting

Washington, DC – On Monday, June 13, 2011, the U.S. Department of Energy will host a public meeting of the Secretary of Energy Advisory Board (SEAB) Natural Gas Subcommittee at Washington & Jefferson College in Washington, Pa. The meeting will allow subcommittee members to hear directly from community members interested in the safety and environmental performance of hydraulic fracturing.

WHAT:
Secretary of Energy Advisory Board Natural Gas Subcommittee Meeting

WHEN:
Monday, June 13, 2011

7:00 PM – 9:00 PM

WHERE: Washington Jefferson College Olin Fine Arts Center East Wheeling Street Washington, PA

More information about the public meeting and the subcommittee can be obtained by visiting www.shalegas.energy.gov.

Obviously, even though it's short notice and a long ways off (we just learned about it ourselves) this is an extremely important event. We need as many of you from our region there as possible under the circumstances. Given the short notice and the distance, we are prepared to help make this happen. We can offer the following incentives to attend:

1. Bus transportation (we'll try to set something up with pickups in maybe Binghamton, Scranton and the Williamsport area and provide the details when you let us know of your interest).

2. A hotel room for the night of June 13th.

3. Your meals.

4. Tickets for the Pittsburgh Pirates game (they're playing the Mets that night)

5. Airfare (for older folks, especially..and for heads of landowner groups)

If you can do this, please let me know by return e-mail ASAP and we'll get back to you with the details once we know how many are willing to go.
But Tucker said that the outrage was much ado about nothing.
"It's exactly what the opposition does for every single local township meeting anytime one's held anywhere across the entire mid-Atlantic region," the Energy in Depth spokesman wrote. "Difference is, we're not busing people in for a local township meeting. This is a public forum sponsored by the U.S. Department of Energy. Our folks have the right to be there, and if we have any say in the matter, they will be."
A short time later, Tucker reached out again to add that the baseball game had been nixed.
"After giving it some serious thought," he said, "we came to the realization that no one should have to watch baseball of that quality."
Popular in the Community