PITTSBURGH ― Six years ago, state Rep. Greg Vitali (D) made the first attempt to impose a tax on drillers sucking natural gas from Pennsylvania's bedrock.
Lawmakers have tried at least 66 times since, to no avail.
This makes Pennsylvania the only major gas-producing state that doesn't require oil and gas companies to pay a fee, or severance tax, on the amount of gas extracted ― 5 trillion cubic feet. The tax could raise $100 million this year alone to help plug the state's $2.2 billion budget deficit. Failing to pass it amounts to "leaving money on the table," according to the Brookings Institution. About 70 percent of voters in Pennsylvania support adding the tax.
In July, the elusive severance tax seemed within grasp. The state Senate passed a bipartisan spending bill that included a severance tax that would charge fracking companies about 2 cents per thousand cubic feet of gas.
But when the budget bill that included it came up for debate in the House of Representatives two weeks ago, the severance tax got cut ― illustrating what critics say is the deep-pocketed gas industry's stranglehold on Pennsylvania politics. On Wednesday, Gov. Tom Wolf (D), for whom the tax is a key political issue, urged legislators to pass a severance tax proposal approved by a bipartisan committee.
"This is a fair and commonsense proposal that will address our structural budget deficit," Wolf told HuffPost by email.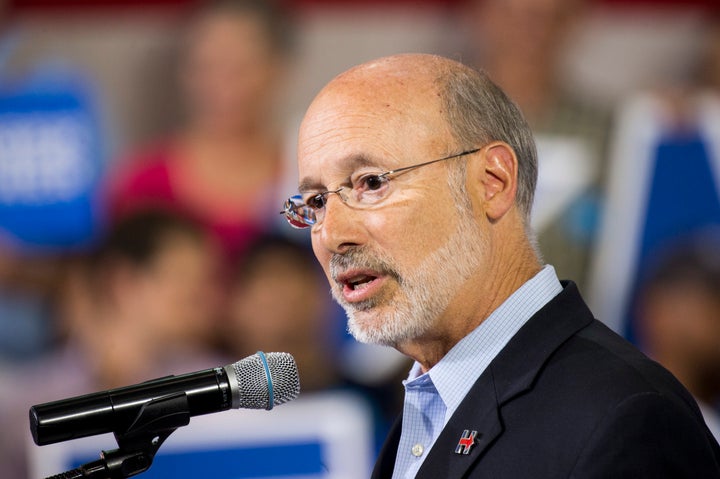 But the bill faces an upward slope slicked with lobbying money. Since 2009, the industry has spent more than $59 million lobbying state legislators, and contributed $9.5 million to campaigns and political action committees, according to data released this month by the watchdog group Common Cause. An investigation by The Philadelphia Inquirer and the Pittsburgh Post-Gazette estimated the spending was more like $61 million.
"It's a matter of public record that they've lobbied heavily against this for years, and they've been very effective in doing that," Vitali told HuffPost. "We have a huge, huge deficit and we're starting to monetize assets and lease assets, yet we can't get a severance tax done."
Vitali, who has represented a district in Philadelphia's western suburbs for 25 years, said that while he still wants a severance tax, he wouldn't have supported the version that passed in the Senate anyway. Republican leaders had only consented to include the severance tax in the legislation in exchange for measures weakening the state Department of Environmental Protection.
One rule would have outsourced environmental permitting to a third-party panel staffed by businesspeople, including landscape architects. Another would have automatically approved all outstanding permit requests after a period of 30 to 45 days ― regardless of whether the request contained inaccurate information or violated other regulations. A third provision would put a seven-person committee appointed by Republican leadership in charge of setting rules on air quality and methane pollution from drilling sites.
But even a severance tax bill loaded with polluter giveaways couldn't pass. A top industry blog published a list of Republican senators who supported it, under a graphic reading: "Traitor in our midst." The industry's main trade group vowed to do "whatever is necessary" to stop the tax. And once again, the industry got what it wanted.
"The lack of a severance tax, it's an example of the best policy that money can buy," Steve Herzenberg, executive director of the Pennsylvania economic think tank Keystone Research Center, told HuffPost. "Lawmakers need to think about a variation of the famous John F. Kennedy phrase, ask not what you can do for your gas industry, ask what your gas industry can do for your state."
The governor's office said the latest tax legislation "did not include the same permitting reform," but said the administration "was willing to make reasonable compromises" as long as they "would not sacrifice the Department of Environmental Protection's ability to protect Pennsylvanians and the environment."
Natural gas companies do pay what's called an impact fee for each new well they drill in Pennsylvania. Sixty percent of that money goes to the local government, providing a steady source of revenue for towns and counties hurt by mining and manufacturing decline. The rest goes to state agencies involved in regulating drilling, cleaning up the environmental damages left behind, and repairing roads and infrastructure. But collection of that fee peaked along with the number of new wells in 2013 at about $225 million, and has since fallen to $173 million, a record low.
"...ask not what you can do for your gas industry, ask what your gas industry can do for your state."
The American Petroleum Institute, the industry's top lobbying group, argued in February that the impact fee has filled state and local coffers with more than $1 billion over the past five years as natural gas has transformed Pennsylvania's energy profile. The state is on track to reduce carbon emissions from coal-fired power plants to 30 percent below 2005 levels by 2030, due largely to increased use of natural gas. (Methane emissions are on the rise, however, according to self-reported industry data released last month by the state DEP. Methane is a greenhouse gas roughly 30 times more potent than carbon dioxide.)
"Investing in pipeline projects throughout Pennsylvania would bolster the impact tax, allowing currently shut-in gas to get to market, thereby increasing tax collections," Stephanie Catarino Wissman, executive director of the American Petroleum Institute's Pennsylvania branch, said in a statement in February. "This way, all Pennsylvanians benefit by increased impact tax investments and the environmental benefits of increased natural gas usage."

The governor made a 5-percent severance tax a central campaign promise in 2013, when he defeated incumbent Republican Gov. Tom Corbett. Environmentalists criticized Wolf, who received donations from the gas industry, for demonstrating only tepid support for cracking down on fracking polluters. One 2014 headline from the Pulitzer Prize-winning InsideClimate News read: "In Pa.'s Governor Race, It's Drill, Baby, Drill...and Tax, Maybe, Tax."
Still, Wolf has included a severance tax in each of his three budget proposals since becoming governor. Last year, his proposal for a 6.5-percent tax failed. The latest bill proposes a volume tax that increases with the price of natural gas from 2 cents per thousand cubic feet to 3.5 cents per thousand cubic feet. The tax could generate between $100 million and $250 million annually.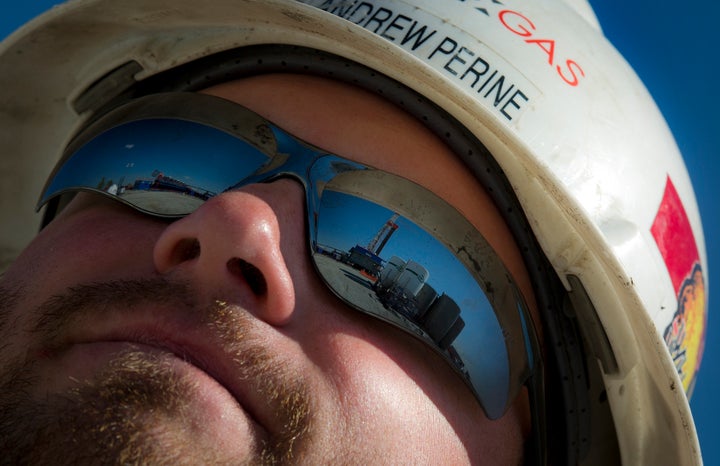 But state Sen. Scott Wagner (R) is trying to make the severance tax a central fight in his challenge to Wolf's re-election. The Republican gubernatorial hopeful last month urged GOP legislators to kibosh any attempt to pass a severance tax, which he said would help Wolf secure a second term.
"One thing has become abundantly clear: Too many Republicans in the legislature are more focused on the 2018 elections than on helping Pennsylvania succeed," Wolf said at a press conference this month. "They would rather see me fail than Pennsylvania succeed. They would rather protect special interests, lobbyists and campaign donors than do the right thing. I'm not going to play their games anymore. I'm drawing a line in the sand."
To fill the budget gap, state legislators are looking to other sources of revenue. In lieu of a drilling tax, the bill debated this month in the House proposed adding a 5-percent tax on hotels, a move lawmakers could justify as putting the burden on visitors from outside the state rather than residents. In a state that invests very little in tourism ― just $4 million compared with New York's $70 million ― the proposed tax was seen as a sign of how far legislators were willing to go to appease gas producers at the expense of other industries.
"To put it bluntly, it would have been devastating," said Melissa Bova, vice president of government affairs at the Pennsylvania Restaurant and Lodging Association, a trade group.
But even high hotel costs haven't stopped the state from becoming a major hub for oil and gas industry events. Late last month, Shale Insight Conference, the gas industry's foremost regional confab, hosted its annual event in Pittsburgh. Former White House press secretary Sean Spicer gave the keynote address, telling gas producers they had a friend in President Donald Trump and Environmental Protection Agency head Scott Pruitt, who cultivated cozy ties with the gas industry as Oklahoma's attorney general.
"To the extent that you can, use the coalitions and groups that you have to get those issues to the forefront," Spicer said. "The administration understands how important what you guys do is for national security, but sometimes it gets held up by the bureaucracy."
He said the industry should continue to "unleash itself." The room erupted in applause.
A week later, the Interstate Oil and Gas Compact Commission, a private industry advocacy group that functions like a state agency, met in Pittsburgh. Next week, the annual Appalachian Oil & Gas Conference is set to take place at the Hilton DoubleTree in downtown Pittsburgh.
For now, Wolf said he remains focused on passing the tax.
"I urge House leadership to bring the severance tax to a vote on the floor as soon as they return to Harrisburg next week," the governor said.
Before You Go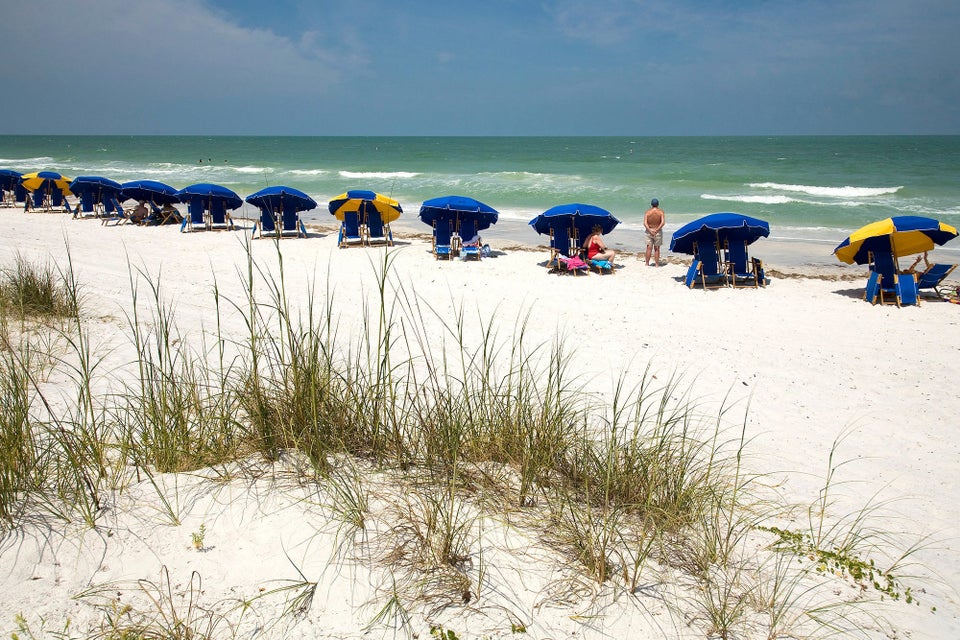 10 States That Burn The Most Coal