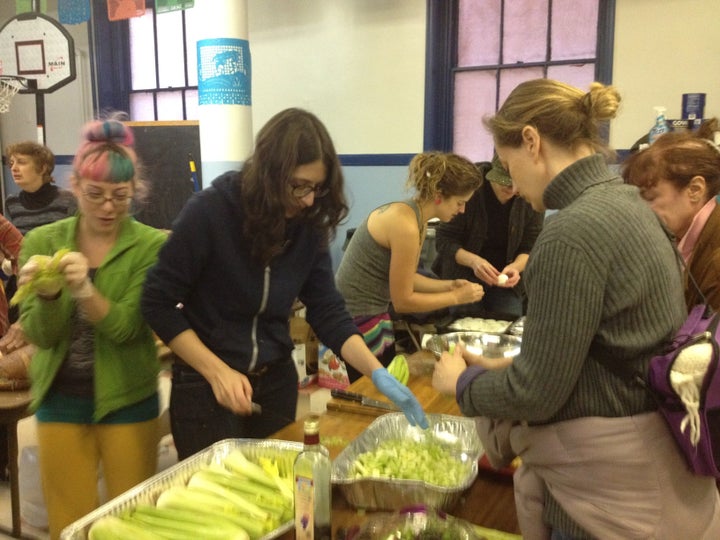 At 3 p.m. on the Friday after Hurricane Sandy hit New York City, the St. Jacobi church in Sunset Park, Brooklyn, was overflowing with boxes of water bottles, piles of clothes and volunteers baking bread pudding. The mood was busy and hopeful as 350 people helped sort donations from across Brooklyn to be sent out to neighborhoods like Staten Island and Far Rockaway that were devastated by the storm.
But one key element was missing: gasoline.
"We have a lot of everything right now," said Diana Aguinaga, a dental hygienist who was volunteering at the donation hub, a joint effort of 350.org and Occupy Wall Street. "What we really need is a car with gas." Outside the church, there were about 15 parked drivers loading and unloading supplies, though not all of them had enough gas in their tank to go as far as was needed.
Now, the shortage is crippling aid organizations spearheading relief in devastated areas. While some national organizations like the Red Cross have managed to secure fuel, many local charities are using vehicles running on empty. Without gas, basic necessities like flashlights, clothing, food and water can't make it to people whose entire lives were wiped out by the storm.
"This problem with gas is a game changer," said Lisa Hines-Johnson, chief operating officier of the Food Bank for New York City, the city's main hunger relief nonprofit and one of the largest food banks in the country. The food bank had initially made an arrangement with a gas station near its 190,000 square foot warehouse in the Bronx to get fuel to its fleet of trucks. But that station ran out of gas Friday, making it difficult to deliver supplies to its 1,000-some agencies across the five boroughs.
Though the situation seems grim, officials have been working hard to get fuel to organizations like the Food Bank. The federal government is stepping in to ease the crisis. On Friday, President Barack Obama ordered the Department of Defense to send trucks carrying 12 million gallons of gas and 12 million gallons of diesel to help supply gas stations in the region. And on Friday, the U.S. Department of Homeland Security temporarily waived the so-called Jones Act, which requires that only U.S. ships transport goods between U.S. ports, to allow more foreign oil imports. Meanwhile, a large pipeline supplying fuel from the Gulf Coast, the Colonial Pipeline, started pumping fuel again to its tank farm in Linden, N.J. That will supply about 700,000 barrels a day to the region.
Update: Late Friday President Obama ordered the Defense Department to buy up to 12 million gallons of gasoline and 10 million gallons of diesel fuel to be trucked to the region, and also ordered it to loan ultra-low-sulfur diesel fuel to the region from the Northeast Home Heating Oil Reserve.
Still, none of these steps are solving the biggest problem -- electricity. Gas stations in powerless areas are still unable to pump the gas they have out of the ground. "If we can get any power, there's gas in the tanks that drivers will get," said Phil Flynn, energy analyst at Price Futures Group in Chicago. "But for now the shortage is getting worse and worse."
Disaster relief contractors, who repair damaged homes, also began to feel the pinch on Friday. "We have hundreds of phone calls to respond to and our vehicles are running out of fuel," said Charles Deckert, general manager at Advanced Restoration in Babylon, N.Y., on Long Island. "This could really hurt us." On Friday morning, the wait for gas was three to four hours at the stations near Deckert's office.
As of Friday afternoon, there had been no such contact between New York utility Consolidated Edison and New York's gas stations, according to Ralph Bombardiere, head of the New York State Association of Service Stations and Repair Shops.
"If you know anybody from ConEd, tell them to give me a ring," Bombardiere said in a telephone interview.
Though more fuel was flowing to the region on Friday, Bombardiere stuck to an assessment he'd made 24 hours earlier, that the severe gas shortages would last through the weekend, and that service would not return to "normal" until the end of next week.
Some national charities have also made arrangements to get fuel. The Red Cross has not been affected by the shortage because of its government partnerships, a spokesperson said on Thursday. The Salvation Army, meanwhile, has received fuel from the State of New Jersey and partnered with police to make sure its mobile feeding vehicles get priority service at gas stations, according to a spokesperson for the The Salvation Army Eastern Territory.
Grassroots relief efforts, such as the one at the St. Jacobi church, had to concoct other ways to get around the shortage, such as recruiting volunteers to use their personal cars and gas to deliver supplies.
"We're a little different than the nonprofits because we don't have to deal with a lot of the bureaucracy and legal challenges," said Yoni Miller, a volunteer and social media organizer for Occupy Sandy, as that group's relief effort is being dubbed. "We just get things done. And we get them done faster."
-- Janean Chun contributed reporting.
Calling all HuffPost superfans!
Sign up for membership to become a founding member and help shape HuffPost's next chapter
BEFORE YOU GO
PHOTO GALLERY
Gas Shortages Lead To Long Lines Amid Sandy Recovery