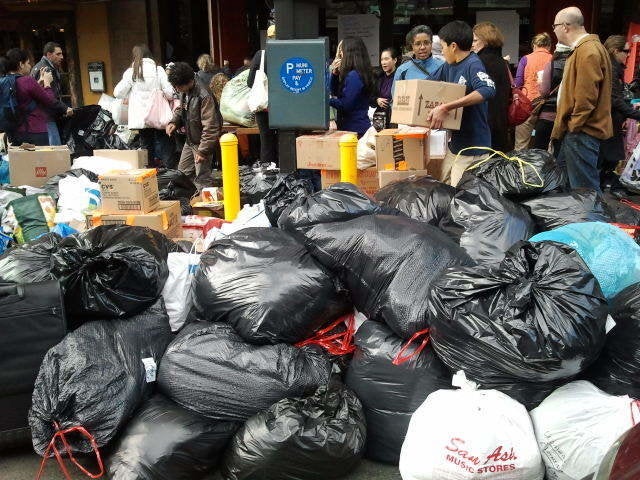 Even as power returns to parts of the region assailed by Hurricane Sandy, millions of drivers seeking gasoline appear likely to face at least several more days of persistent shortages.
Drivers in the New York area have been struggling to find gasoline ever since Hurricane Sandy slammed the area last week, causing power outages and port closures. The gasoline shortage has delayed relief efforts, deprived workers of pay, and caused frustration for many.
Gasoline is scarce mostly because of power outages. Electricity is necessary for refining gasoline and delivering it to drivers. Since utilities have begun restoring power and the New York harbor has partially reopened, the crisis is expected to abate in the next several days. Still, the scarcity of gasoline inconvenienced many on Saturday.
The shortage delayed relief efforts as volunteers struggled to secure transportation for their supplies. Several hundred bags of food, toiletries, and clothes -- part of a local relief drive -- were stacked waist-high outside the Firehouse restaurant on Manhattan's Upper West Side on Saturday. The gasoline shortfall nearly stymied organizers' efforts to get the supplies to Staten Island and the Rockaways, where many victims still are without power or food.
The mayor's office had offered to send a truck, according to lawyer Michael Klein, who is organizing the relief effort, but it was severely delayed. "They [the victims] literally are cold, they have no food and they are gutting their houses simultaneously because the water was 5-feet high across the Rockaways," Klein told The Huffington Post. "Only the organized trucks and bus systems can get enough fuel to get these big loads in to help them."
Finally, Rich Cervini, a media executive from Upper Saddle River, N.J., managed to track down a rental truck with a gas tank three-quarters full -- about enough to make it to the Rockaways and back, according to his brother Dave Cervini. But he still had to leave behind hundreds of bags. A truck from the mayor's office arrived two hours later to pick up 400 more bags of supplies, according to Klein.
Several drivers waiting in a line that stretched for six blocks for the BP gas station on 36th Street and 10th Avenue in Manhattan Saturday afternoon said they typically have to go to four or five stations before they finally find one with gasoline -- then they still have to wait about two hours for it.
The gasoline shortage has caused financial distress for some cab drivers. The line to the BP gas station on Saturday afternoon consisted mostly of cabs. Several drivers said they have to use about three hours of their shift every day to find and wait for gasoline. They said that they have lost between $300 and $1,000 over the past week from rides they were not able to make, since they had no gasoline or were waiting in line.
"I'm hardly making my lease," said Shahid Bangash, a New York City taxi driver, as he filled his tank at the BP gas station. He said he was unable to work for five days after the storm and only started again on Saturday.
Reggie Ridley, a janitor from Harlem, said that this past week, he has woken up three hours earlier than usual -- around 5:30 a.m. -- to start looking for gasoline. Once, he was unable to find gasoline at all, so he had to park his car at a garage and take the subway to work. He needs his car to go to work and to take his wife and children to and from work and school, respectively.
"I've been very tired. No sleep," he said. "Every place I go, it's been a long line, four- to five-blocks deep."
The dearth of gasoline has worn thin the patience of some drivers. Two drivers battling for a place in line at a gas station in Greenlawn, N.Y., got out of their cars and wrestled on the street for five minutes before bystanders intervened, said Mauro Angeles, a graphic designer from Long Island, who visited 25 gas stations over the past few days and was able to buy gasoline only twice.
But some drivers have kept their frustration to a minimum. Kofi Nimako, a New York City taxi driver who has lost $400 to $500 over the past week to long waits for gasoline, said he is glad just to have survived the storm. "Some people lost their lives, and I'm still alive, so I'm happy," he said.
This story has been updated to reflect that a truck sent by the mayor's office picked up 400 bags of supplies to help with the relief effort late Saturday afternoon. The truck was delayed and had not arrived as of the original writing.
*************************
The Huffington Post is eager for insights from our community, especially people with experience in power, infrastructure and engineering, on the adequacy of emergency preparation in advance of Hurricane Sandy, and the degree to which past disasters have informed adequate planning and construction. Please send a note to sandytips@huffingtonpost.com with insights and suggestions for the important questions that need to be asked of relevant private sector and government officials, and point us toward stories that need to be pursued.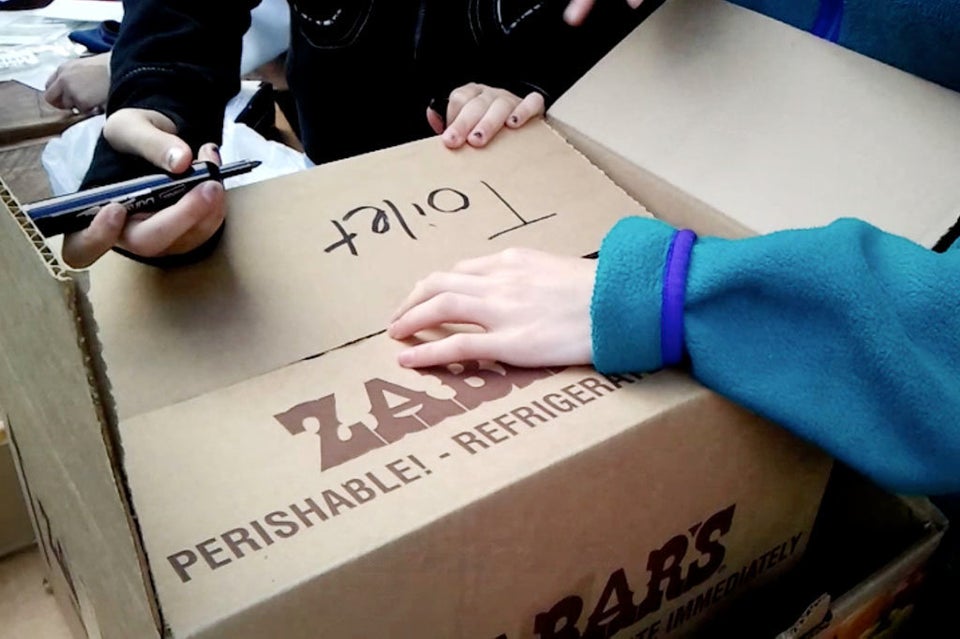 Gas Crisis Imperils Relief Drive
Popular in the Community