 WASHINGTON -- The White House isn't rushing to embrace an increase in the gas tax to pay for a renewal of the highway trust fund, despite bipartisan backing for the proposal in Congress. But they're not closing the door either.

Obama administration officials told The Huffington Post that they continue to support the closing of corporate tax loopholes, a repatriation tax holiday and other tax reforms as a means of paying for a four-year $302 billion transportation bill.

"The Administration has not proposed and has no plans to propose an increase in the gas tax," said White House spokesman Matt Lehrich, when asked about the alternate pay-for. "It is critical that we pass a bill that not only avoids a short-term funding crisis but provides certainty and lays the groundwork for sustained economic growth. So we appreciate that members on both sides of the aisle continue to recognize the need for a long-term infrastructure bill, and we look forward to continuing to [work] with Congress to get this done."

The statement from Lehrich wasn't, on its face, a full-out rejection of a gas tax hike. Noting that the president hasn't proposed the idea isn't the same as saying he opposes it or would veto it if it came to his desk. Lehrich's comment certainly stands in contrast to what then-White House press secretary Robert Gibbs said in 2009, when he declared that a gas tax hike "is not and will not be the policy of the Obama administration."
And a separate statement from Ryan Daniels, a Department of Transportation spokesman, said that while the "Department has outlined a plan involving pro-growth business tax reform," it was "open to ideas that Congress comes up with."
During the 2008 presidential campaign, then-Sen. Barack Obama famously refused to endorse a gas tax holiday, even as prices at the pump surged. "It's typical of how Washington works -- let's find some short-term, quick fix, even though we're not really doing anything," Obama said at the time, refusing to embrace the short-term political benefit of supporting a holiday and arguing that its long-term costs made it irresponsible.
Supporting a gas tax hike today would be a similar move, albeit in reverse. There's very little political gain to be had by raising voters' gas prices, but doing so creates a lasting source of revenue.
The opening of the door to a transportation bill with a gas tax hike is not just reminiscent of the Obama campaign's focus on long-term solutions; it also gives momentum to a renewed effort to pass the plan through the Senate. Last week, Sens. Chris Murphy (D-Conn.) and Bob Corker (R-Tenn.) proposed a 12-cent hike in the gas tax as a means of raising $164 billion to replenish the highway trust fund, which could run out by the end of the month.
The Murphy-Corker proposal would provide a fuller revenue stream for the highway trust fund as opposed to a one-time boost. The measure would not violate the no-tax-hike pledge that many congressional Republicans have taken because it is coupled with tax breaks for businesses elsewhere, including a research-and-development tax credit and tax breaks encouraging small businesses to buy business equipment. And it does not include the offshore profits repatriation holiday, which progressives and small businesses see as a harmful giveaway to tax-dodging companies.
The measure received an endorsement of sorts from Senate Majority Leader Harry Reid (D-Nev.) during an interview with The Huffington Post last week.
"I'm in favor of anything that would get the highway trust fund back where it should be," he said. "I've worked with Sen. Rand Paul on repatriation. I support Corker, at least the little bit I understand of it. He's come out in favor of a gas tax, I was told this morning. ... There are others looking at an import fee. I don't know how it works, but [Sen. Ron] Wyden could tell you that. So I'm looking at everything and anything."
Transportation advocates and business groups like the U.S. Chamber of Commerce have likewise called for a hike in the gas tax as a means of replenishing the highway trust fund. The tax was last raised in 1993 and currently stands at 18.3 cents per gallon. Revenues from the tax have declined as people have driven less and cars have become more fuel efficient, leading to the current funding crisis.
In December, Rep. Earl Blumenauer (D-Ore.), a member of the House Budget Committee, introduced legislation that would boost the federal gas tax to 33.3 cents a gallon by 2016 and then index the tax to inflation. But prospects for enacting that proposal or Murphy-Corker remain slim given that any Senate-passed provision would also have to emerge from the more conservative House.
GOP House leadership has opposed the president's plan, arguing that one-time revenue producers like a repatriation tax holiday should be proposed as part of comprehensive tax reform and not as part of a transportation bill. Instead, GOP leadership has floated short-term pay-fors such as eliminating postal service delivery on Saturdays, an idea it has since dropped, and corporate "pension smoothing," which has been criticized as an accounting gimmick.
"I think the idea is to try to find a package that would plug this hole for nine to 12 months to make sure that the highway projects that are underway will continue," said House Speaker John Boehner (R-Ohio).
UPDATE:1:45 p.m. -- Minutes after this story was published, White House press secretary Josh Earnest was asked if the president would support raising the gasoline tax and responded that he wouldn't.
"We've said a couple of times that we wouldn't support it," Earnest said at his daily briefing.
The response is more emphatic than the one administration officials gave The Huffington Post for this piece and certainly more definitive than what they have said in the past. It appears that Earnest closed a door that other officials had deliberately kept open. Why, after all, say you're willing to listen to "ideas that Congress comes up with" if you've ruled out one of the few ideas?
The Huffington Post will update this story with more information about the contradicting messages once we have it.
Before You Go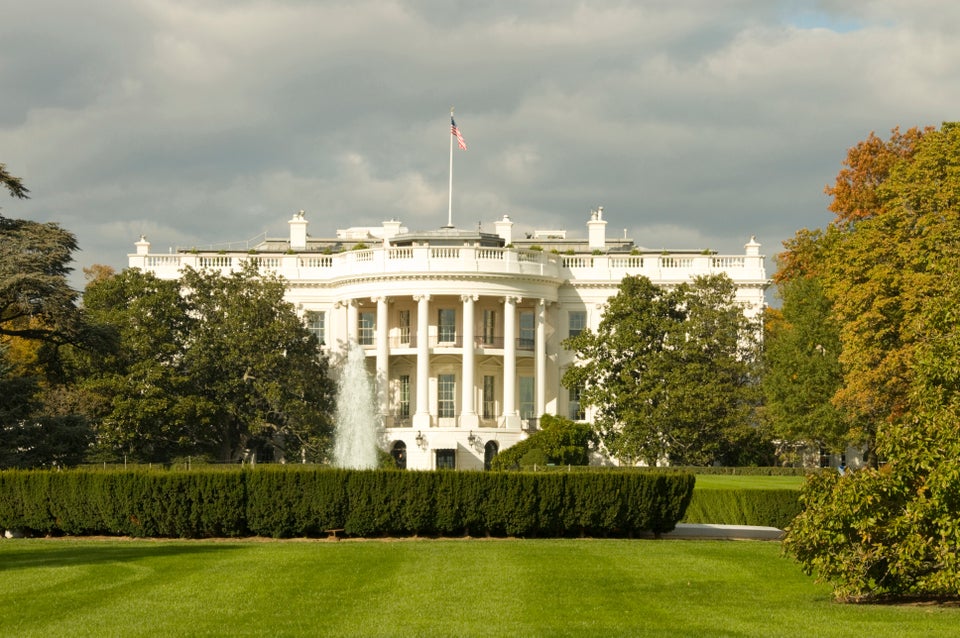 The White House
Popular in the Community