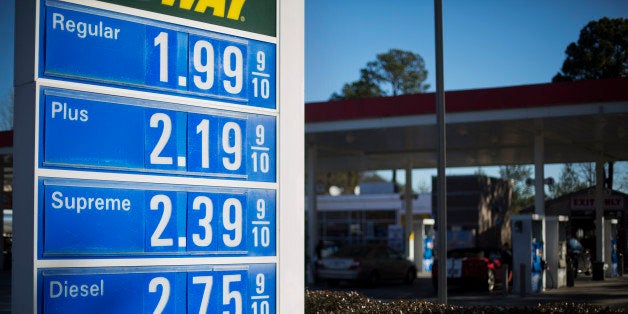 Concern over gas prices has fallen steeply in the past few months, but a gas tax hike remains unpopular.
The percentage of Americans for whom gas prices are at least a somewhat serious problem has fallen 20 points over the last three months, according to a new HuffPost/YouGov poll. Just a quarter currently say gas prices are a problem for their family, down from 45 percent in last November, and nearly 80 percent in 2012. An even smaller fraction -- 6 percent -- say the price is a serious problem.

Chart created using Datawrapper.
Lower gas prices have somewhat energized advocates for raising the federal gas tax, which hasn't gone up since 1993. Money from the gas tax goes to the Highway Trust Fund, which pays for building and repairing infrastructure, and is set to run out around May.
"If something like this is going to be done, now is the time to do it," Sen. Bob Corker (R-Tenn.), who last year co-sponsored a bipartisan gas tax bill, told The New York Times.
Yet only 25 percent of Americans in the latest HuffPost/YouGov poll approve of the proposal to raise the gas tax by 12 cents over the next two years -- and to continue to increase it in accordance with inflation -- in order to fund highway road improvements. Fifty-five percent oppose the increase, and another 20 percent are unsure.
Republicans reject the idea of a tax hike by a margin of more than 3-to-1. Democrats are more evenly divided but still opposed, with 36 percent favoring the idea and 41 percent opposing it.
Just 31 percent of Americans think gas taxes should be used to pay for road repairs and construction, with more favoring the use of road tolls, vehicle registration fees or driver's license fees.
And most of the public is not too concerned about the state of their local infrastructure: Only 20 percent describe the conditions of bridges in their area as bad, while 29 percent say the same of local highways.
Polls suggest the shifting opinions on gas prices have had little effect on the public's willingness to pay more in taxes. While a June 2014 HuffPost/YouGov survey found a plurality of support for increasing spending on infrastructure, only 30 percent favored a proposal to increase the tax by 6 cents. A 2013 Gallup poll similarly found that just 29 percent would support a 20-cent increase to "improve roads and bridges and build more mass transportation in your state."
Passing a tax increase also remains a tough sell to federal officials. While members of both parties have named infrastructure funding as a possible opportunity for bipartisan agreement, Rep. Bill Shuster (R-Pa.), who chairs the House Transportation Committee, said earlier this month that he didn't believe a tax hike had the votes to pass.
"In fairness to members of Congress, votes on gas tax are really tough," President Barack Obama, who has also steered clear of calling for an increase, said last December. "Gas prices are one of those things that really bug people. When they go up, they are greatly attuned to them. When they go down, they don't go down enough. And so, historically, I think there has been great hesitance."
The HuffPost/YouGov poll consisted of 1,000 completed interviews conducted Jan. 26-28 among U.S. adults using a sample selected from YouGov's opt-in online panel to match the demographics and other characteristics of the adult U.S. population.
The Huffington Post has teamed up with YouGov to conduct daily opinion polls. You can learn more about this project and take part in YouGov's nationally representative opinion polling. Data from all HuffPost/YouGov polls can be found here. More details on the poll's methodology are available here.
REAL LIFE. REAL NEWS. REAL VOICES.
Help us tell more of the stories that matter from voices that too often remain unheard.
BEFORE YOU GO
PHOTO GALLERY
CEOs Who Look Like Villains