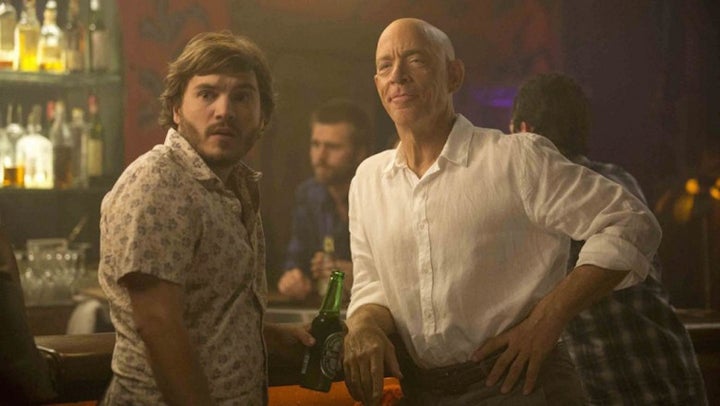 Suncoast Credit Union Gasparilla International Film Festival (GIFF) announces its official program selection for its 11th year anniversary in Tampa, Florida. The 11th annual festival will be held March 2-March 9, 2017 at the Tampa Theater and AMC Centro Ybor. The festival will host the World Premiere for Academy Award winner J. K. Simmons' ALL NIGHTER, directed by Gavin Wiesen.
With 35 films and over 70 shorts, the festival will host international and regional premieres of narrative features, documentaries and short films around the world, master classes, panel discussions and much more.
This is the third year Suncoast Credit Union renews its commitment as title sponsor with the goal of bringing quality entertainment and enrichment to the community. In addition to the title sponsorship, Suncoast will also be supporting the Suncoast Credit Union Family Fun Day and the Suncoast Credit Union High School Students Film Competition, design to inspire and encourage arts education.
"Supporting the Gasparilla International Film Festival is a natural fit for Suncoast Credit Union because at our core, we work to bring quality of life to our community," said Patti Barrow, vice president of marketing at Suncoast Credit Union. "The festival gives us the opportunity to meet and interact with our Suncoast members, potential new members and to share the credit union difference with the community."
"I am proud of the festival we have created for everyone to experience and enjoy. There truly is something for everyone. We believe in the power of film to entertain, educate and inspire our community and with 11 years and counting, the festival continues to deliver" stated GIFF's President Rachel Marks Feinman.
A jury of 12 TV & Film industry professionals will be presenting awards to competition films in the following categories: U.S. Narrative Feature, International Narrative Feature, Documentary and Shorts.
A full line up of the films below:
• Burn Your Maps: A nine-year-old boy, grieving with his parents over the recent loss of his baby sister, becomes obsessed with the idea that he's a Mongolian goat herder who belongs back home in his small village in Mongolia. Cast: Vera Farmiga, Jacob Tremblay, Virginia Madsen, Suraj Sharma. Directed by Jordan Roberts
• Unleashed: When a cosmic event turns Emma's dog and cat into two perfect guys, Emma reconsiders her outlook on dating, hilariously works out her trust issues, and ultimately learns to love herself. Cast: Justin Chatwin, Steve Howe, Sean Astin, Kate Micucci. Directed by Finn Taylor
• Breakable You: The film follows the Wellers, a dynamic New York City family as they come to terms with themselves and each other. Cast: Holly Hunter, Tony Shalhoub, Alfred Molina, Cristin Milloti. Directed by Andrew Wagner
• Danger Close: (Documentary) Female war reporter Alex Quade's daring missions to tell soldiers' stories during a series of unprecedented embeds with Conventional Forces and US Special Ops Forces at the height of the Wars in Iraq and Afghanistan. Directed by Christian Tureaud and David Salzberg
• The Last Word: Retired businesswoman Harriet, controlling to the end, writes her own obituary, but the newspaper writer tasked with the piece insists on learning the truth about Harriet's life and the two become reluctant partners and friends. Cast: Shirley MacLaine, Amanda Seyfried, Tom Everett Scott, Anne Heche, Philip Baker Hall. Directed by Mark Pellington
• The Lost City of Z: Based on author David Grann's nonfiction bestseller, The Lost City of Z tells the incredible true story of British explorer Percy Fawcett. Cast: Charlie Hunnam, Sienna Miller, Robert Pattinson. Directed by James Gray
• First Round Down: Tim Tucker, a former hockey prodigy, returns home to take care of his younger brother having spent the last ten years as a hit man for the mob. Tim now lives on the straight and narrow, but his checkered past catches up to him faster than he can deliver pizza. Cast: Dylan Bruce, Rachel Wilson, John Kapelos. Directed by Brett Butler and Jason Butler
• Veras Mantel: A successful writer, Veras Martel, is prevented from leaving her house by agoraphobia. Sinister threats from a fan eventually lead her uncovering the secret of her illness. Cast: Lea Fassbender, Nico Zitek, Charlotte Ulrich. Directed by Ronald Unterberger
• Women Who Kil: Commitment phobic Morgan and her ex-girlfriend Jean, hosts of a female serial killer-centric podcast, still show all the signs of being a couple. But everything changes when Morgan falls hard and fast for the mysterious Simone, who may or may not be a killer. Cast: Ingrid Jungermann, Ann Carr, Sheila Vand, Annette O'toole. Directed by Ingrid Jungermann.
• American Wrestler: The Wizard: In 1980, a teenage boy escapes the unrest in Iran only to face more hostility in America, due to the hostage crisis. Determined to fit in, he joins the school's floundering wrestling team. Cast: Jon Voight, William Fichter, Ali Afshar. Directed by Alex Ranarivelo
• The Architect: When a couple sets out to build their dream house, they enlist the services of an uncompromising modernist architect, who proceeds to build HIS dream house instead of theirs. Cast: Parker Posey, James Frain, Eric McCormack. Directed by Jonathan Parker
• AWOL: A young woman Joey is in search of direction in her small town. A visit to an army recruiting office appears to provide a path, but when she meets and falls in love with Rayna that path diverges in ways that neither woman anticipates. Cast: Lola Kirke, Breeda Wool, Dale Soules, Ted Welch. Directed by Deb Shoval
• Carrie Pilby: Carrie is person of high intelligence who graduated from Harvard at 19, and struggles to make sense of the world as it relates to morality, relationships, sex and leaving her apartment. Cast: Bel Powley, Nathan Lane, Gabriel Byrne, Jason Ritter. Directed by Susan Johnson
• Dean: An illustrator falls hard for an LA woman while trying to prevent his father from selling the family home in the wake of his mother's death. Cast: Demetri Martin, Asif Ali, Jesaiah Baer, Katherine Barnes. Directed by Demetri Martin
• Future 38: A 1938 screwball comedy set in the far future year of 2018. Cast: Betty Gilpin, Robert John Burke, Sean Young. Directed by Jamie Greenberg
• So B. It: A 12-year-old girl decides to take a cross-country trip by herself, leaving the safety of her home with her mentally-challenged mother and agoraphobic neighbor. Cast: Alfre Woodard, Dash Mihok, Jacin Barrett, John Heard, Cloris Leachman. Directed by Stephen Gyllenhaal
• About Us: Diego, a hopeless romantic desperately trying to salvage his relationship with long- time girlfriend Sofía, plans a beach getaway to propose and clear the air. A 'chance' encounter with Sofía's old friend Malena will cast doubts on his relationship and skewed understanding of love, quickly turning a perfect weekend in paradise into Diego's worst nightmare. Cast: Hernan Jimenez, Noelia Castano, Marina Glezer. Directed by Hernan Jimenez
• Frantz: In the aftermath of WWI, a young German who grieves the death of her fiancé in France meets a mysterious Frenchman who visits the fiancé's grave to lay flowers. Cast: Paula Beer, Pierre Niney, Ernst Stotnzer. Directed by Francois Ozon
• Handsome Devil: Two opposites, a loner and the top athlete at a rugby-obsessed boarding school, become friends until the authorities test their friendship. Cast: Fionn O'Shea, Nicholas Galitzine, Andrew Scott. Directed by John Butler
• Past Life: In the 1970s, two sisters try to solve a wartime mystery that has cast a shadow over their lives. Cast: Nelly Tagar, Joy Rieger, Doron Tavory. Directed by Avi Nesher
• Queen of the Desert: A chronicle of Gertrude Bell's life, a traveler, writer, archaeologist, explorer, cartographer, and political attaché for the British Empire at the dawn of the twentieth century. Cast: Nicole Kidman, James Franco, Damian Lewis, Robert Pattinson. Directed by Werner Herzog
• The Sense of an Ending: A reclusive older man must face the flawed recollections of his younger self and his long buried secrets. Cast: Jim Broadbent, Michelle Dockery, Emily Mortimer. Directed by Ritesha Batra
• Disturbing the Peace: The film explores people born into conflict, sworn to be enemies, who challenged their fate by taking extraordinary actions by standing for what they believe in. It challenges us all to decide what role we will play in creating a more humane world, starting with our willingness to disturb the peace. Directed by Stephen Apkon and Marcina Hale
• Finding Oscar: Feature length documentary about the search for justice in the devastating case of the Dos Erres massacre in Guatemala. That search leads to the trail of two little boys who were plucked from a nightmare and offer the only living evidence that ties the Guatemalan government to the massacre. Directed by Ryan Suffern, Executive Produced by Steven Spielberg
• Good Fortune: Homeless, Gang member, Billionaire, Philanthropist; this film reflects "conscious capitalism." Interviewees include Robert Kennedy Jr., Cheech Marin, Dan Akroyd, Arianna Huffington and Danny Trejo. Directed by Josh Tickell and Rebecca Harrell Tickell
• Lea and Mira: The film tells the story of two elderly women living in Argentina. As children, they were taken to the Auschwitz concentration camp. The movie depicts the thoughts of these women who, in the twilight of their lives, transmit their wisdom, their resilience, and their way of looking at life after trauma. Directed by Poli Martinez Kaplun
• Score: This documentary brings Hollywood's premier composers together to give viewers a privileged look inside the musical challenges and creative secrecy of one the world's most widely known music genre: the film score. Interviewees include Hans Zimmer, Danny Elfman, John Williams, James Cameron and Quincy Jones. Directed by Matt Schrader
FLORIDA FOCUS: World premiere of independent films made in Florida
• Joey's Show Will Go On: Tampa drag queen legend Joey Brooks, the 'First Lady Of Ybor City', talks about her decades-long female-impersonator career and judges a whacky contest to choose a new diva for her Christmas show. Cast: Joey Brooks. Directed by Marcus Kempton
• King Charles: A shady DEA agent does everything in his power within and outside the law to catch a cocaine kingpin. During a city's crime investigation the DEA's partner is gunned down. TC will now stop at nothing to catch his man and what he's about to do next is pure justice. Cast: Rod Grant, Nicholas Naylor and Buddy Winsett. Directed by Nicholas Taylor
• The Lost Digit: After accidentally cutting off his finger, a man can't escape the dire feeling that something important in his life is missing. As a dangerous obsession takes hold his career, marriage and grasp on reality suffer. The best part of his life gone, he ends up in a nursing home devoid of love and utterly alone. Cast: Christopher Rutherford, George Cassermey, Hillary Pyles, Jim Wicker. Directed by Garrett Brown
• Turtle Tale: TURTLE TALE is inspired by events that took place at the George C. McGough Nature Park in Largo, Florida - the story of JR the OWL as witnessed and told by the nature park's first inhabitants, 'THE TURTLES'. The turtles, HANK, RAFI and GOLIATH, and their community live in a beautiful pond with nice clean water, lots of food and are witnesses to all the events of the park as they get ready for another busy summer camp season, never suspecting what is about to happen at the park and to themselves. Cast: Mary Rachel Dudley, Noah Schnacky, Lily Cardone, Isiah McCaffrey. Directed by Luc Campeau
Additionally, Gasparilla will feature in-depth, informative Industry Panels, including, Meet The Press, Casting Directors, "The Performance" Actor's panel, Special Effects, Do's, Don'ts for a Film Festival Run and "The Pitch."
Related
Popular in the Community