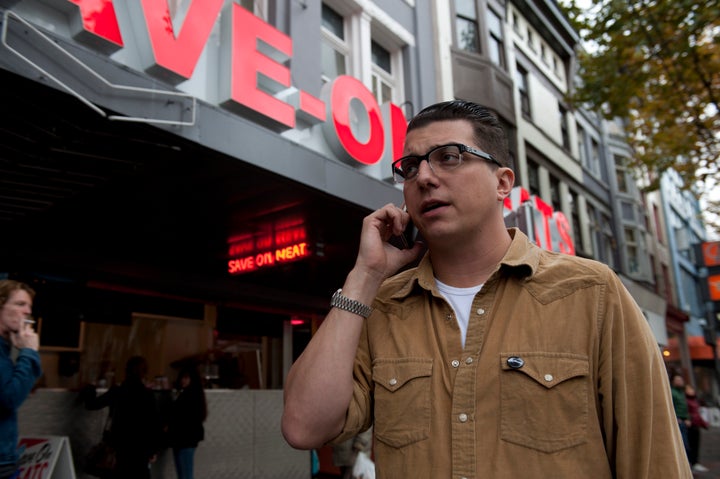 Did you catch OWN Canada's "Gastown Gamble"? It's arguably the most anticipated new show the network has rolled out since it debuted last spring. So what's all the fuss about? Well, it's a completely unique concept, for one. It blends elements from all of the most popular reality genres out there right now -- cooking, massive renovations, risky small business ventures and even a little relationship drama to boot.
"Gastown Gamble" follows prominent Vancouver chef Mark Brand and his wife Nico as they attempt to prevent their beloved, rough-around-the-edges neighbourhood of Gastown from becoming completely gentrified. Sound ambitious? That's because it is. Their first step is saving the iconic Save-On-Meats building from being demolished and turned into condos. They succeed, and proceed to transform the old building into a vibrant, modern butcher shop/diner named, yes, Save-On-Meats.
It's a massive undertaking, but that's not all they're up to. The Brands want to include the at-risk locals in their venture. And in Vancouver's notorious downtown east side, recruiting locals can be, well, as complicated as it is risky. In some cases, like with Brand's longtime friend and current caretaker Football Mike, it works out beautifully. In other cases, not so much. (You'll have to watch to see what I mean.)
Still not convinced? Here are ten more reasons you should be tuning into "Gastown Gamble."
1. Mark Brand is a fascinating guy. The word "ambitious" doesn't even begin to describe him. When he says he's going to do something, he does it -- and it's completely absorbing watching him work his magic.
2. Nico Brand was born to be on TV. She's incredibly cool under pressure, engaging, relatable and just so happens to be prettier than a lot of actresses on TV right now.
3. The building is a character in itself -- it's the hero and the antagonist all at once. It's beautiful and full of history, while at the same time a seemingly endless money pit. Just when the Brands fix up one thing, something else breaks down.
4. The elevators make for a ton of suspense. Will $25K worth of meat rot in between floors if the elevator gets stuck? Will Brand's right-hand man Rodney get stuck in the elevator shaft while trying to fix it? Tune in to find out! (Brand told an advance screening audience that we can expect to see plenty of elevator-related drama recurring throughout the season.)
5. Football Mike is as endearing as he is unpredictable. The first episode describes him as an unconventional caretaker in an unconventional neighbourhood -- a claim backed up by footage of him nonchalantly cleaning up scattered heroin needles outside the diner's main entrance.
6. Rodney is truly a jack-of-all-trades. Brand's right-hand man happily does whatever he's asked, from tinkering with the wayward elevator to taking care of garbage issues.
7. The Brands' mission to hire at-risk locals is noble, but it's also fraught with challenges that make for some pretty compelling television.
8. In between shots of the Brands running around frantically trying to make sure everything is running as smoothly as possible, you get to see what Chef Jason Leizert is cooking up in the kitchen. Mmmmmm.
9. The list of good deeds the Brands are aiming to accomplish with Save-On-Meats is seemingly endless, from serving free meals to struggling addicts in the neighbourhood to plans to install a rooftop garden.
10. You may think they're naïve or overly ambitious at first, but it's impossible not to root for the Brands and their admirable endeavour.
You can watch "Gastown Gamble" on Wednesdays at 9:30 p.m. on OWN Canada.

Calling all HuffPost superfans!
Sign up for membership to become a founding member and help shape HuffPost's next chapter
BEFORE YOU GO