It is said when the student is ready the teacher will appear. In this case, spiritually-aware people in entertainment and media have been waiting for a movement that will echo the awakening now happening around the world. And it has arrived, in the form of "GATE."
John Raatz is the founder and Eckhart Tolle and Jim Carrey are honorary co-founders. The Global Alliance for Transformational Entertainment (GATE) is shepherding the emerging and rapidly expanding transformational entertainment and media genre worldwide.
I interviewed John about the upcoming "GATE 2," which is an event that cultivates, promotes and advances collaborations between transformational content creators and purveyors, and it is open for all those interested in being part of the expansion of the transformational genre that is currently happening around the world.
According to John, "Many have thought that religion, big business or government would save us ... but, with most of these institutions in serious disarray today, the one remaining infrastructure through which wisdom and possible solutions can flow is the entertainment industry and all forms of media. Many people within the industry are already transformationally oriented. One of our missions is to bring together these individuals and assist them in creating and disseminating content of a transformational nature for the benefit of all humanity, of the world."
Raatz feels that each person in the entertainment and media industry has a role and a responsibility to facilitate personal, social and global transformation. He explained his observation that "there is a schism between the business and creative sides of the entertainment industry. One that's usually been there. Often, the creative side wants to develop meaningful, more transformationally oriented product, while the business side is focused on commercial value. Once in a while, they coincide.
"This also reflects a general split in our culture -- an imbalance that favors commercial success over deeper, more personal success on a human level. Whatever is happening on a microcosmic level is also happening in the larger reality; it is all mirrored back. And now's the time to try to find a healthier balance, when so much of our world is threatened in so many ways. That's what GATE is seeking to do in the entertainment and media industries."
Raatz continues, "Many Native American tribes would sit in council when they had an important decision to make. If it was determined that the decision would negatively impact any of the next seven generations, they simply would not do it. We need to bring more of that spirit to the decisions we make in all aspects of our lives."
Eckhart Tolle, author and spiritual teacher, GATE honorary founder, notes, "The only actions that don't cause opposing reactions are those aimed at the good of all. Inclusive, not exclusive. They join; they don't separate. They are not for 'my' country, but for all of humanity, not for 'my' religion but for the emergence of consciousness in all human beings." That spirit is also often embodied in transformational entertainment and media, according to Raatz. Tolle will be speaking at GATE 2.
Jim Carrey, actor/activist and GATE honorary founder, has said, "I am so lucky to be a part of this community, and to do something that is of value." Carrey will also be speaking at GATE 2.
John identified the audience for transformational entertainment and media as one that is rarely paid attention to: what he calls the Cultural Creatives. In early 2000, two sociologists were commissioned to record Americans' values and lifestyle preferences. Some of the 19 characteristics these Cultural Creatives relate to are: preservation of nature, a strong awareness of planet-wide issues, spirituality as an important aspect of life, maintaining loving relationships, intense interest in spiritual and psychological development, and wanting to be involved with creating a new and better way of life.
It was determined that 50 million Americans then fell into that category, with an additional 90 million Cultural Creatives in Europe. The numbers are even larger now, as this is the fastest growing segment of the U.S. and world population. The book that resulted from this research was The Cultural Creatives: How 50 Million People are Changing the World, by Paul H. Ray., Ph.D., and Sherry Ruth Anderson, Ph.D.
Raatz notes: "At GATE, we want to be the supporting mechanism that assists those in the entertainment and media businesses who are transformationlly oriented to speak their truth through their work. And guess what! That's monetizeable! The audience is ready!"
Raatz is not new to aligning his spiritual light with his creative expression. He is the founder and principal of the pioneering "transformational" marketing and PR firm, The Visioneering Group, whose mission is "Linking Spirit, Vision & Progressive Values with Compassionate Communication to Promote a Positive and Sustainable Future."
Established in 1988, Visioneering exclusively serves the Cultural Creatives (body/mind/spirit) market, and was the first such firm to do so. He played a large part in putting the game-changing transformational film "What the Bleep Do We Know?" on the map, following with "Peaceful Warrior." He worked with Madonna on her "Ray of Light" album and set up a private screening for her of "What the Bleep." She was so moved by it that she introduced John to her teachers at The Kabbalah Center, which became a Visioneering client. Over the years, the company has worked with a wide array of authors, musicians, filmmakers and influential spiritual teachers, whom he calls the "Leading Lights of Consciousness."
Raatz has been teaching Transcendental Meditation since 1976 and found, 30 years ago, when he started in the film business, that many well-known celebrities, such as Merv Griffin, Mike Love, Clint Eastwood and Ned Beatty, were also practicing TM. At the time, they formed an organization to teach it to people in the entertainment business.
The upcoming GATE events will be held Feb. 4, 2012, at the Saban Theatre in Beverly Hills, Calif. For more information and discounted tickets, visit http://www.gatecommunity.org. Use Promo Code TRANSFORM for an additional 20 percent discount.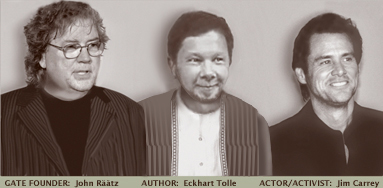 Related