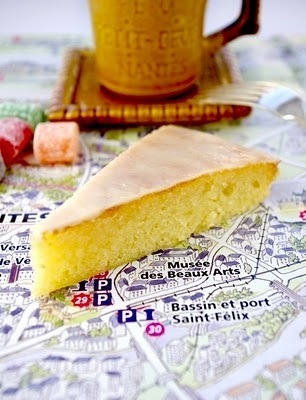 Mention France to anyone outside of the country and Paris will immediately jump to mind: the Louvre and the Eiffel Tower, her panoply of restaurants, the Mona Lisa and Romance with a capital R. Or Provence with her fields of fragrant lavender, her quaint villages and her rich, vivacious garlic-kissed Mediterranean cuisine. Short on time and dollars, few tourists venture outside of these well known, well-trod vacation spots. But France is a network of wonderful cities all connected by one of the greatest train systems in the world, and each city, town or village offers some hidden beauty, a wonderful mystery and a fabulous story.
Mention French food to anyone and watch his or her face light up, hear a sigh escape from his or her lips. How many come to France to discover her treasure trove of culinary delights, revel in her gastronomic pleasures? Just get them started and they'll talk about beouf bourguignon, daube de boeuf or blanquette de veau, those hearty, long-simmering stews full of homey warmth and rich flavors. Or steak frîtes, that all-time favorite of both locals and visitors, synonymous with Paris itself. Tangy bouillabaisse from the south, snails bathed in garlicky butter or a quenelle de brochet from the gastronomic capital of France, Lyon, brings a smile to so many faces. They'll rhapsodize about the first flakey, golden croissant or pain au chocolat they ate while strolling through the Luxembourg Gardens or where to find the best chocolate éclair, mille-feuille or Tarte Tatin.
But mention Nantes and you may just find yourself confronted with a blank face, a questioning stare. Few know this historically- and culturally-rich city in which I have lived for the past seven years and even fewer are familiar with her hidden local pleasures and her gastronomic treasures! A short stay is all it takes to discover a wonderful culinary tradition, a cornucopia of products that enrich the pleasures of the palate. Nantes' cuisine is unique: neither rich, hearty nor particularly luxurious, it is light and elegant, a subtle blending of the river, the ocean and the land, a true cuisine du terroir. The simplicity of la cuisine nantaise is based on the freshness and delicate flavors of the raw products, the local seafood, meat or produce, allowing them to shine through.
Snuggled between the river Loire and the Atlantic Ocean, Nantes' cuisine is a perfect blending of fresh water, salt water and terroir, the land: oysters and mussels, sea scallops, perch, pike and eel, whelks, lobster, crabs and clams are our treasures of the waters served raw or steamed in fruity white Muscadet, a wine unique to the Loire valley. Or enjoy fish or chicken in our own local beurre blanc, the creamy, light sauce tangy with shallots and vinegar and infused by more Muscadet. Our markets are a cornucopia of local mâche, lamb's lettuce, asparagus, strawberries, raspberries, tomatoes, leeks, a bounty of potatoes including tiny ratte fingerlings, only a handful of the fruits and vegetables that famously thrive in the soil around Nantes (not covered by grape vines). But nothing, not a meal, not one dish is complete without salt or our own beurre salé, salted butter: Nantes is knee deep in salt marshes and is famous for the local fleur de sel. One finds it for sale in tiny little plastic sachets snowy white and smelling of the sea or blended with herbs or spices, the better to add a special flavor and fragrance to any dish, either savory or sweet. And because of Nantes' long ago connection with plantations in the French West Indies, she is now a city of spices, vanilla and rum, all of which jazz up the local cuisine.
And sweets? Home of the world-famous LU cookies (chocolate-topped Le Petit Ecolier imprinted with "The Little Schoolboy", the light, airy, luscious, raspberry jam-filled Paille d'Or or our own Petit Beurre butter cookies), the Biscuiterie Nantaise and the fruit-filled, pillow-shaped Rigolettes candy, we have a small but wonderful array of local desserts, simple and delicate like our cuisine. While the local treats have nothing rich and gooey about them, don't be surprised by the bite of rum or Muscadet or the intriguing zip of sea salt, both in the pastries and in our stunning, decadent caramel au beurre salé, both a salted butter caramel sauce and a candy. La Fouace Nantaise, a star-shaped, rum-spiked, butter and egg rich brioche-type bread eaten with a glass of Muscadet, or les bottereaux nantais, tiny rectangular fried donuts made from a rum-flavored risen batter and eaten during Carnival season or delicate petits sablés, butter cookies made with salted butter, are only a few of the sweet treats enjoyed in Nantes.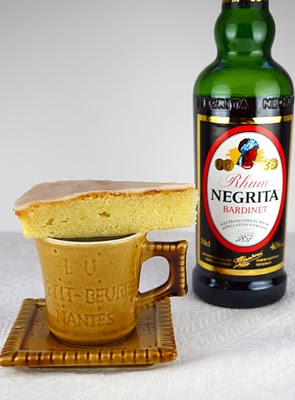 Now I offer you a hidden treasure, a well-kept secret of my city. The Gâteau Nantais is a densely satisfying cake drenched in West Indian rum, kissed by a subtle hint of almond and sweet with the perfume of the South Seas. Cloaked under its familiar, elegant white icing, the Gâteau Nantais has been pleasing the locals since the 18th Century when rum was king with its intriguing flavor and drunken bite. Sweet and sassy to be eaten just a sliver at a time, the Gâteau Nantais quickly becomes addictive. And like this magnificent city that lends her name to this elegant pastry, the Gâteau Nantais is easy and smooth, infused with the flavors of the past yet oh-so rich with a modern, exciting kick, a hidden secret savored by those who know her and love her so well.
This recipe for Gâteau Nantais was given to me by a former neighbor, Mme. R., une Nantaise born and raised, who changed and adapted the traditional recipe to fit her own personal taste. You will notice that the icing has a hint of brown rather than being perfectly white; this is because Mme. R. replaces the water in the original icing recipe with yet more rum to heighten the overall flavor. The Gâteau Nantais is simple, dense, moist and luscious, and even those averse to the flavor of rum will find it oh so very difficult to stay away from this delicious, intriguing cake. To be eaten in moderation. If you can.
LE GÂTEAU NANTAIS

125 g (9 Tbs) salted butter, softened to room temperature *
150 g (3/4 cup) granulated sugar
125 g (5/8 cup) ground almonds
3 large eggs, lightly beaten
40 g (1/3 cup) flour
100 ml (3/8 liquid cup) rum
100 g (7/8 cup, 3.5 oz) powdered/confectioner's sugar
1 cup syrup **

* salted butter: do not forget that Nantes is in Brittany where salted butter reigns

** Syrup: Place 75 g (6 Tbs) granulated sugar + 155 ml (2/3 liquid cup) water into a saucepan with a tight-fitting lid and, over medium heat, bring to a rolling boil, stirring constantly. As soon as the liquid comes to a rolling boil, remove the pan from the heat, fit the lid on the pot and set aside until cooled to room temperature.

Preheat the oven to 350°F (180°C). Butter a 22 cm (8 ½ inch) cake pan (no bigger, no smaller, it must be 22 cm), line with a circle of parchment paper then butter the paper lightly.

In a large mixing bowl, cream the softened butter with the granulated sugar with an electric beater until blended, light and fluffy. Add and beat in the ground almonds.

Beat in the beaten eggs in 3 or 4 additions until well blended.

Add the flour and 1/3 of the rum to the batter and beat just until smooth and blended.

Pour and spread into the prepared pan. Bake for 45 minutes. Cover lightly with a sheet of aluminum foil during the last 10 or 15 minutes if the cake looks to be browning a bit too quickly. The finished cake should be a deep blond/golden color and set in the center.

The sugar syrup should now be cool. Stir 4 tablespoons of the remaining rum into the syrup.

As soon as the cake is out of the oven, slide a knife around the edge to loosen the cake from the sides of the pan then carefully turn out onto a rack, peel off the parchment paper then flip upright onto another cooling rack. Immediately brush the hot cake generously with about half of the rum-spiked sugar syrup. Allow the cake to cool completely.

Once the cake is cool, brush again with the remaining rum-spiked sugar syrup.

To make the icing, simply stir the rest of the rum into the powdered/confectioner's sugar until very smooth. Using a spatula spread the icing over the top of the cake, allowing it to run down the sides if you like.

Let the Gâteau Nantais sit and macerate, the icing setting, for a day before enjoying. The Gâteau Nantais should be served in thin wedges.
Jamie Schler lives, eats and writes in France. To read more of her work visit Life's a Feast.

Calling all HuffPost superfans!
Sign up for membership to become a founding member and help shape HuffPost's next chapter