Ignacio was one of the primary representatives of the Gates Foundation at this global trade show with over 49,000 participants.
"Because of the cell's ubiquity, they represent real power," he told me in the cafe of his hotel across from the convention site. As most Americans already carry cellular devices, upwards of 80%, this may be something we take for granted. However, there is still huge growth in the developing world.
The problem, I learned in Barcelona, is that many of the world's poor lack adequate access to financial services. In fact, less than 10% of the 2.5 billion people in the world who live on less than $2 per day have access to formal financial tools.
Early on, the Bill & Melinda Gates Foundation realized that the cell phone is a key technology to assist the developing world help itself.
Access to financial services has been an ongoing struggle for the world's poor. This is because many live in rural areas and have to travel long distances to walk into a bank, and for banks, servicing small transactions is expensive.
In lieu of banks, citizens of the developing world are often forced to turn to risky, expensive, and inefficient ways of saving. The poor often resort to risky savings methods like purchasing livestock or hiding money in a mattress. Traditionally, in many regions, families invested whatever extra earnings they had in chickens, rice, or similar products.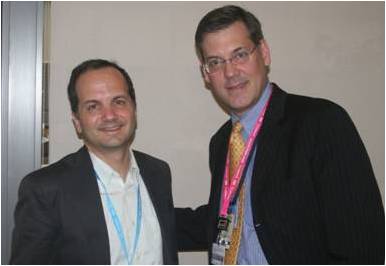 Interviewing Ignacio Mas, Deputy Director of the Financial Services for the Poor Program at the Bill & Melinda Gates Foundation during the recent GSM Alliance Congress in Madrid.
Through mobile finance, people have the opportunity to save funds for perhaps the first time in their lives, Ignacio explained. "Savings requires proximity -- you traditionally have had to walk to the bank -- but now via cell you can save over the phone."
While there has been measureable success in other areas of microfinance such as microcredit, savings is the next step. Savings can lead to greater investments in education, healthcare, and other factors which can demonstrate real increases in standards of living.
In fact, savings represent a new level of financial independence. Technology like mobile phones offers a viable option for providing financial services to the poor in a way that's convenient for customers and cost efficient for banks.
Many of the world's poor have access to mobile phones. From 2006-2009, the number of cell phone users in the developing world went from 1.5 billion to 2.2 billion, and future projections see a jump to over 3 billion within the next couple of years.
In 2009 it was noted by Money.com that in India alone, over five million new mobile phone customers sign up per week.

Cell phones are ubiquitous in the developing world, such as New Delhi, India. Source: GSMA & Decisive Media. Photographer: Ashish Maurya.
"There are over one billion people in emerging markets today who don't have a bank account but do have a mobile phone," said Rob Conway, C.E.O. and Member of the Board of the GSMA.
Last year, GSMA, the trade association of the worldwide mobile communications industry, partnered with the Bill & Melinda Gates Foundation to address the issue by expanding the availability of banking services, via cell phones, to those in the developing world. Mobile banking allows access to savings for many of the world's poor that lacked access to savings accounts.
The Bill & Melinda Gates Foundation believes savings can help increase people's financial security and improve their lives, and is focusing its work in financial services on helping bring safe, affordable financial products, including savings, to the poor.
"We can forget about bricks-and-mortar in the rural areas of the developing world," Ignacio stated. Given the multitude of problems often associated with building projects in the rural developing world, this is certainly a good thing.
Today, it will be the mobile phone store - the cell operator - where savings occur, beginning to replace the bank as the local financial institution. Cell phone banking also allows a level of liquidity that is unheard of for residents of poor rural areas.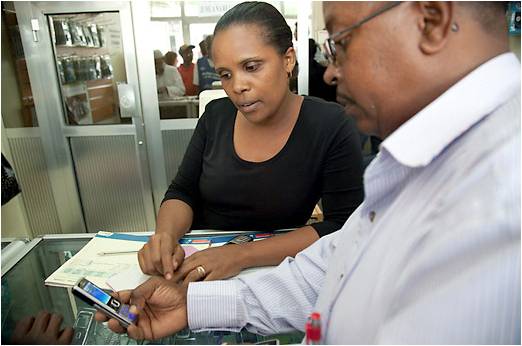 Giving poor households a safe place to save remains one of the most important challenges facing the developing world. Photo: Gates Foundation.
Banks are scrambling to embrace cell phone technology to avert this global shift, as interviews I conducted in Barcelona from bank representatives from Pakistan and others nations strongly noted.
But the cell phone operators may have the upper hand. Having a real safe haven for deposits, however small they may be, can truly make a difference in the developing world. "It just makes sense that the piece of technology, connected to the Information Highway, will transform the financial lives of all it touches," stated Ignacio.
Paul Stevers, who is founder of CharityHelp international (CHI), feels the Gates Foundation is playing a key role in helping people in developing countries realize the potential of mobile technologies.
"Their leadership with the GSMA in bringing together the mobile operators, banks, microfinance institutions, government, and development organizations to provide mobile financial services to the unbanked is very significant," he told be from Bermuda.
"Along with the expanding array of informational resources and tools becoming available through these same mobile technologies, their efforts will have an unprecedented impact in helping the world's poor," he emphasized.
GSMA, which runs Mobile World Congress, is advancing mobile banking with a grant from the Gates Foundation. GSMA's MMU project works with mobile operators, banks, microfinance institutions (MFIs), government, and development organizations to expand mobile financial services.
Deputy Director of the Financial Services for the Poor Program at the Bill & Melinda Gates Foundation, Ignacio Mas specializes in the financial services afforded by mobile technology in the developing world - - especially for those "unbanked."
Ignacio, who holds undergraduate degrees in mathematics and economics from M.I.T. and a Ph.D. in economics from Harvard, has been a Visiting Professor of International Business at the Graduate School of Business at the University of Chicago.
He has been a Senior Adviser in the Technology Program at CGAP, V.P. of Marketing and Account Management at interTouch, Director of Global Business Strategy at Vodafone Group, and Senior Manager responsible for telecoms investments in Europe at Intel Capital.
He believes that mobile phones are one way to make a difference in the developing world by bringing services to the poor that they otherwise would not have. Mobile money services offer an affordable, convenient way to access safe savings accounts and other financial services, and have proven popular in countries.
To make this technology successful, however, he insists we must find sustainable business models, address regulatory constraints, and design appropriate products.
Combined with the power of other ideas and innovations, Ignacio says, we can hopefully help break the vicious cycle of poverty in the developing world once and for all.
To conclude our interview, Ignacio left me with this parting thought: "Cell phone technology provides the tools to allow people in the developing world to build their own path out of poverty."
Edited by Ryan Ouellette.

Related
Popular in the Community