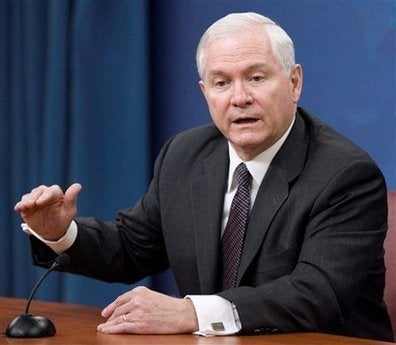 Defense Secretary Robert Gates said on Sunday that he expected NATO allies to contribute "additional forces" to Afghanistan, and defined the mission on that front as flexible but premised on the defeat of al Qaeda.
Speaking on Fox News Sunday, the Bush administration holdover expanded on the plan for Afghanistan and Pakistan that President Obama presented on Friday. He said that the administration was "in it until we're successful." As for what constituted success, he said: "that al Qaeda is no longer a threat to the United States and that we are in no danger of either Afghanistan or the western part of Pakistan being a base for al Qaeda."
Such a lofty and defined measure of success has, in the recent months, given rise to concerns of mission-creep in Afghanistan. But Gates stressed that the administration would not be rigid in its approach. The president, he said, has "been clear and frankly it was my view in our discussions that we don't want to just settle on this strategy and then pursue it blindly and open-endedly. And that's why I felt very strongly that toward the end of the year or a year from now we need to reevaluate this strategy and see if we're making progress."
"The strategy is subject to review," asked host Chris Wallace. "The commitment to defeat the Taliban and al Qaeda, is that subject to review?
"I don't think so," Gates replied.
"That is the commitment," re-stated Wallace.
"Certainly to defeat al Qaeda and to make sure Afghanistan and Western Pakistan are not safe havens for them," said Gates.
On specific topics of the Af/Pak front, Gates offered a few more details. Asked about reports that the president had turned down requests for more troops to be sent to the field, he stated: "The president has approved every single soldier that I have requested of him ... The reality is, I've been at this a long time and I don't think I've ever in several decades run into a ground commander who thought he had enough troops. That's probably true in all of history."
As for the notion that European and NATO allies would help alleviate the military burden that the United States was now shouldering, Gates seemed a bit more optimistic than most foreign policy analysts.
"I think some of our allies will send additional forces there to provide security before the August elections in Afghanistan," he said, when quizzed as to whether that support would be let known in the upcoming NATO Summit. "But I think what we're really interested in for the longer term from our partners and the allies is helping us with this civilian surge in terms of experts in agriculture and finance and governance and so on to help us improve the situation inside Afghanistan, give a sense of forward progress on the part of the Afghan people. Also, police trainers. You know... these various groups in Europe are really very good paramilitary type police, and I think they could do a good job in the police training, so those will be probably the principal focus of our requests."
REAL LIFE. REAL NEWS. REAL VOICES.
Help us tell more of the stories that matter from voices that too often remain unheard.