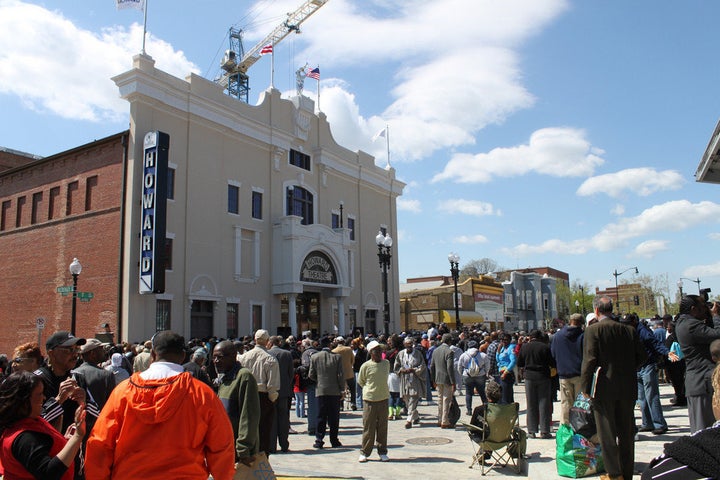 I recently had a magical experience at the Howard Theatre in Washington, D.C., courtesy of Gato Barbieri, the legendary Argentine jazz saxophonist. Gato has been in my playlist since the mid-seventies but I'd not listened to him as of late. When I learned he was in town, I jumped, sensing that this might be the last time to see him. Gato is nearly 80; he now plays sitting down and walks gingerly. But he can still blow that tenor horn like the old days and commands his group with precision.
The Howard's intimate elegant ambiance was perfect for what could be Gato's last performance in D.C. I hope I am wrong about this, but as time passes, I find myself taking advantage of possible "last chance" opportunities. (By the way, if you have not been to the Howard Theatre since its renovation, you should see a show there.) As I listened to him and his gifted band, also anchored by his long-time keyboardist Eddy Martínez, effortlessly riff through Fiesta, Fireflies, Milonga Triste and other classics -- accented by his signature call, "Hey-Hah-Adentro-Claro!" -- I was transported back in time. Remembrance is a blessing as it can help you soak in the richness of life, past and present.
I was also struck by the audience at Gato's concert. There were abundantly more African Americans than Latinos. Sure it was the Howard Theatre (as in Howard University), but I didn't even see many of the local Argentines I know there. ¿Qué pasa? I can't speak for the Latinos and maybe it's a generational thing, but if you appreciate that, at times, Gato channels Charlie Parker, John Coltrane and Pharoah Sanders, then you better understand the demographics. I had a similar experience when conguero Poncho Sánchez, another Latin Jazz legend, played to a packed house at D.C.'s Warner Theater last March. Poncho channels Mongo Santamaría. Jazz is at the core of the African American experience -- country and continent -- and those who play it well, in all of its manifestations, are enthusiastically rewarded here. This is another blessing of life in D.C. As they say in Spanish, El que sabe, sabe (He who knows, knows).
Speaking of knowing, I will level with you: when my friends invited me to see Gato with them, I immediately, thought, "My God, is he still playing?" I thought about this for a moment and it dawned on me that I've been turning my head away from a lot of things, including those much more important than facts about Gato Barbieri's trajectory. Turning your head away from things that are important is an unfortunate mistake because their absence robs you of some of life's essence and beauty. When you look back, you realize how much you may have missed by not being present. Thankfully, Gato and his music are immortal and, from this point forward, he, his music -- and all that they represent -- will always be a part of my life. More than a musical flashback, my recent experience at the Howard Theatre served as a wake up call to life. Otra bendición (Another blessing).
Calling all HuffPost superfans!
Sign up for membership to become a founding member and help shape HuffPost's next chapter