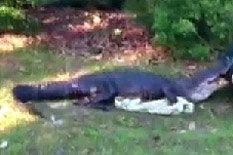 One moxie alligator decided to stand up to the long arm of the law near Gainesville, Fla., by going head to grill with a deputy's squad car Sunday.
The beast was either dull in the skull or wanted to take a bite out of crime when it latched on to the vehicle's front bumper and wouldn't let go, even after the Alachua County officer put the car in reverse.
Once it was dragged by its teeth several feet, it finally released its grip and was taken into custody by a trapper. Officials wouldn't say if the beast would be relocated to the nearby state park from which they thought it came, but added that aggressive gators are usually harvested... a nice way a saying he might be looking good as a pair of boots soon.
By coincidence, I was in Florida that same day to set up my new lake home I purchased recently and got to meet a similar wildlife neighbor. I cleverly dubbed the almost 7-foot gator "Al" as he approached shoreline just off the screened-in pool in the backyard.
There he sat for more than an hour eyeballing my three Chihuahuas that immediately signaled the alarm while on border patrol behind the screen. After listening to the Mexicans yap for much too long, I decided not so cleverly to take matters into my own hands and scare the gator away.
Armed with a long-handled pool brush and wishing Steve Irwin were still alive, I nervously hit the ground several times with the brush as I walked toward Al. He didn't move. I think I heard him laugh. Then, I backed off as the beast gave me what I presumed was the big stink eye.
Related
Popular in the Community