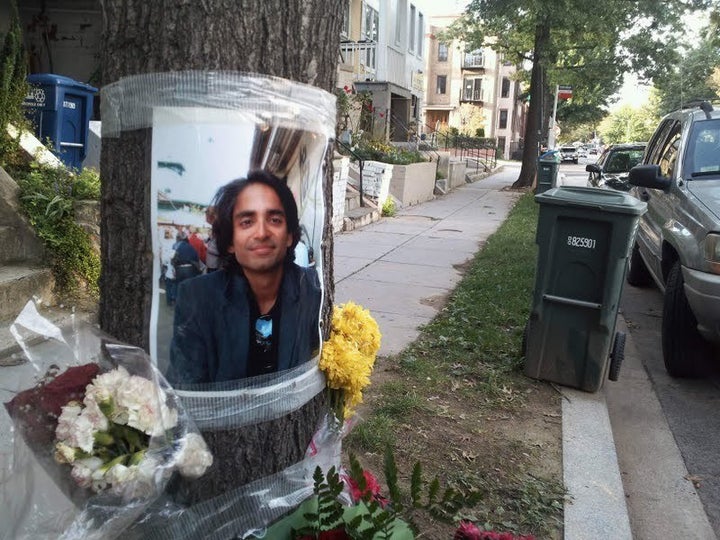 WASHINGTON -- Gaurav Gopalan once told colleagues he had hoped to host a performance of Shakespeare's "Romeo and Juliet" at Dupont Circle's fountain. Sunday night, friends and loved ones gathered there with candles to remember the slain 35-year-old local theater director by reading passages from that play, "The Tempest" and other works of the great playwright as a memorial to Gopalan, before marching to the street in Columbia Heights where he was found dead on Sept. 10.
"We need to find this killer," D.C. Councilmember Jim Graham (D-Ward 1) told the crowd, saying that if the perpetrator isn't found, he or she is likely to strike again. "This has to be stopped and stopped now."
After a series of attacks on members of the transgender community this summer, D.C.'s LGBT community has been on edge. Some have also been critical of the Metropolitan Police Department's response to the attacks, saying the department hasn't taken decisive action on Gopalan's case and others, in part because of "a culture of transphobia" in the city's police force, something the department denies.
Graham told those assembled Sunday night that he knows the lack of information is unsettling, but assured them that the police investigation is proceeding.
Still, Gopalan's partner of nearly five years, Bob Schaffer, is frustrated and told the crowd to keep pressuring the MPD: "Please, please, please, get on the police."
To transgender activist Earline Budd, Gopalan's death is the latest case in what's been a difficult summer for transgender D.C. residents. "I've been down this road so many times," Budd told the crowd.
On July 20, a transgender woman, Lashay McLean, was shot and killed near 61st and Dix streets NE. According to an MPD statement posted by Homicide Watch, "[t]he victim and a witness were in the block when two subjects walked directly towards them. One subject started asking a question, and without provocation pulled a semi-automatic handgun and fired, killing the victim."
On July 31, another transgender woman, Tonya Harrell, was shot at in the same vicinity but was not hit. Because of the similarities of the cases, MPD warned of "a potential emerging pattern," but later said that those incidents and others that have happened since don't seem to be related.
In August, an off-duty MPD officer was charged for allegedly drunkenly shooting at a group of transgender people, after getting into an argument with them outside a CVS pharmacy on Massachusetts Avenue. The officer, Kenneth Furr, reportedly jumped on the hood of the victims' car yelling "I'm gonna kill all of you." One person was shot multiple times and sustained non-life-threatening injuries; two others were injured.
It's a troubling string of incidents. "I would say it seems like it's almost open season," Dana Beyer, executive director of Gender Rights Maryland, told the Advocate. "I don't recall D.C. becoming a shooting gallery like this."
Earlier this month, another transgender woman was shot in the neck on Savannah Street SE but survived. An arrest was made in that case around the time that Gopalan's body was found in Columbia Heights.
Although D.C. Del. Eleanor Holmes Norton could not attend Sunday's memorial, her office sent a letter that was read at the vigil. It in, Norton said the recent attacks on transgender victims cannot be tolerated and that Gopalan's death "is a thundering call to action." She called on the office of the U.S. attorney to make these crimes more of a priority.
WATCH: Friends Mourn Murdered Man
Popular in the Community