This week the GAVI Alliance announced that 37 countries -- the majority in Africa, but all told, spanning all six WHO regions -- have been cleared for financial support to introduce one or more new vaccines into their national immunization programs. These include vaccines that protect children against the most important causes of pneumonia and diarrhea -- the two leading infectious killers of children -- as well as meningitis A and measles, and pentavalent vaccine, which combines protection against diphtheria, tetanus, pertussis, hepatitis B and Haemophilus influenzae type B (Hib).
In short, millions more children will now be protected against a half-dozen terrible diseases.
GAVI Countries Approved This Week for New Vaccines. Map Courtesy of IVAC.
The impact these vaccines will have is dramatic, promising the same level of protection for children in countries like Ethiopia and Nigeria as our kids receive here in Evansville and Norfolk. The announcement also showcases the GAVI Alliance at its best, delivering on the promise of the $4.3 billion in pledges -- and the unmistakable vote of confidence -- it received from world leaders in June. Because of the political support and financial commitment from the UK, France, the U.S., and others, millions of children in the world's poorest countries will now have a shot at a healthy life.
With exciting opportunities, however, come challenges that we must swiftly address. Beginning with this week's announcement, GAVI and its partners plan to immunize more than a quarter of a billion more children by 2015 -- a huge undertaking and simply unparalleled in GAVI's brief history. Dramatically scaling up access to vaccines requires that everyone involved -- from epidemiologists in the lab to manufacturers on the production line to health care workers delivering the shots -- elevate their games and most importantly, improve their communication and coordination. In many ways, this period of scaling up -- when supply and demand are changing rapidly and require careful management -- is the most difficult part of the ambitious GAVI agenda. We should be prepared for some hiccups along the way -- periods when demand will exceed supply or vice versa -- but at the same time, we need all hands on deck to avoid these problems whenever possible.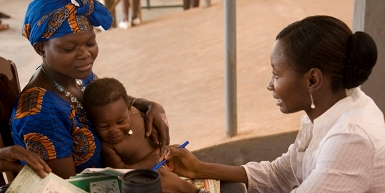 Photo Courtesy of the Bill & Melinda Gates Foundation
For someone who has worked diligently for over a decade to accelerate access to new life-saving pneumonia vaccines, announcements like this week's make it all seem worth it. I'm equally as excited for the momentum that is beginning to form behind rotavirus vaccines. Together, pneumococcal, Hib and rotavirus vaccines will protect children against the most important causes of life-threatening pneumonia, diarrhea, and meningitis. Recent analyses by economists at our International Vaccine Access Center (IVAC) show how continued scale up of these and other vaccines could save 6.4 million children during the "Decade of Vaccines" and prevent more than $150 billion in economic consequences for families and communities.
As the Alliance takes perhaps the most significant step ever toward increasing access to lifesaving immunization with this new and exciting round of country approvals, the challenge will be to ensure that every piece of the puzzle is in place to deliver on GAVI's tremendous promise.
Popular in the Community