Platinum-selling recording artist and songwriter, Gavin DeGraw stopped by at AOL's Build Series studios in NY on 8/30/16 to promote his sixth LP, Something Worth Saving (to be released 9/9/16), as well as his career thus far.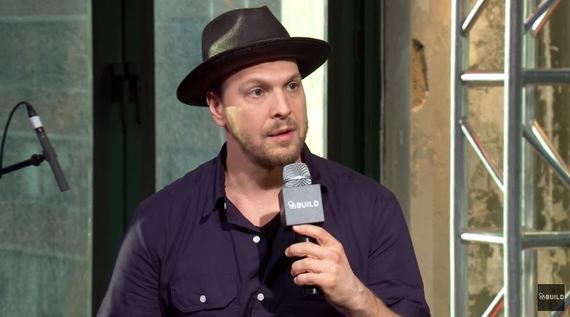 DeGraw was candid enough in recalling his early days as a budding artist and musician. He got a job from his dad's friend who owned a kiosk at the Paramount Hotel on West 46th Street in NYC which sold magazines and cigarettes. There he started playing this old acoustic guitar which he sneaked into work from home. He was deeply involved with learning how to play the guitar that he forgot he had a job to do. DeGraw laughed while looking back at this experience he had because he wasn't the best employee despite the lack of supervision from his employer.
"I would sit back and try to learn songs and write songs...like really bad guitar songs, but I was learning! People would walk up to the counter but they wouldn't see me and I would hear people say things like "Excuse me, hello?...I'd like to buy this Architectural Digest[magazine]", and I'd be in the back and be like "Just take it, have a great day!" (laughs)"

This hotel was synonymous for having a lot of musicians coming in and out back then. DeGraw remembered it for being close to the Hell's Kitchen section of Manhattan. Many artists spent their days performing here, perfecting their craft and spreading their ideas in this creative community. He moved to the Hell's Kitchen area back in the late '90s and it has definitely changed since then. There use to be a lot of bar rooms during this era, to which he described as "edgier and scarier" and having a "fringe element" to it. You would get this anonymity amongst the community since this was a time before social media became prominent. Nobody truly knew who you were on a bigger scale, and you weren't exposed to the media so quickly. "There was no one taking pictures of anybody. It was more like "Don't tell anyone that we're here doing this", and that's what made it exciting!"
Even though most of those elements in Hell's Kitchen are no longer there, and most musicians fled the NYC scene and headed to L.A., and Nashville, DeGraw still gets drawn to the NYC area for songwriting. His latest single "She Sets The City On Fire" which he co-wrote with acclaimed songwriter & music producer, Gregg Wattenberg has that "New York touch" to it. With lyrics like:
Everybody knows she's a perfect ten

And I'm hanging on tight til the whole thing ends

Cause New York sky don't get much brighter

She sets, she sets the city on fire
New scene, next block

She'll be jaywalking right across while the cops talk

Make you feel like a boss when your eyes lock.
...you can tell that this song has that New York vibe to it. Listen to the full song and hear for yourself.
DeGraw cites his latest album titled Something Worth Saving as "happy music". It's the next phase in his life and he's all about "focusing on the good things". The tracks on the new album will make you feel good about life. Song titles from the album includes "Making Love With The Radio On", "You Make My Heart Sing Louder", and "How Lucky Can A Man Get". Judging by these song titles, DeGraw has found his happy zone. "I love pretty music, and music that makes people feel uplifted and empowered. I think people need to feel empowered and I think that love makes people feel empowered and that's what I enjoy writing about." Hopefully when his fans grabs a copy of the new album, they will feel the same too! I'm definitely looking forward to the new album.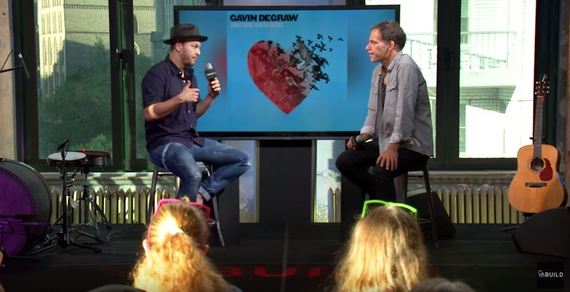 Watch the full interview to hear other stories from Gavin DeGraw including his initial reaction to the One Tree Hill(TV series) producer who wanted to use his song for the show's theme song, and his funny songwriting session with Max Martin, one of pop music's biggest producers of all time!

REAL LIFE. REAL NEWS. REAL VOICES.
Help us tell more of the stories that matter from voices that too often remain unheard.